Thyroid cancer appears to be rising in prevalence as it is now possible to detect tiny thyroid malignancies on ultrasound scans of neck performed for other purposes or screening (incidental thyroid cancer). Thyroid cancers have very good outcomes.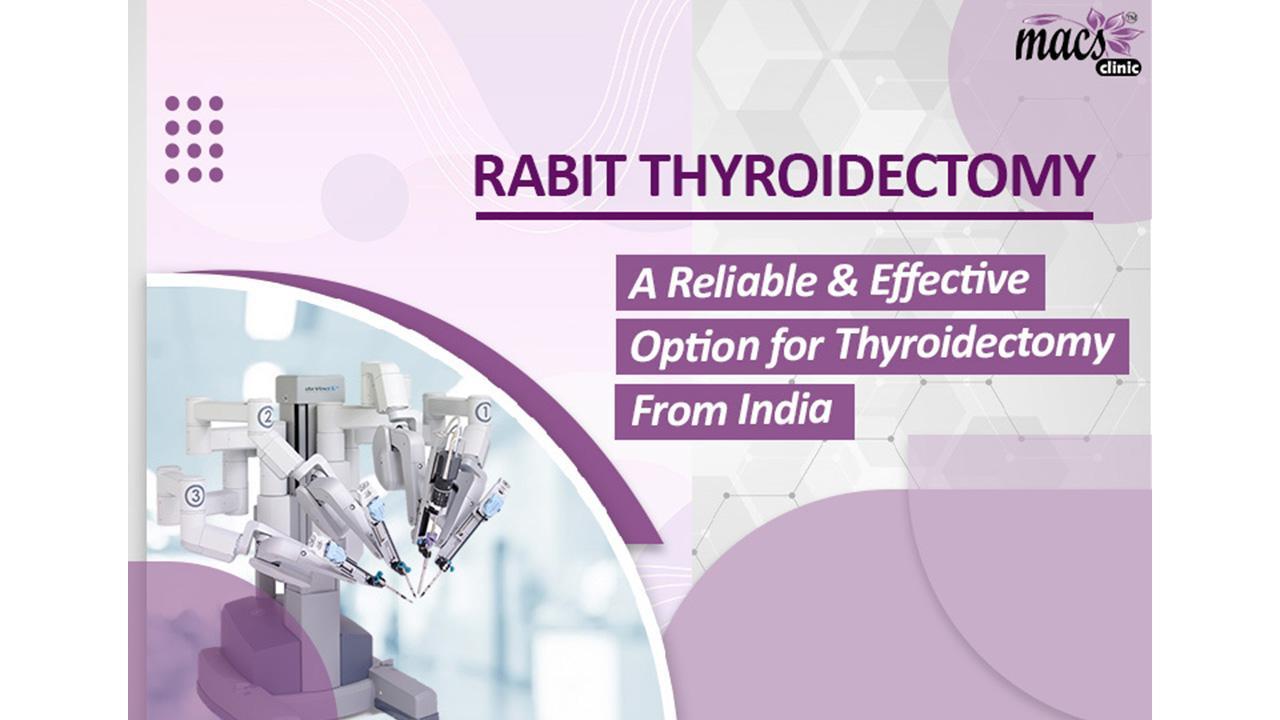 However, like all cancers early detection of thyroid cancer implies that they respond well to treatment if it begins early.
Thyroidectomy, which is the medical term for removal of thyroid gland, is needed in many other situations other than cancer like multinodular goiter (MNG), solitary thyroid nodule (SNT), etc. The nodules of thyroid give trouble as they grow by pushing and compressing the adjacent structures as the space in neck is very small. Also, many a times it is impossible to tell if the nodule is cancer or not unless after the surgery is performed and the specimen is examined under microscope.
Generally, surgery is the mainstay of treatment of thyroid cancer and other types of thyroid nodules, and there are various surgery options for the same. There are various surgery options for treating thyroid nodules, such as traditional open surgery, minimally invasive thyroid surgery, and laparoscopic (endoscopic) thyroid surgery and RABIT thyroidectomy. However, with advancements in surgery, it is now possible to reduce the trauma a thyroid patient undergoes through conventional open surgery.
Dr Sandeep Nayak, founder-director of MACS Clinic, Bangalore, is a noted laparoscopic and robotic cancer surgeon and inventor of RABIT thyroidectomy, states,' RABIT- robotic thyroidectomy is a very reliable and effective procedure to treat thyroid cancer and other thyroid nodules. Moreover, it is equally effective on benign and malignant thyroid tumors and leaves minimal scars. In my opinion it is better than open surgery as the vision is better due to magnification which helps in identification of important structures, precision of robot helps in preservation of important structures and technology like firefly helps in reducing the long-term complications of thyroidectomy like injury to parathyroid gland."
The treatment protocol for thyroid cancer depends upon the size and stage of the tumor and how much cancer has spread. If required, the surgeon will need to remove a part of the thyroid gland or the entire gland and/or the lymph nodes in the affected area.
Dr Sandeep Nayak, one of the leading oncologists, offers the most reliable and least invasive thyroid tumor treatment in Bangalore, India. He opines that Robotic-assisted Breast-axilloInsufflated Thyroidectomy (RABIT) is performed using the da Vinci robotic system to remove both benign and malignant thyroid tumors. Moreover, the surgical area is within the armpit skin fold with small wounds. The da Vinci robotic system helps view and preserves vital thyroid structures. The robotic instrumentation enables the surgeon to get an unmatched superior quality 3d vision and a highly magnified view of the surgical site for precision performance. 
Robotic-assisted Breast-axilloInsufflated Thyroidectomy (RABIT) is performed with a few small-sized incisions. At the same time, a standard open surgery would require an incision almost 8 – 15 cm in size to remove the thyroid gland with a permanent scar in front of the neck.
It is also possible to treat thyroid cancer through Minimally Invasive Thyroid Surgery (MITS), which requires 3 – 4 cm incision in the neck. Also, this surgery leaves behind a small scar on the neck.
Laparoscopic (Endoscopic) Thyroid Surgery is yet another viable option for treating thyroid cancer. The surgeon makes three small incisions within the crease of the armpit and near the nipple. These incisions are almost invisible, and there are no scars on the neck. Dr Sandeep Nayak has performed several of these techniques of thyroidectomy.
Different types of thyroid cancer require other treatment options, and hence various tests are required to detect it accurately. Blood tests, fine-needle aspiration biopsy and imaging tests help to detect the extent of thyroid cancer, and based on these reports; the oncologist recommends the treatment protocol.
It is advisable to seek more than one consultation to decide and proceed with the treatment for the best possible outcomes. As mentioned earlier, surgery is the mainstay of any thyroid nodule. Hence, a thyroid nodule patient, like thyroid cancer, MNG, SNT, etc should check out their chances of recovery through Robotic-assisted Breast-axilloInsufflated Thyroidectomy (RABIT) surgery which offers a minimal trauma but highly effective treatment option.