Infertility in males can also shatter the dreams of parenthood for a couple. However, male infertility issues are resolved today with advancements in assisted reproduction treatments. TESA, PESA, and TESE are exact techniques that make it possible to find and retrieve sperms of supposedly 'infertile' men.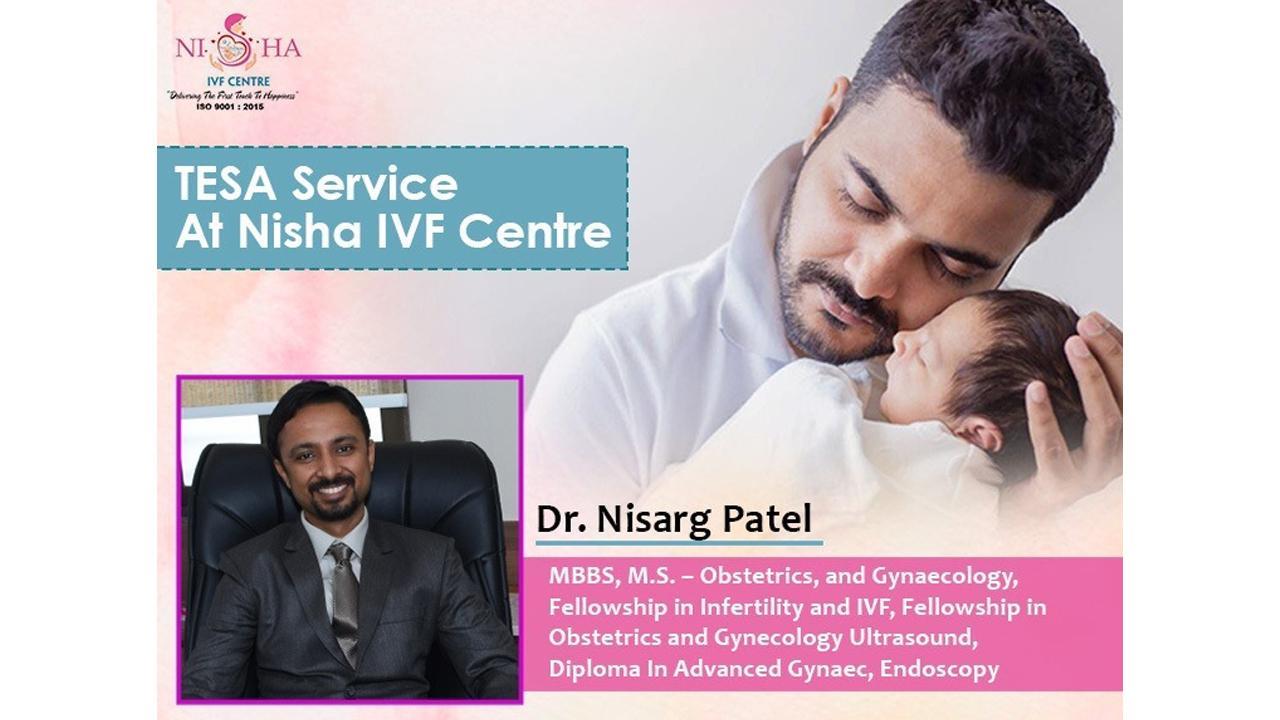 Dr. Nisarg Patel
TESA, PESA, and TESE are suggested to treat male infertility conditions. The production of sperm is disturbed due to physical conditions, irreversible vasectomy, no vas deferens, and blockages detected in the tubes that transport the sperm from the testis to the penis.
Nisha IVF is one of the best IVF hospitals in Ahmedabad. Dr. Nisarg Patel of Nisha IVF Hospital states that we perform PESA, TESA, and TESE techniques that help in locating the sperms and retrieving them in males who suffer from azoospermia, which signifies that it signifies a complete lack of sperms.
ADVERTISEMENT
He proceeds to explain these procedures in brief. Beginning with Per Cutaneous Epididymal Sperm Aspiration, also known as PESA, is a relatively short procedure done using the needle and syringe technique. In PESA, the IVF doctor uses a small needle to aspirate the fluid from the epididymis. The aspirated fluid is further treated to retrieve the sperm cells and process them for ICSI. Moving on to Testicular Sperm Aspiration or TESA, in this procedure, a needle is inserted in the testis to aspirate fluid and tissue to extract the sperms for an ICSI procedure. 
Dr. Nisarg Patel also explains the Testicular Sperm Extraction – TESE procedure is a surgical biopsy of the testis. In this procedure, the doctor attempts to retrieve the sperm from men who do not have sperm in their ejaculate. It is a minor surgical procedure performed under general anesthesia.
Sperm retrieval procedures such as TESA, TESE, and PESA have successfully resolved male infertility issues in the past decade. Men suffering from reproductive tract obstruction or the congenital bilateral absence of the vas deferens can opt for a suitable treatment to retrieve their sperm and become a parent.
Dr. Nisarg and his team at Nisha IVF hospital in Ahmedabad will evaluate the cause of infertility and suggest the most suitable sperm retrieval procedure. For example, TESA is indicated for men with obstructive azoospermia, while PESA is ideal for infertile men with infection or a prior vasectomy.
On the other hand, TESE is recommended to men with non-obstructive azoospermia. Their ejaculate has zero sperm while they could have sperm in their testis. The reason for azoospermia condition could be cancer of the testicles, damage to the pituitary gland or hypothalamus, or Y chromosome microdeletions
Dr. Nisarg Patel is the founder and leading IVF doctor at Nisha IVF hospital who performs these procedures. The IVF treatment utilizing PESA or TESA sperm is a routine procedure at Nisha IVF Centre. It has a comparable success rate to IVF or ICSI using fresh semen.
Nisha IVF Hospital, Bopal is one of the leading IVF hospitals in Ahmedabad founded by Dr. Nisarg Patel and his wife, Dr. Himali Maniar, a Gynecologist and Obstetrician. The husband-wife duo has a high success rate in IVF treatments, especially in the first round of the IVF cycle. The Nisha IVF Hospital is extremely clean and impeccably maintained, while their staff is well trained, polite, and warm with the patients.
Dr. Nisarg Patel encourages male patients to seek suitable sperm retrieval treatment such as PESA, TESA, and TESE and proceed with IVF or ICSI treatment for their parenthood and accomplish their dream of becoming parents.
"Exciting news! Mid-day is now on WhatsApp Channels

Subscribe today by clicking the link and stay updated with the latest news!"
Click here!