Are you tired of trying out home remedies to tackle hair loss with no solution in sight? Maybe it's time you visit a cosmetic surgeon or a trichologist who will suggest safe and proven solutions to tackle hair loss.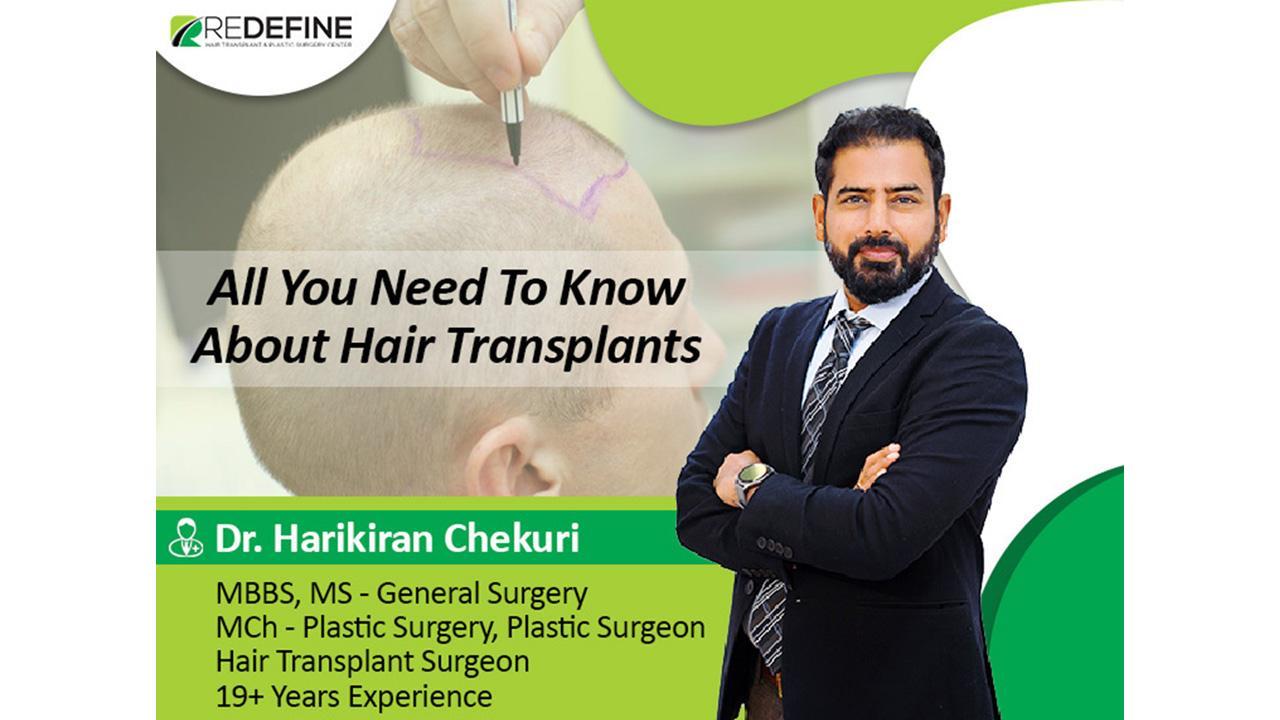 Hair transplant has emerged as one of the most reliable and safe solutions to restore hair. It is extremely effective and result-oriented provided it is performed by an expert hair transplant surgeon and the patient follows the after-procedure care sincerely.
Dr. Hari Kiran Chekuri of Redefine Hair Clinic and Plastic Surgery Center, Hyderabad states, 'Hair transplant is a procedure that is done with the patient's existing hair, if they are balding or thinning naturally.  In this procedure, we take hair grafts from the donor area and implant them into the bald or scalp area.'
If you are seriously thinking of going ahead with a hair transplant procedure, then you need to understand the procedure in greater detail. FUE hair transplant is the most popular hair transplant surgery.
FUE or Follicular Unit Extraction involves extracting hair from the side and back of the scalp and implanting it within the bald or thinning scalp. In this procedure, the surgeon uses a special micropunch to extract the donor grafts and implant them in the bald area. This procedure is performed under local anaesthesia and is nearly scarless and painless.
Normally, FUE is done in a single or multiple sessions spread over several days. If required, a mega FUE session of up to 10 to 12 hours. Also, it is an outpatient procedure so the patient can home after the procedure.
The number of sessions and number of hair grafts required determine the cost of the hair transplant procedure. Hence, you need to consult a plastic or a cosmetic surgeon who offers hair transplantation services. You can do online research to zero down upon a reliable doctor depending upon their experience, cost and customer reviews or testimonials. Also, an in-person consultation is preferred, as the surgeon needs to examine your scalp and certain vital parameters.
Dr Hari Kiran explains on what to expect after a FUE hair transplant procedure. He states there is no recovery period as such as it as on outpatient procedure. The patient will experience swelling or discomfort in the first 2 – 3 days after the procedure.
Also, he shares few guidelines that should be followed for best possible results which are
No washing hair or showering for the first 3 days after the procedure
Use unscented and gentle shampoos for the first few weeks
No combing or brushing new hair for 2 – 3 weeks
Rest and relax for a few days
No strenuous activity or exercising for a week
Avoid covering the head with caps, hats, beanies till the doctor gives a go ahead
Initially, it is normal to lose some hair but it should not be a cause of worry or concern. Hair transplant results are visible after 3 to 4 months of procedure. Also, he advises on having realistic expectations out of the procedure. So, make sure you discuss the outcome of the procedure before going ahead with it.
Redefine Hair Clinic and Plastic Surgery Center, Hyderabad is known for its hair transplant and cosmetic procedures. They have established three centers in Hyderabad to cater to their growing clientele viz. at Kothapet, Kukatpally and Gachibowli. Dr. Hari Kiran Chekuri can be reached at +91 9237 123456