Hindustani Bhau is a very known personality whose videos with poignant social messages and laced with patriotic feelings are quite popular on social media. But now get ready to witness Hindustani Bhau in a altogether different avatar and that to in a video song called 'Bhau Ka Sikka'.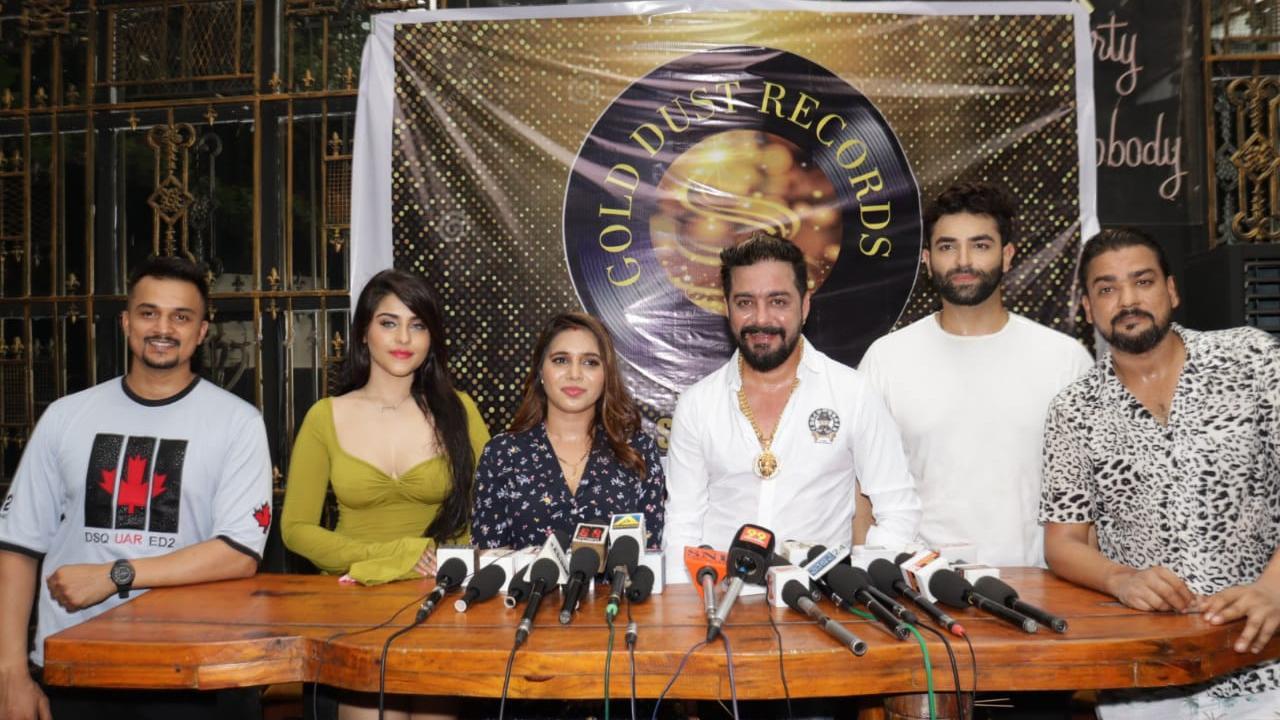 Gold Dust Records Music
This song is being produced by PV Handa and Shelly Arora Handa under their music label named as 'Gold Dust Records Music'. Interestingly, both of them are producing another song also which is called 'Jat Shad Ho Gaya' and it is Punjabi song.
Interestingly, 'Bhau Ka Sikka' and Punjabi song 'Jat Shad Ho Gaya' are both being shot simultaneously at Kingsman Studio which is situated opposite PVR cinemas at Juhu, Mumbai. Both the video songs are being directed by the very talented director R. Raja.
While 'Bhau Ka Sikka' is being helmed by social media sensation Hindustani Bhau aka Vikas Phatak, lead actors like Akash Jagga and Edin Rose are paired in Punjabi song 'Jat Shad Ho Gaya'. Akash Jagga gained popularity through TV serial 'Sasural Simar Ka' and Edin Rose is also a well known name in the TV industry.
During the on location shoot of his song, Hindustani Bhau addressed the media and said, "I am really grateful to Producers PV Handa and Shelly Arora Handa as they thought of giving me an opportunity to act in this video song. The need of the hour is to spot right kind of talents and give them a proper paltform. That's what the producers of both the songs are doing which is very commendable. I am hoping that people will like me in this different avatar of mine".
On this special occasion, Producer Helly Arora Handa said, "We totally believe in giving opportunities to new people and bringing talented people at the forefront. With these two songs on the floor, we are trying to do the same. I want to assure you all that we will continue with this tradition of ours and keep presenting melodious and meaningful songs".
Popular lyricist and composer Praveeen Bhardwaj has penned the lyrics of the song 'Bhau Ka Sikka'. Hindustani Bhau in real life has always believed in helping needy people and this song also reflects the same. Says the director of the song R. Raja, "When I first met Hindustani Bhau, I myself saw how selflessly Bhau was helping all the poor and needy people around him. This song is based on what Hindustani Bhau stands for. He also help people understand that animosity doesn't help in the long run and love is the only answer to all the problems surrounding us. Hindustani Bhau will be seen propogating his own philosophy in the song."