Armed with his professional expertise, experience, and patient-centric dedication, Dr. Vij aims to provide individuals with a transformative solution to achieve their desired abdominal contour.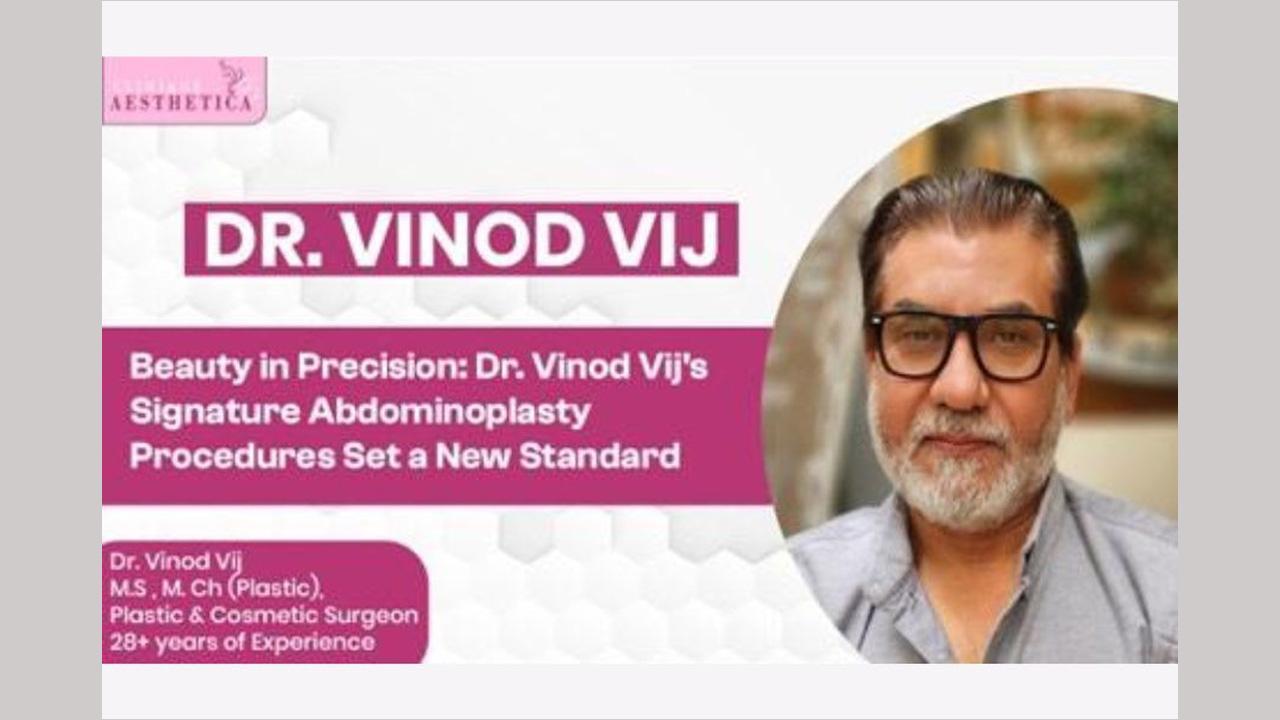 Dr. Vinod Vij
Dr. Vinod Vij, a highly regarded Plastic and Cosmetic Surgeon in Mumbai announces the introduction of the latest Abdominoplasty Procedure, also known as a tummy tuck, at his esteemed clinic in Navi Mumbai.
ADVERTISEMENT
Armed with his professional expertise, experience, and patient-centric dedication, Dr. Vij aims to provide individuals with a transformative solution to achieve their desired abdominal contour.
In recent years, abdominoplasty has gained tremendous popularity as a surgical procedure that removes remove excess skin and fat from the abdominal region. It also tightens the underlying abdominal muscles.
Esteemed cosmetic surgeon, Dr. Vinod Vij employs advanced surgical approaches and his aesthetic acumen to give shape to an abdomen that is customized to the unique goals and needs of his patients. He strives to offer exceptional results and satisfaction to his patients.
Dr. Vinod Vij says, 'I am thrilled to offer a state-of-the-art abdominoplasty procedure. I realize the impact a well-toned abdomen can have on an individual's self-esteem and overall well-being. My goal is to provide our patients with a comprehensive and transformative experience and help to have a body they love and are proud of.'
He explains the abdominoplasty procedure in detail. Also, known as tummy tuck, it is a surgical procedure that removes excess fat and skin from the abdominal area while tightening the abdominal muscles. 
The plastic surgeon also enhances the abdomen's appearance, giving it a smooth, and firm shape and look. To perform this procedure, the surgeon makes an incision in the lower abdomen to remove the excess fat and skin, tighten the abdominal muscles and suture the remaining skin. He adds that abdominoplasty is recommended to individuals with near normal body weight and who have elastic skin with realistic expectations.
Abdominoplasty offers medical benefits too. It helps to repair ventral hernia which occurs due to abdominal weakness; the reason for this could be a cesarean section, an appendectomy or weight loss. The surgery repairs not only the hernia but also reduces the pressure on the skin. It can help to reduce urinary incontinence that occurs due to coughing, exercising, laughing, coughing, etc as these actions put excess pressure on the bladder and the urinary system of men and women.
Additionally, this surgery removes excess stomach fat, tightens weak abdomen muscles, and provides support to the abdomen resulting in reduced back ache and discomfort. Dr Vinod Vij adds that this surgery helps to improve back posture as the muscles have tightened and the abdomen regains the desired normal shape as much as possible.
Dr. Vinod Vij's clinic is equipped with state-of-the-art facilities, ensuring a safe and comfortable environment for patients undergoing the Abdominoplasty Procedure. The medical staff at the clinic is well-trained, friendly, and helpful to patients.
About Dr. Vinod Vij:
Dr. Vinod Vij is a renowned plastic surgeon based in Navi Mumbai, specializing in a wide range of cosmetic and reconstructive procedures. He comes with nearly 26 plus years of experience in plastic surgery including Cleft-lip and Palate and other Cranio-facial surgeries, microsurgery, facelifts, rhinoplasty, blepharoplasty, body contouring post weight loss, liposuction, breast surgeries, hair transplant. He also performs facial rejuvenation, tattoo removal, and laser hair removal. He treats both men and women.
He is one of the most trusted plastic surgeons in Mumbai and Navi Mumbai known for his competence, precision, and patient-centric approach to the best possible outcomes.
Contact Dr Vinod Vij: 
Call: +91 9819414276, +919920130351 
Clinique Asthetica - Vashi
415, Nirman Vyapar Kendra, above Navratna restaurant, 
Sector 17, Vashi, 
Maharashtra 400705, India
Clinique Asthetica - Seawoods
Shreeji Plaza, Seawoods Bridge, 
Nerul East, Sector 25, Nerul, Navi Mumbai, 
Maharashtra 400706, India
Apollo Hospital - Belapur
Plot no:30, Parsik Hill Rd, Sector 23, 
CBD Belapur, Navi Mumbai, Maharashtra 400614, India
"Exciting news! Mid-day is now on WhatsApp Channels

Subscribe today by clicking the link and stay updated with the latest news!"
Click here!