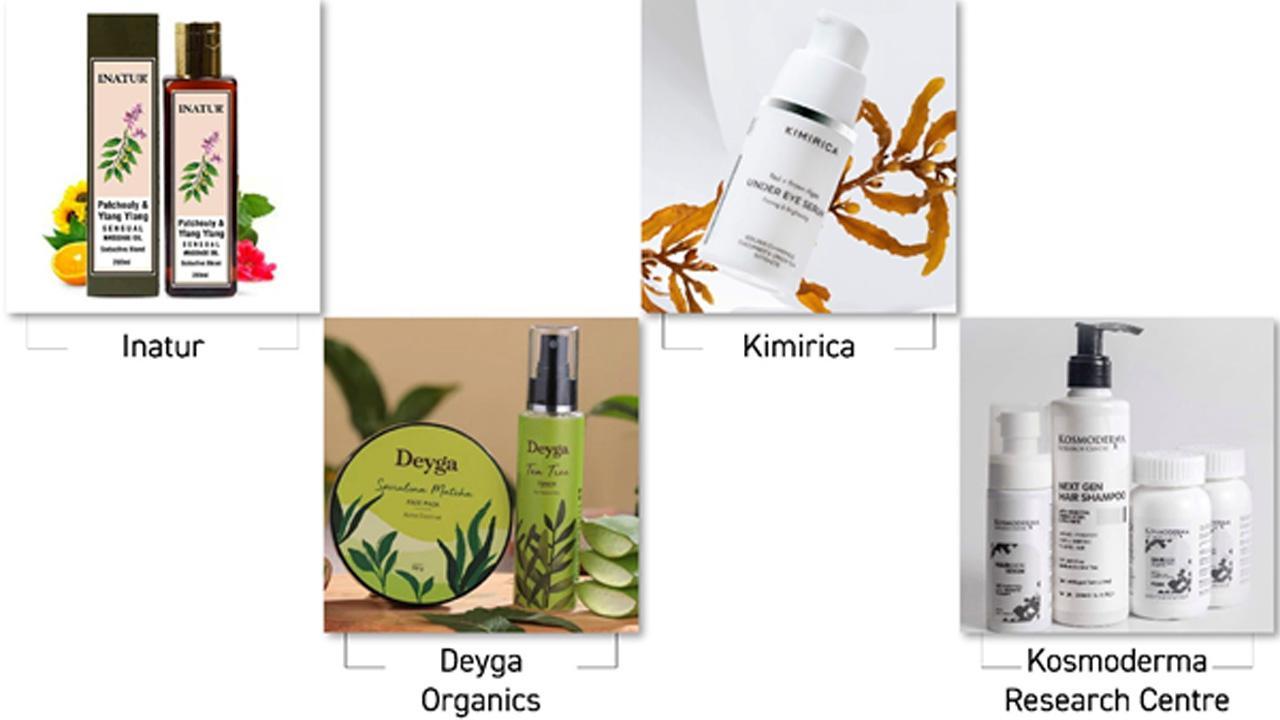 While choosing the right skincare products for our skin, we always look for the best ones. Nowadays, with so many brands coming up with multiple products, it has become difficult to choose the right one for us. Since using the wrong products can be harmful for the skin in the long run, it is essential to invest in the right brand.
However, these are some of the best skincare brands that are ruling the industry right now which are a must-try if you are hunting for the best brand for your skin.
INATUR 
At Inatur, natural is exquisite. Inatur Is for Everyone. Inatur is an Indian Holistic Wellness brand with an extensive range of products for Skin, Hair, and Beauty. This wholly Indian Ayurvedic brand comprises a range of natural skincare, haircare, and personal products that are safe on the skin and result oriented. From the sourcing of ingredients to packaging the final products, all possible measures are undertaken to ensure the best quality. The wide range of organic self-care products at Inatur are handcrafted with love to deliver the best results on hair and skin. Inatur's expertise is evident in innovative regimes that are specially curated to cater to individual skin types and concerns. The products are manufactured in a company-owned plant with good manufacturing practices using ethically sourced natural ingredients. Inatur is a brand that's passionate about creating pure and natural products that deliver safe and swift results for its customers. Inatur believes that nature has much more to offer than ever known. It fuels the drive for constant innovation and product development. The entire range of natural care and wellness products is available at (https://inatur.in) and other leading marketplaces like Amazon, Flipkart, Purple, Nykaa etc. Besides selling online, Inatur also retails through its flagship stores located in Delhi, Gurgaon and Bangalore.
Website- https://inatur.in/
KIMIRICA
Founded in 2012, Kimirica is a vegan, paraben-free, cruelty-free bath, body, and skin care brand that offers thoughtfully designed self-care experiences. Backed by science-led innovation and powered by the goodness of plants, every product begins its journey in the lab and is then crafted to meet the highest quality standards. At Kimirica, all products are made using naturally derived key ingredients that are 100% vegan and cruelty-free. With the resolute purpose of redefining clean beauty, a diverse team of leaders, scientists, and innovators work together to craft exemplary formulations of high-performing scientific ingredients and plant-based actives. The researchers screen and meticulously test over 500 ingredients each year in the Kimirica lab. Using advanced technologies, they unravel each ingredient's full potential to create formulas that are simply efficacious. Inspired by the natural power of plants, these innovative formulas allow the revolutionary ingredients to take the spotlight as they're the real heroes of the products. Kimirica's diverse curation of fragrances, designs, and formulations creates unique sensory experiences and offers something for everyone. 
Website - https://www.kimirica.shop/
DEYGA ORGANICS
Today, modern skincare enthusiasts swear by a mantra that's been around for generations — the fewer the ingredients on the back of a product, the better it is for you. In short, less is more. Natural skincare brand Deyga Organics has designed its products around this motto of minimalism. Started by Arthi Raguram in 2018, this homegrown brand upholds a sustainable and cruelty-free approach and has a focus on natural ingredients that can contribute to holistic living.
A fusion of nature and goodness, they combine every particle by hand and bring to you an immersive experience of oneness with the earth. Also, they believe in organic care for the body and craftsmen celebrate raw, natural and organic beauty in every product they chisel.
Their products are handmade and safe for skin and hair. These products are easily available on social media. Their products are very useful for daily basic routine and help in glowing and nourishing our skin for a long period of time.
Deyga is named after the Tamil word Deygam meaning body. Headquartered in Erode, Tamil Nadu, the label sources its raw organic ingredients from the family's 60-acre farm, which grows produce like coconut and aloe vera. It also sources some ingredients from other local farmers in India and overseas.
Website- https://deyga.in/
KOSMODERMA RESEARCH CENTRE (Skin, Hair & Body care Products)
Kosmoderma Research Centre strives hard to formulate skin, hair, and body care products suited best for Indian skin types. Instead of stuffing shelves with products addressing a single purpose or concern, our researchers develop unique products that cover multiple interests for our customers. In turn, this helps to narrow your search for the products that work for you.
The minimal number of products delivering maximum desirable results – that's the motto of our research team. Kosmoderma researchers trade torrents of time envisaging and formulating each product. The founder and celebrity dermatologist, Dr. Chytra V Anand, is keen on employing natural ingredients of the highest grade to nurture skin, hair, and body from within in each formulation. We tackle skin problems holistically and drive value to each customer who buys Kosmoderma products by delivering results above expectations.
Website- https://shop.kosmoderma.com/