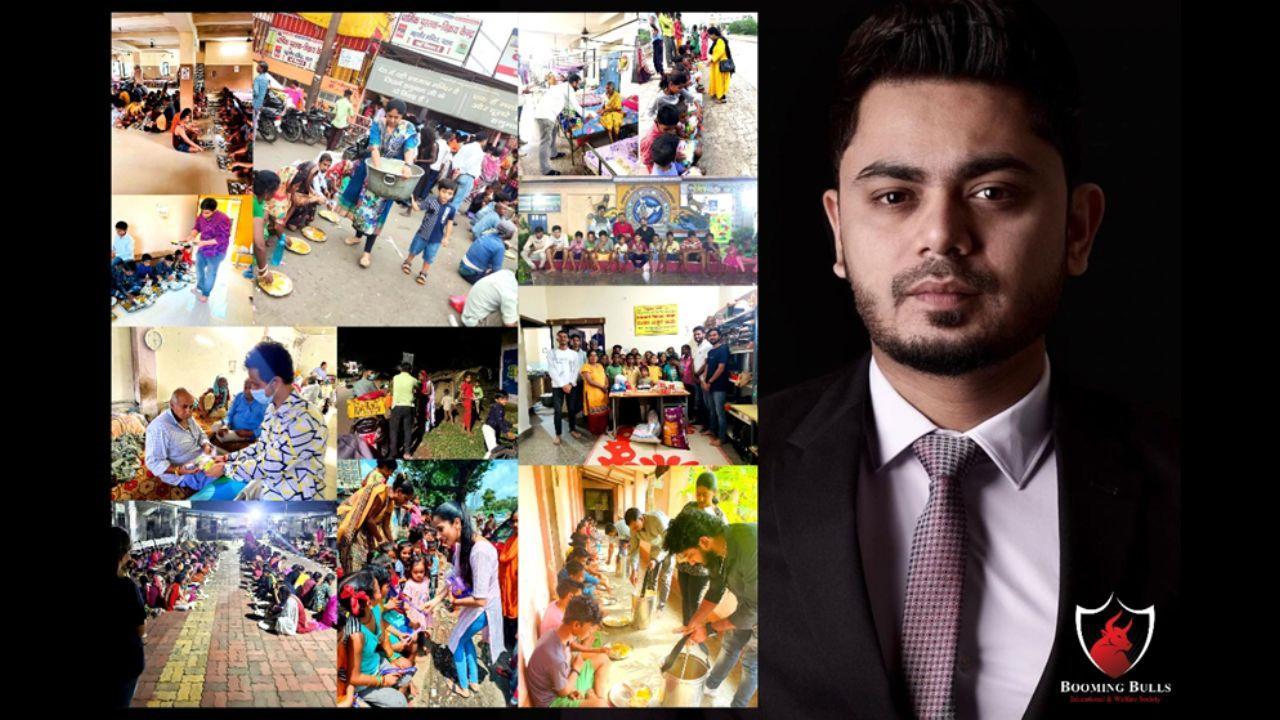 On its foundation day, September 24, Booming Bulls Foundation, the charity wing of India's leading stock market training institute, Booming Bulls Academy conducted a donation drive in 20 cities across the country.
Since its inception in December, 2019, Booming Bulls Academy, a rapidly growing edtech start-up, has hosted annual donation drives on the occasion of its founder and CEO, Anish Singh Thakur's birthday. While the company organises philanthropic and charitable events throughout the year, this large-scale, yearly undertaking exemplifies the company's core belief and fundamental value of giving back to the society.
 Redefining Corporate Success
While the stock market is popularly associated with the unilateral vision of money-making through big capital, deep pockets, and unfathomable financial jargons, Booming Bulls Academy stands in a league of its own as it continues to turn this perception on its head.
It was started with the aim of making sustainable wealth creation through the stock market accessible to all by simplifying its hitherto esoteric trading techniques. The company's CEO, Anish Singh Thakur, took it upon himself to devise a solution to the long-existing problem of inadequate and ineffective stock market education. Recognizing the potential of the stock market to financially propel the country's youth, himself included, Anish dove headfirst into all the authoritative stock market literature he could get his hands on and received training from stock market veterans like Dr CK Narayan. For Anish, the goal was clear: building a hands-on, practical course for stock market trading for the benefit of the general public.
Led by its CEO's vision, Booming Bulls Academy, as an institution strives to do its best to contribute to the creation of a more egalitarian economy, with proper redistribution of wealth. The company also attaches great importance to its social role as a profitable enterprise and believes that profit-making and social responsibility must go hand-in-hand. 
Young and Resourceful
Booming Bulls Academy, in its mere three years of operation, has trained around 14000 young men and women to become profitable stock market traders, thus, guiding them towards a path of financial literacy and independence. The company's growing popularity is on account of its leading role in helping dispel the myriad myths surrounding the stock market. All thanks to the perseverance of the company's three young and visionary founders, Anish Singh Thakur, Saurabh Khaspuri and Abhirup Sekhri. Frustrated by their own inability to find worthwhile courses in the field, they vowed to bring to the people a course that makes stock market education simple and effective.
In starting Booming Bulls Academy, its founders paved the way to reshape India's financial landscape, with more and more youngsters joining the ranks of efficient stock market traders irrespective of their family's economic background.
Recognising the Value of Philanthropy
Booming Bulls Academy, as an enterprise, attaches the utmost importance to human well-being, be it its own personnel or the society, at large. Not only does the company teach its students the importance of a balanced and well-rounded life, according equal importance to mental, physical and material health, it also is a strong proponent of the idea of giving back to the less fortunate.
Recognising the inherently elusive goal of a society devoid of wants, the company, since the very beginning, decided to incorporate a foundation with the sole purpose of organising events and drives to facilitate handing out food, clothing, books so on so forth to the underprivileged among us.
This year, Booming Bulls Foundation volunteers across 20 cities in the states of Maharashtra, Karnataka, West Bengal, Chhattisgarh, Bihar, Punjab, Madhya Pradesh, Gujarat, Odisha, Telangana and the Union Territory of Delhi, organised donation drives in orphanages, old-age homes, hospitals, homeless shelters and wherever they felt there were unmet needs that they could help with. Needless to say, this initiative ended up bringing joy into the lives of hundreds of people.