Bombay Stock Exchange gets awarded as India's Iconic Brand by The Brand Story at the Indian Brand and Leadership Conclave 2022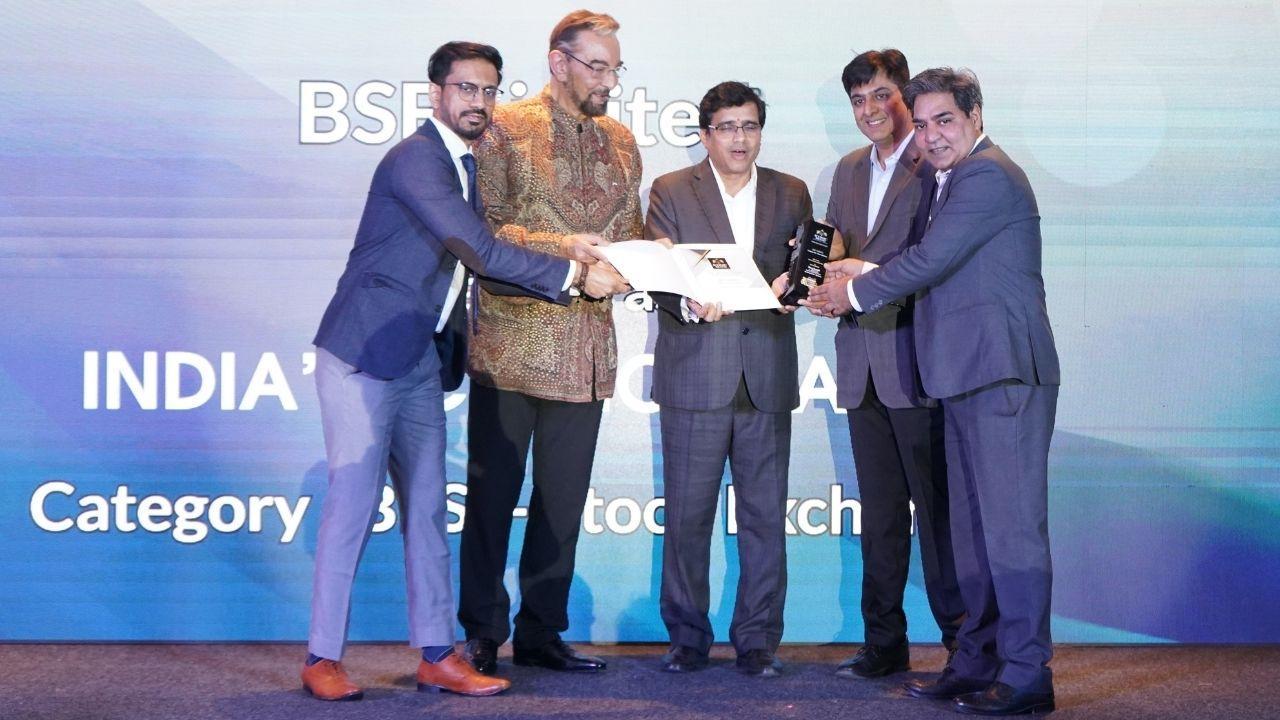 Established in 1875, BSE (Bombay Stock Exchange) is Asia's first & the Fastest Stock Exchange in the world with a speed of 6 microseconds. The BSE is one of India's leading exchange groups that have been functioning over the past 147 years. It has facilitated the growth of the Indian corporate sector by providing it with an efficient capital-raising platform. BSE was established as 'The Native Share & Stock Brokers' Association' in 1875 and in 2017 BSE became the 1st listed stock exchange of India.
BSE deals with diversified lines of businesses that span across Trading and Clearing, Distribution, Services to Corporate, and Others. The Trading and Clearing businesses include Equity, Debt, Equity Derivatives, Currency Derivatives, Commodity Derivatives, SME, Interest Rate Futures, SME Startups, E-Agricultural Spot Market. The Distribution businesses include Mutual Funds, Book Building Services for IPOs, Offer to Buy, Offer for Sell, New Bond Platform, and Insurance. The Services to Corporate businesses include Equity Listing, Listing of Debt Securities, Mutual Fund Listing, and Listing Commercial Papers. Lastly, the other businesses include Data Feed, Index Services, Software Services, and Training Services.
BSE is a retail exchange that primarily caters to people who want to invest & not trade. Over the last 2 years, BSE has added close to 5 crore investors which make the total number of investor accounts registered with the BSE touch 10 crores. This is an almost 60 percent increase in investor accounts. BSE has acted as a catalyst for investments and wealth creation for the entire India for the past 147 years ever since its inception. It has been able to create the trust and comfort of investments over the time spanning the 19th, 20th, and 21st centuries amongst the investor community. In the time to come, India will be able to achieve double the annual growth all thanks to the investments done at BSE.
In the past three years, the BSE has launched the BSE StAR MF app to offer supreme comfort of doing business anytime that the customers want to. This is an e-platform that is made for investments and redemption in the units of mutual funds and other financial products on the behalf of customers. Until now, the pan India coverage of the BSE StAR MF app includes 69, 789 number of distributors who can transact, 57.1 million registered users with mutual funds, 41 mutual funds registered, 10, 193 schemes, and 712 cities/towns covered.
Other than this, BSE has also launched India's first exchange interest rate options. BSE -Ebix managed to receive in-principle approval from IRDAI to start insurance distribution. Under the Ebix insurance broking, the BSE launched motor insurance products, health insurance products, life insurance products in 2020 which makes Ebix present in all insurance verticals. There was a policy premium of INR 28.3 million launched in Q1 FY2022, a total of 1517 policies issued in Q1 FY2022, and a total of 784 certified Point of Sales (POS) in Q1 FY2022. The total premium collected with Ebix has grown by 447% in Q1 FY2022 as compared to Q1 FY 2021.
In addition, BSE has also become India's first exchange to launch options on goods in Gold, Mini, and Silver while also becoming the world's only derivative to trade in almonds. When it comes to the global rankings of the BSE then in the market capitalization, BSE has ranked 10th highest globally with around $3.08 trillion. In the category of Electronic Book Trades, the BSE has ranked 7th largest globally with $77.2 million. In the category of Number of listed companies, the BSE has ranked 5, 491. In the Currency Options Traded Value, the BSE has ranked 2nd largest globally with $40.95 million, and in the Currency Future Traded Volume, the BSE has ranked 4th largest globally with $27.34 million. Over the last few years, BSE has transformed itself from a conventional stock exchange to the 1st Universal Exchange in addition to setting up e-commerce initiatives successfully.
The Brand Story acknowledges the excellent efforts of the Bombay Stock Exchange in redefining the finance industry by coming with a diversified range of financial products. Dr. Abhay Kaushik, Founder and Editor in Chief, The Brand Story said, "The Bombay Stock Exchange has been consistent in its endeavour to empower the citizens of India with a wide range of financial investments. BSE deals in diversified lines of businesses to allow investors to trade in equities, currencies, debt instruments, derivatives, and mutual funds. The BSE also provides other important capital market trading services such as risk management, clearing, settlement, and investor education. The Brand Story is proud to honour Bombay Stock Exchange as India's Iconic Brand."
 Visit us at www.thebrandstory.co.in