.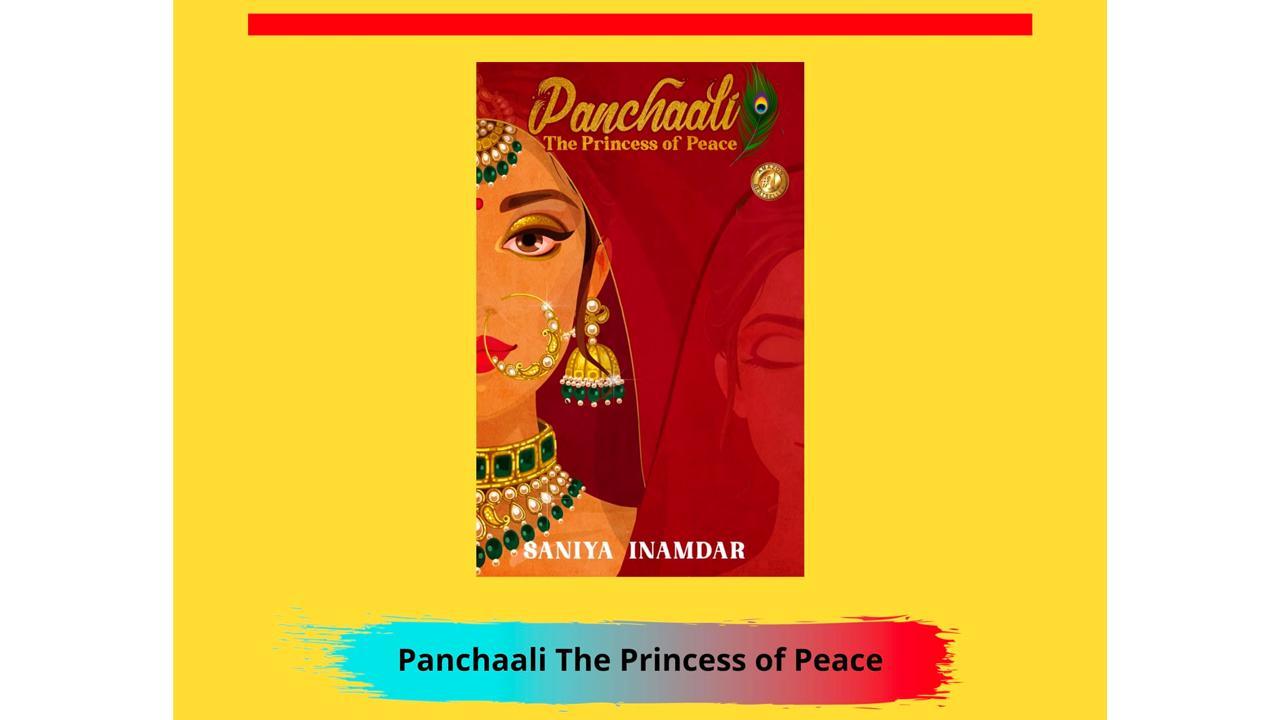 Panchaali: The Princess of Peace by Saniya Inamdar
"One morning she woke up different.
Done with trying to figure out who was with her, against her, or walking down the middle because they didn't have the guts to pick a side. She was done with anything that didn't bring her peace. She realized that opinions were a dime a dozen and loyalty wasn't a word but a lifestyle. It was on this day that her life changed…Because she realized that life is way too short to leave the key to your happiness in someone else's pocket."
Wouldn't we all be glad if these lines transcended the realms of hypothetical myths and broke into the realities of our existential living?
Indeed, for women it has been a raging battle, a never-ending pursuit of supposedly 'proving' the very existence of their being, the relentless fight towards the chastisement they face, the perpetual brutality of that 'forever shove', the hashtags and labels they continue to live under, forcibly. When is it then that we can truly call ourselves, empowered, liberated?
And you know the funny part? What happens when women turn against the tide, striving to fight for this place they need to call their 'own' right? Well, the answer stands a mixed bag for aeons of time now, thanks to the preset societal norms having been type caste and fashioned all in the favour of the age-old male-dominated society.
For me, Saniya's Panchaali: The Princess of Peace has been a silent yet subtle call to such a coming of age, much needed to nudge to evanesce these orthodox chauvinistic norms that not only threaten to degrade feminism but the entire Humanity as a whole if truth be told.
This fantastic retelling which is a kind of an alternative reality check delves to explore perspectives which albeit fictional are nevertheless soothing as well as unnerving at the same time.
Saniya, through her vantage and envisioning of Panchaali, manages to get across the true side of the Princess of Panchaal, not only glorifying her strengths which make her the enigmatic, flamboyant being she is but also show us a side of her true persona which has perhaps never been explored, thanks again to the yesteryears dogmatists and racialists.
Saniya strives to build one block at a time, intrinsically exploring each and every thread that not only captures and encapsulates the true essence of Panchaali but also tries to foray into unchartered territory. That is the beauty and the essential vitality that makes her writing wondrous and worthwhile. It is surely not at all easy to create a different kind of writing such as Saniya has attempted to do through this book. It takes the research of varying proportions as well as a balanced, unbiased overview of the facts as well as myths related to the preconceived nationalities that have been ruling the mindsets of our society for ages.
Panchaali in actuality has never ever been the reason or the so-called cause behind the Mahabharata. It is the sadistic, backward mindset of the then existing strata of the people who, perhaps fueled by their own internal insecurities and shortcomings have inadvertently given birth to the most barbaric, inhuman practices that continue to influence and have a stronghold over the mindsets, even today.
Through this aesthetic stalwart, Saniya has brought a new light to the true side of perhaps the most sought after and discussed women of all times. The complete aura created of the Princess, her feelings, her musings of the ways of the world, her conversations with Krishna , her forever Sakha are gleeful bliss to those readers who perhaps, for ages have been unknowingly seeking, awaiting to explore this delicate yet tenacious side of her personality. The conversations with Krishna , especially make up for not only an unusual , enlightening read but are trail blazers of what has and what could have transpired , had Panchaali chosen the other paths, perhaps never meant for her…
With an engaging , flawless tonality the writing is fresh , never making you leave the threads between fact and musing even for an instance. The camaraderie between Krishna and Krishnaa aka Panchaali is an exchange, which for me atleast , makes up for the most phenomenal exchange between two cults, across centuries, perhaps 2 of the most versatile and followed characters. Saniya not only gives complete justice to this hypothetical spin off through these animated conversations between the two , but they are one of those high points of this book , which I feel are some of the best pieces of writing I have seen in a very long time. The reason being they are cataclysmic conveyors of concepts which otherwise take years of age old wisdom to be imparted and explained. Brownie points to her writing for having attempted something as unique and beautiful as this book.