The scope of astrology is very vast. Its capacity to solve diverse issues has proven its strength. Yet, there are many astrological concepts that are yet to be uncovered.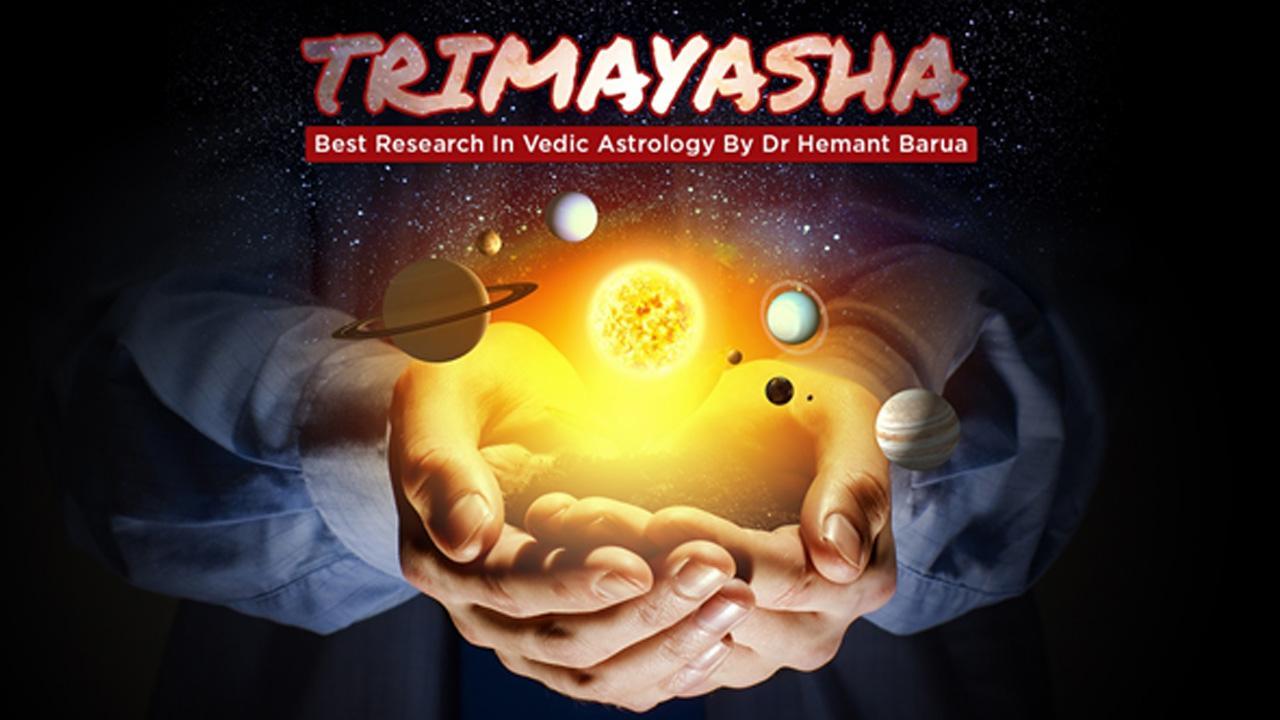 Once all such deep-rooted majestic studies are brought into the limelight it will change the face of astrology and take it to a much higher level. Apart from India being the birthplace of astrology, it also caresses in its lap many experienced and reputed astrologers. One such astrologer is Dr Hemant Barua who brought back the usage of the astrological remedy which lay dormant for years due to its complexity. This is the Trimaysha Technique of Remedy. The concept of Trimayasha means the three aspects of human life, viz., health, wealth and success. Trimayasha Technique of Remedy is a comprehensive technique that combines various concepts and principles from different systems and branches of astrology. He is listed as one of the top astrologer in India and became the first astrologer to have devised a new way of calculating the Trimayasha Technique of Remedy. If followed religiously, the technique can increase the efficiency of astrological methods manifold.
The calculations were introduced by Dr Hemant Barua after years of vigorous research will help you in getting rid of all your problems related to family, career, love and health etc., in only a day in contrast to days needed through the earlier method. Nowadays, this easy computation of the Trimayasha Technique of Remedy is being used by many astrologers.
Trimayasha Technique of Remedy
The term 'Trimayasha' refers to three aspects of life: health, wealth, and happiness. These three aspects are very vital to every human being and cannot be avoided under any circumstances. It is a Vedic treatment, thus, it doesn't have any side effects. It can also be referred to as a Cosmic Remedy. One is not required to be physically present to perform the remedy. It is the process of channelling a person's unique planetary alignment or cosmic code and is comparable to human DNA. The Trimayasha code is extremely complex and takes nearly one to three hours to compute the same.
Since time immemorial, the Trimayasha remedial procedure has been used to determine the root cause of any given problem. Despite the fact that the solution was guaranteed, it took nearly six days to develop. The process was overly complicated, requiring numerous calculations, interpretations, and computational methods. Another factor that made the calculations time-consuming was the absence of astrological calculators or any such technology. Gradually, astrologers became more reliant on relatively simple remedial techniques such as gems, yantras, and so on, and there were many instances where the desired results were not obtained.
As per the Vedic Astrologer of India, calculating the Trimayasha code is only a portion of the overall procedure. Finding a solution to the Trimayasha is the key element. He compiled some of the most influential works on astrology, including the Brihat Parashara Hora Shastra, the Saravali, the Sarvarth Chintamani, and portions of the Trimayasha that were inscribed in the Vedic scripts. In addition, he connected these classics with the 1500 sutras to come up with the best course of action.
Indian celebrity astrologer Dr Hemant Barua was convinced that using the Trimayasha Technique of Remedy would make it simple to resolve a variety of challenging issues. In order to develop a method that would make it possible to compute the Trimayasha code and the solution in just one day, he started his research in 2013. He was able to complete his endeavour successfully, which became one of the most notable contributions to the field of astrology, after vigorous research for more than three years. He calculated a number of computation techniques that will help astrologers make use of the Trimayasha technique to find and resolve complex issues.
About Dr Hemant Barua
Over 75,000 people have used the services of Dr Hemant Barua. He is a Vedic astrologer and a Gemologist with an overall experience of over 23 years. He researched all 27 Nakshatras individually. His scientific approach to solutions, easy explanations and remedies made him one of the most well-respected astrologers in the country. His clientele includes Bollywood stars and other notable individuals. He offers astrology services related to career, job, marriage, love life, finances, foreign relocation, and business. He has been bestowed with numerous prestigious awards and holds a PhD in astrology. Some of his highly regarded assets include the International Jyotish Ratna Award 2021, the Global Srestham Award 2021, and the Best Astrologer Award 2022, to name a few.
How to contact Dr Hemant Barua
Dr Hemant Barua offers virtual consultations to anyone who wishes to consult him. He takes up video and telephonic sessions in either Hindi or English. He has a website dedicated solely to astrological purposes. Due to high demand, it is recommended to pre-book your consultation by visiting his website- www.planetsnhouses.comor through Whatsapp at +91 9773959523.
Takeaway
Dr Hemant Barua pledges to share his discoveries, which are deeply rooted in sacred astrological classics. His main goal is to help people understand the importance of age-old astrological remedies rather than commercial remedies such as Gems, Yantra, and so on. He has trained hundreds of astrologers and delivered over 100 Trimayasha presentations to thousands of astrologers. People travel from all over the world to see him for this cure, but due to time constraints and physical limitations, he can only help five to ten clients per month. As a result, he is now training highly regarded astrologers so that the findings of his research can benefit people. Given the effectiveness of Dr Hemant Barua's Trimayasha Technique of Remedy, many top astrological companies are seeking his advice on developing software based on his calculations for future use. In addition, if you are a fan of astrology or simply want to learn more about this technique, he is writing a book on the subject. It will shed more light on the subject and educate people on how to use the technique. Trimayasha Technique of Remedy takes a person's nakshatra alignment and other planetary configurations into account. Computing it takes time and due to the numerous complex analyses involved. Thus, it is somewhat costly! But, given the outcome, it is well worth the investment.