Enigmatic Yasmin Gill from Navi Mumbai was recently crowned Mrs. India Queen of Substance 2022 at Delhi.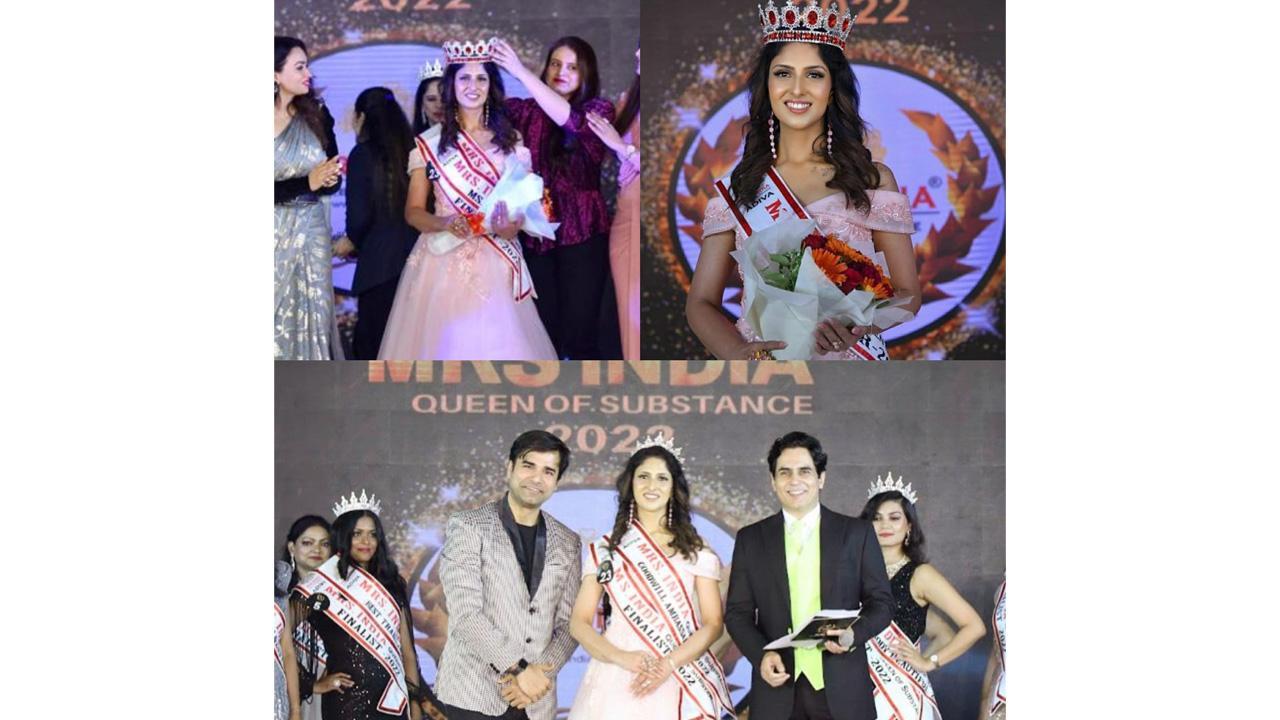 Yasmin Gill, a resident of Seawoods Estates, popularly known as NRI Complex, Navi Mumbai was recently crowned Mrs. India Queen of Substance 2022. The MIQS pageant, which was held at ITC Welcome Hotel, Dwarka, from 4-6 Aug 2022, is the most respectable title & award in India for married women. This pageant is for successful married women who exemplify Beauty, Talent, Intelligence & Compassion. Total of 25 contestants were selected from across India and six different rounds which included - Talent, Personal Interview, Fitness, National Costume, Introduction, and Evening Gown Round. Mrs. India - Queen of Substance contestants are Successful Married Women who strive to be self-confident, graceful, elegant, charismatic and honorable in the representation of India at home and around the world. Started in 2015, Mrs. India Queen of Substance provides International Platform of Mrs. Universe, Mrs. Earth, Mrs. United Nations, and other international pageants.
Yasmin was also awarded The Goodwill Ambassador 2022 title. A fitness enthusiast, she is also a certified Yoga Teacher and aspires to spread awareness about Yoga and mindfulness with a vision to contribute to create a world filled with compassion. Yasmin says, "It feels incredible to win these prestigious Titles! I want to take this as an opportunity to inspire people that it is never too late to set new goals. Once you set your heart on something, the universe conspires to help you achieve it." Perseverance, commitment and dedication are her core values. She is passionate about social causes related to women upliftment and girl child education.
An ambitious professional, she started her career at an age when most women start taking a break from work. She is currently working as Business Development Manager for Emerging Markets and Strategic Projects with Technal, a French Aluminium Building System company which is part of Hydro Group from Norway. Despite her hectic domestic and international travel schedules, Yasmin has proven that it is possible to lead a successful professional career while also pursuing your personal dreams and nothing is impossible! This glamourous, mother of two grown up children is gearing up to represent India at the International level very soon. She is thankful to the MIQS Directors Ritika Vinay and Vinay Yadav for curating this platform.