As an agency, both brand and celebrity are a priority to us. As the chain of events goes, the process starts with the brand's interests, budgets, marketing strategy goal and the basis of all of these factors; we fit in the celebrity.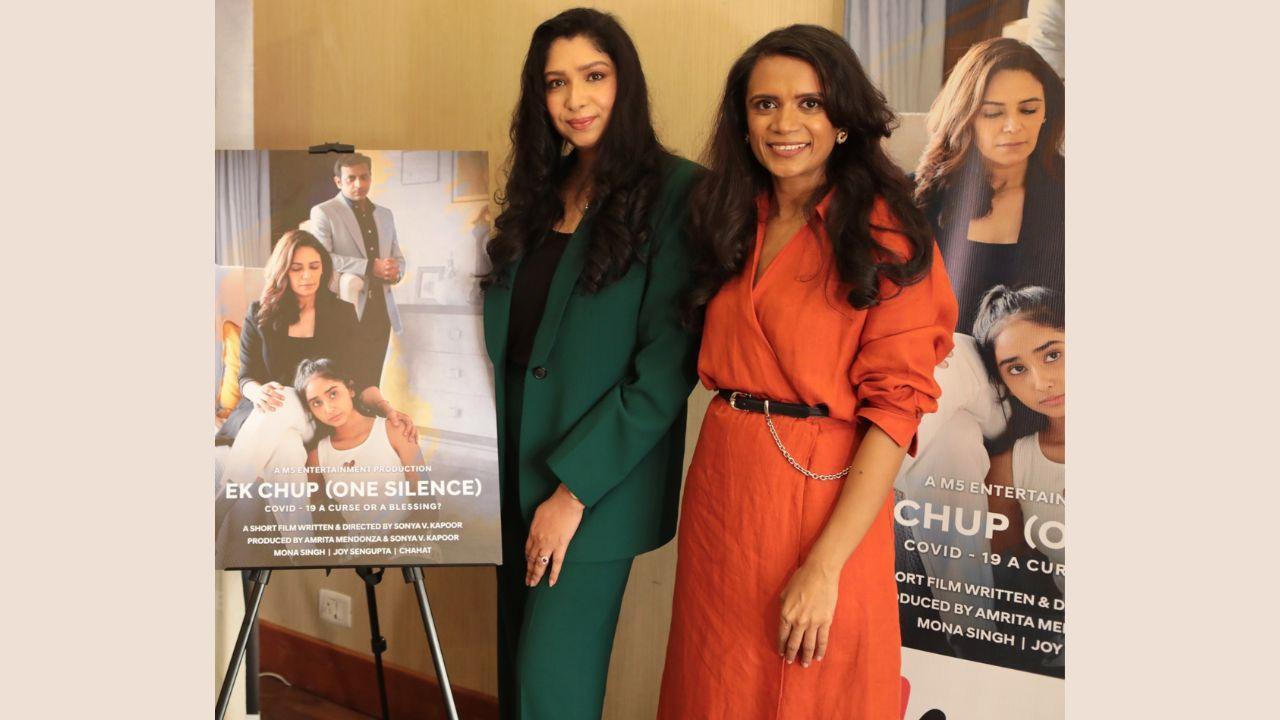 Sonya V. Kapoor and Amrita Mendonza at the screening of their film, Ek Chup
M5 Entertainment has been growing from strength to strength in the last few years in the entertainment business and has been relentlessly working not only as a businesswoman but also as content creators to keep an eye out for. Sonya V. Kapoor has marked herself out as a director, and both she and Amrita Mendonza are on the cusp of announcing an exciting upcoming slate along with their expertise as a talent agency. 
1. As an agency with no exclusive talent of your own, how do you balance the interests of the brand and the interests of the celebrity? 
ADVERTISEMENT
As an agency, both brand and celebrity are a priority to us. As the chain of events goes, the process starts with the brand's interests, budgets, marketing strategy goal and the basis of all of these factors; we fit in the celebrity. The celebrity should have the right reach and most definitely be the right fit for the brand. At the end of the day, our mantra is that both the brand and celebrity are equal parties to this association, and it is imperative that both are happy with this. While the brand is the point of initiation, the celebrity adds their own brand equity and as the agency, both have to be kept in the same stead and balance their interests so that both are happy with the end result.
2. Following up, what's key in your opinion that allows you to be the first choice for both the brand and other talent agencies, as they definitely would have other options as well? 
Of course, the brands and the celebrities both have multiple options, but we continue to be the first choice for so many because of the way we work. For us, transparency and cost-effectiveness are key, but the most important thing is trust. The brands trust us to take them to their end result, and the celebrities trust us to bring a sound deal that is in sync with their personal objectives every time. It's not just about the money; it's about the personal relationships, trust and the give-and-take equation that M5 has built over time that allows both the brand and celebrity to choose us to deliver their best interests. Just to name a few brands that have continued trust in us because of these factors are TATA Play, WOW, Gynoveda, Drools, Fire-bolt and similarly, celebrities like Kareena Kapoor Khan, Saif Ali Khan, Kiara Advani, Samantha Prabhu continue to associate with our time and again leading to us becoming the first choice and most importantly a good choice.
3. Does being the face of too many brands have an impact on the celeb's personal equity or brand? And is the popularity short-lived? 
This is very subjective because a celebrity's personal equity is the reason why a brand hires the celebrity. Too many brands on their roster may or may not have an impact, for example, Dhoni, Amitabh Bachchan or Kiara Advani. The brands, in fact, preferring to associate themselves with them because they bring a certain sensibility and perception that all brands want. We cannot say for sure if this impacts them personally, but the fact is that multiple brands still want exactly the same people and reach out to them because there is a demand amongst the consumers as well. Short-lived popularity is also extremely subjective, and the best example is Amitabh Bachchan; he's been doing this for ages and is still popular. Technically endorsements piggyback the celebrity's brand equity in their main line of work, be it cricket, films or music. At the end of the day, this depends on each person's career trajectory, and that's the final decision maker on if it's short-lived or not.
4. M5 Entertainment is also producing content. Does this help with the brand work you do and vice versa, or do you'll treat it as separate verticals? 
These are two separate verticals for sure, but there sometimes is an overlap, especially when we work with actors. The connections and relationships built are quite close, giving us a good understanding of what they are looking for in terms of content as well and definitely helping us develop content with that perspective. This is good knowledge to have since we can then integrate what the actor wants to do, what we want to do and what the platforms and producers are looking for. So while that's an overlap in that sense, there's definitely no overlap in terms of execution.
5. Please shed some light on your short film, Ek Chup and what everyone can expect from M5 in the future.
Ek Chup is a beautiful film about a girl who believes in the ethos of Ek Chup Sau Sukh and is brought up with this patriarchal ideology of telling the girls not to question things or seek controversy. The film was produced by M5 Entertainment, with co-founder Sonya V. Kapoor as the director of the film. She is looking to make an equal mark in the fraternity as a director as well as a producer. The film is about how this silence saturates the protagonist and her journey to break out of this loop. There's no moral judgement as to how she does that; if it's good or bad, whatever her means are, the point is that she finds a way out. The silence that was her weakness at the start becomes her strength at the end of it. It's the story of her breaking free with no moral judgement. The aim is to make M5 Entertainment a house of content that will spotlight female protagonists and take these stories both locally and globally to tell untold stories as we recognise the gap that exists there and look forward to filling it. We are also looking at international collaborations and will be sharing some exciting news sooner than we had anticipated.