India has always given importance to the labour force. It is the hardships of laborers that drives the entire world's businesses and work. No building will stand, if the laborers do not build the foundation.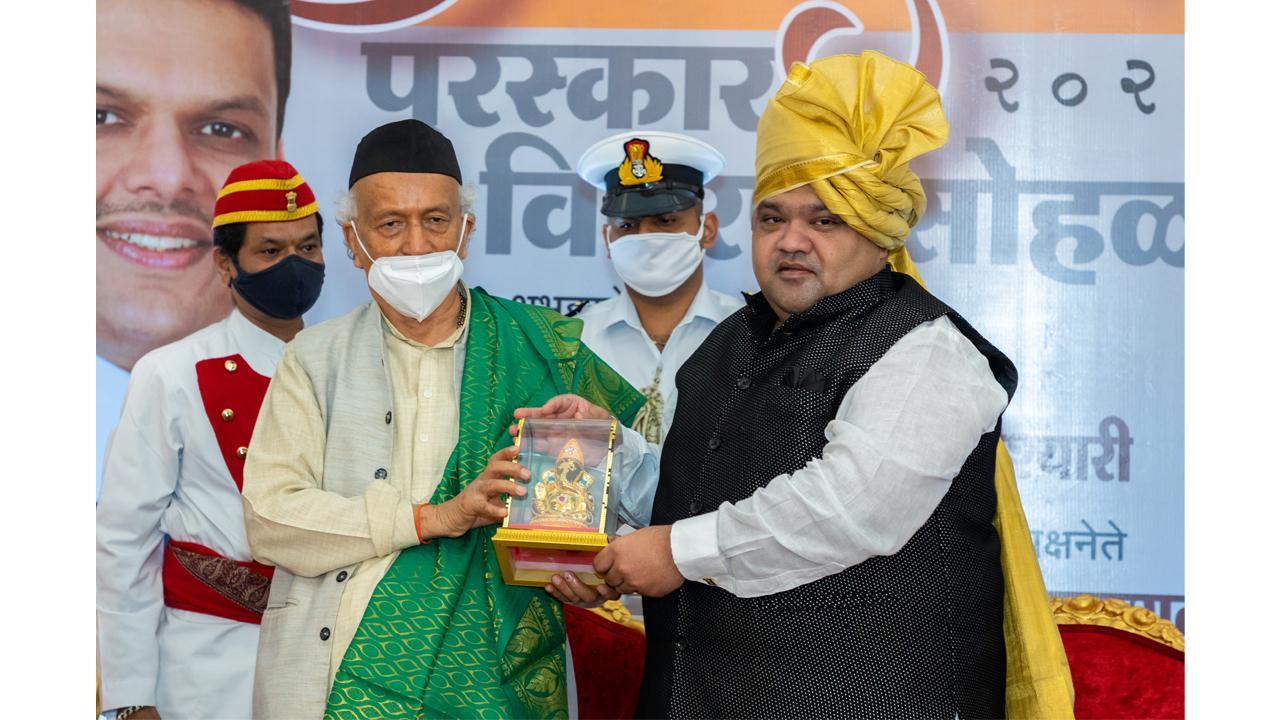 Honorable Governor of Maharashtra, Bhagat Singh Koshyari,  said this while presenting the 'Kamgar Mitra' award recently.
The Governor  also said that laborers are called  Vishwakarmas and make a unique contribution to the work of building a  nation.
 Shri Koshyari was speaking to those present at Raj Bhavan, Mumbai,  recently when he presented the 'Kamgar Mitra' award on behalf of the Dhadak Kamgar Union.
 The Governor bestowed the award to representatives of Labour Unions, Labour Counsels, journalists and others, during a ceremony organized by Dhadak Kamgar Union at Raj Bhavan, Mumbai, on February 25, Friday, 2022.
President, Dhadak Kamgar Union, Abhijit Rane,  was present along with Mrs. Anagha Rane and all those who received the award, on the occasion. The Governor also released the Souvenir 'Kamgar Mitra' on the occasion.
Abhijit Rane, President, Dhadak Kamgar Union, said the union has been working for the last 10 years and now 7.30 lakh workers have been added to the organization.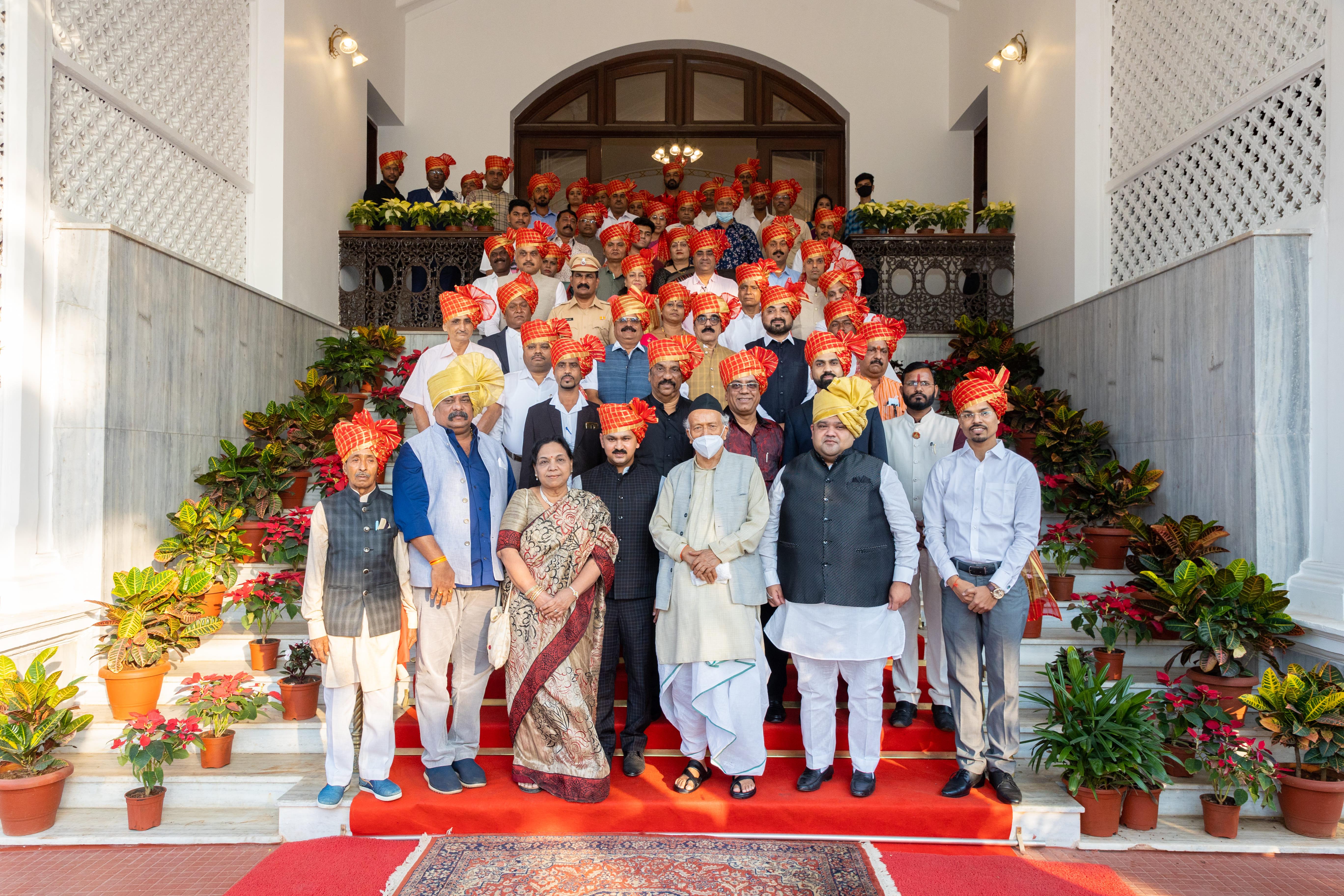 Shri Koshyari congratulated the Dhadak Workers' Union for welcoming the laborers and the lawyers, journalists and social workers working for the laborers and laborers who are engaged in the laborers' movement.
The Governor said, "No work is small or big. If  a work is done from the heart, the laborer enjoys divine pleasure."
He also said that if we work honestly today, it will benefit the future generation  tomorrow.
 During the event the Governor bestowed the  'Kamgar Mitra' award  to Supreme Court lawyer Adv. Subhash Bhutia; Adv. Asif Mulla, Mullah and Mullah Associate; Ashish Patil, Additional Commissioner, Vasai-Virar City Municipal Corporation;  Adv. Ashok Bhatia Senior Advocate; Adv. Arun Nimbalkar Lawyer, High Court Mumbai; Adv. Jai Bhatia, Managing Attorney, J. K.B. Legal; Vijay Shirke, Director, Shirke Group; Irshad Mulla, Managing Director, Haji Adam Mulla, Universal School; Ashok Pawar, Deputy RTO, Andheri and Borivali; Vegunpal Shetty, Hotel SAI Palace Vice President; Amar Pawar, Managing Director, Lakozy Toyot Auto Pvt. Ltd.; Rajesh Vikrant, Sahitya Editor: Khabar Mitra; Uday Pai, Managing Director Adv. Art; Atul Raorane, Shiv Sena leader Sindhudurg District Planning Committee member; Dashrath Singh, HR Manager, PVR Cinema; Karan Gaikkar, Founder President, Chhawa Krantiveer Sena; Nilesh Chandole, Human Resource Management (HR) Carnival Cinemas; Prakash Barot, CEO, Channel Construction Pvt. Ltd.; Rajesh Purandare, senior journalist.
Others who received the award from the Shri Koshyari include Amol Rane, CEO, Wast Media Pvt. Lee.; Ramjas Yadav, President, Dhadak Kamgar Union; Adv. Narayan Panikkar (Murli), Vice-President, Dhadak Kamgar Union; Prakash Pawar, Treasurer, Dhadak Kamgar Union; Zoheb Patel, Operator, Adarsh Masala and Company; Kunal Jadhav, Head of Public Relations, Dhadak Kamgar Union; Manisha Yadav, Office Co- Ordinator, Dhadak Workers Union, Head Office; Jhullur Yadav, President- Sales Tax Office Unit; Kamlesh Vaishnav, Bureau Chief, Nation First TV Channel, Johnny Y.K., Maharashtra Forest Employees' Union, President, Maharashtra Forest Employees Union,  Vijay S. Sawant (Viju Patel) Producer-Director- Actor; Kamlesh Yadav, Corporator, BJP; Dr. Ajit Sawant, B.A. M. S. (Bombay);  Satyavijay Sawant, Unit President, Hasmukh & Company PGDhadak Workers Union, Dhiraj Patil Unit President, Hotel Pearl, Dhadak Kamgar Union, Uttam Kumar, Vice President, Maharashtra Pradesh, Dhadak Kamgar Union; Abhijit Bhoite, Maharashtra Vice President, Dhadak Kamgar Union; Dr. Narayan Rathod; and B.K. Pandey, Kamgar Mitra journalist . website: www.dhadakkamgarunion.in