Mumbai-born painter Shrey Purohit has donated and auctioned his prestigious 2021 PleinAir Salon Art Competition's best artist under 30 Award-winning 'Downtown Near the Van Gogh Exhibit' oil painting to raise funds for the homeless and needy in San Francisco.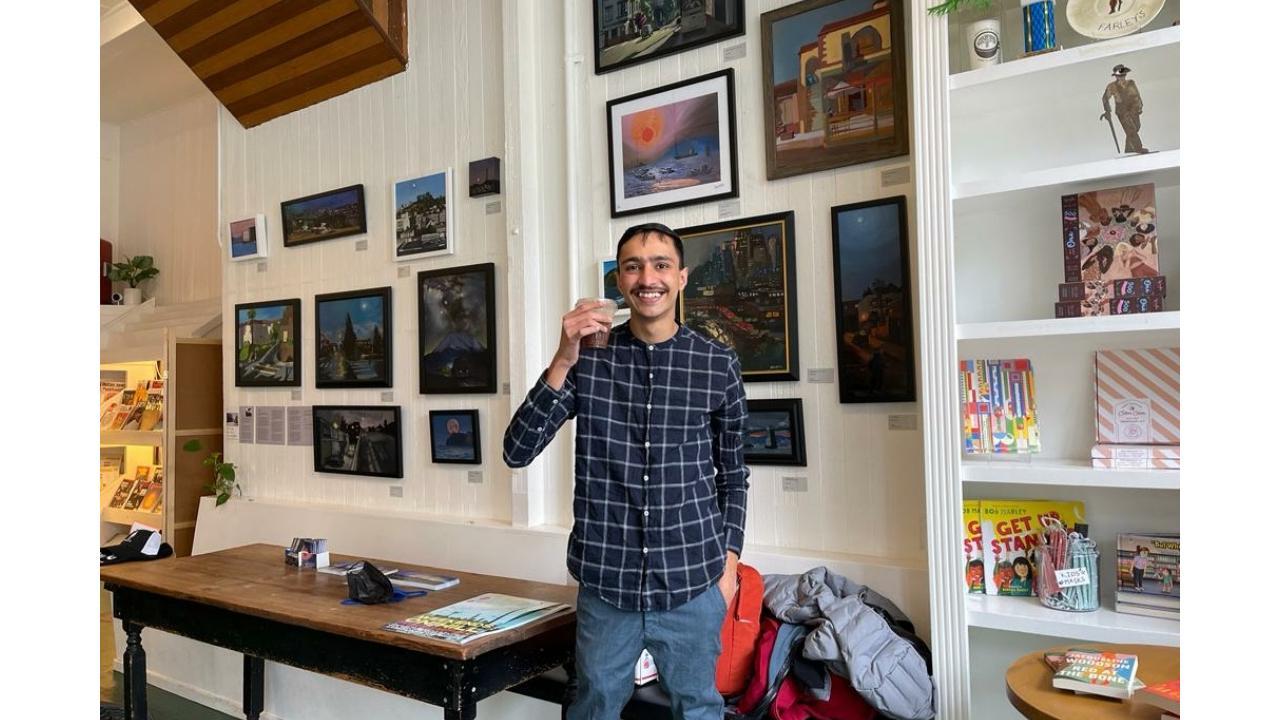 Shrey Purohit
Purohit, a US resident, who bagged the PleinAir Salon Art Competition's prestigious best artist under 30 Award for his oil painting of San Francisco's urban landscape this year is also keen on showcasing some of his favourite works made in India, like his painting titled Sun will rise So will You", capturing the first sunrise of 2021 made in Colaba, Mumbai.
A painter, muralist, curator and educator, Shrey Purohit, as a child felt academics as a barrier after being diagnosed with dyslexia. Traveling against the grain of his parents and grandparents' occupations of doctors, Shrey took the road less traveled by and saw his foray into the world of art starting with graffiti and typography where he found relief and a calling. Born in 1997, and after spending 19 years in Mumbai, Shrey moved from graphic design to studying as an illustrator.  In 2020, during the pandemic, Shrey graduated from the California College of the Arts in San Francisco with a Bachelor in Fine Arts.
ADVERTISEMENT
"Seeing how galleries were closing down left right and center, instead of waiting for an opportunity I decided to start my own gallery to highlight my amazing friends and myself, as creators with a new hope" The Ingleside Gallery became a neighborhood favorite on the weekends as space for artists and art lovers to connect. Shrey shows and highlights artists that are emerging and don't get spaces in the over commercialized gallery of downtown San Francisco. 
Removing the layers of barrier for both the artist and art lovers, Shrey has on display 500+ artworks of 50+ artists and sold over 15,000$ worth of art in the first 3 months of the gallery opening. Besides getting a certificate of honor from the city of San Francisco for furthering arts and culture in San Francisco, the city officials and Mayor London Breed has graced Shrey's Art Shows. Every other weekend, Shrey brings 20+ artist painters, sculptors, designers from around the neighborhood of Ingleside and across the Bay Area to share their art and make a successful occupation of it.
Shrey is a firm believer that, art created with love, will always be successful. Giving artists a space to share their work, Shrey an immigrant and outsider to San Francisco has brought in hope, optimism and mined out artists from their resignations with the art world to show them the love and support of patrons. Be it artists ranging from an 80-year-old to 14-year-olds, Shrey sees no restrictions in highlighting artists, beside passion. Shrey is well-known in the neighborhood, you can see him walking down the main street of Ocean Ave, as people wave to him. Shrey loves to chat while painting and finding out more about the history and culture of a place is important to him.
Shrey whose work involves oil paintings is best acknowledged for recreating scenes of the San Francisco Bay in the style of the impressionists, says that capturing fleeting light on neighborhood subjects and finding magic in the mundane are what his artworks always depict.
"Through my art practice, I keenly observe, survey and interpret my neighborhood before creating paintings that will document the delicate plays of lights and shadows. My paintings are a means of conveying hope, that reflects the community and comfort around the neighborhood," says Shrey who has incidentally bagged two PleinAir Salon Art Competition awards one in 2020 for "800 Indiana St Nocturne" and for the 'Downtown Near the Van Gogh Exhibit' in 2021.
Among his new works, come January 2021, Shrey is all set to begin work on two, 10ftx30ft wall murals for the office of a large social media company in the bay area.  "It's going to be a massive project, but I've trained for this and painted large murals before. I have a good team, who's going to help me do it and am looking forward to having a permanent artwork in this company's offices," he says.
Besides being an art teacher, Shrey curates' art shows at the Ingleside Gallery, creating opportunities for over 50 artists, around 10 from the South Asian community and two of whom are from Mumbai. And when he is not representing artists at the gallery and he is creating paintings and prints, of his historic capturing of the neighborhood scenes of the city, the self-taught artist is finding time for creating a podcast series that keeps him busy. "I am more of a navigator than a teacher. I want to share the reasons to walk down the path of being an artist, it's a road less travelled by, and it's unlike a regular career, so being a multimedia artist, I am able to show my students the spectrum of abstract art or hyper-realistic art, letting them choose which path they want to go down" he reveals.
Having donated the 'Downtown Near the Van Gogh Exhibit' art to the Coalition of Homelessness a well-known and historic nonprofit that raises funds and help the needy,  the auction saw 150 artist donate artworks that raised $65,000 out of which Shrey painting went in a bidding war up tp $2500 to the highest bidder. Shrey is actually working on a plan that will see it being painted larger and afresh. "I wanted to keep a copy of it for myself," he says. Of the 3,000 to 4,000 works done by him in the past 10 years, Shrey confirms 1,500 to be paintings and another 500 as serious paintings done in the past two years of the pandemic.
As a young artist and art gallerist, Shrey believes that it is really an essential service that humans require to comfort their soul, which other material objects don't provide. "The painters spent the emotional energy to dig for new ways of seeing and acknowledging the world around us, which requires deliberation, focus and time. With the support of art lovers, the purchased of created art funds the creation of the next artworks. To me, we are blessed to be alive and blessed to be able to apply paint to canvas. Vincent Van Gogh, who I was thinking of in the Painting Near van Gogh Exhbhit, died almost penniless and starving. So, to be supported by art lovers we are blessed. And I have seen in my personal practice that this world rewards the bold and passionate. There is in this day and age, so much financial support for artists, with Instagram, Etsy, NFT's so many options out there being raised, for us artists. To me high quality art is an ordinary human just expressing ourselves through the curation and arrangement of objects be it paint and canvas or bronze or found objects, Expressing, which all of us humans do, as time will pass us by and we all will die, our only choice is to always just expressing ourselves," he says.
Shreys instagram has an avid following of 3300 followers and supporting from all across the globe.
For further information contact: Shrey Purohit purohit.suresh@gmail.com / shrey@shreypurohit.art/biz@shreypurohit.art
"Exciting news! Mid-day is now on WhatsApp Channels

Subscribe today by clicking the link and stay updated with the latest news!"
Click here!