Your words are your power, and powerful words carry the potential to transform and uplift a personality.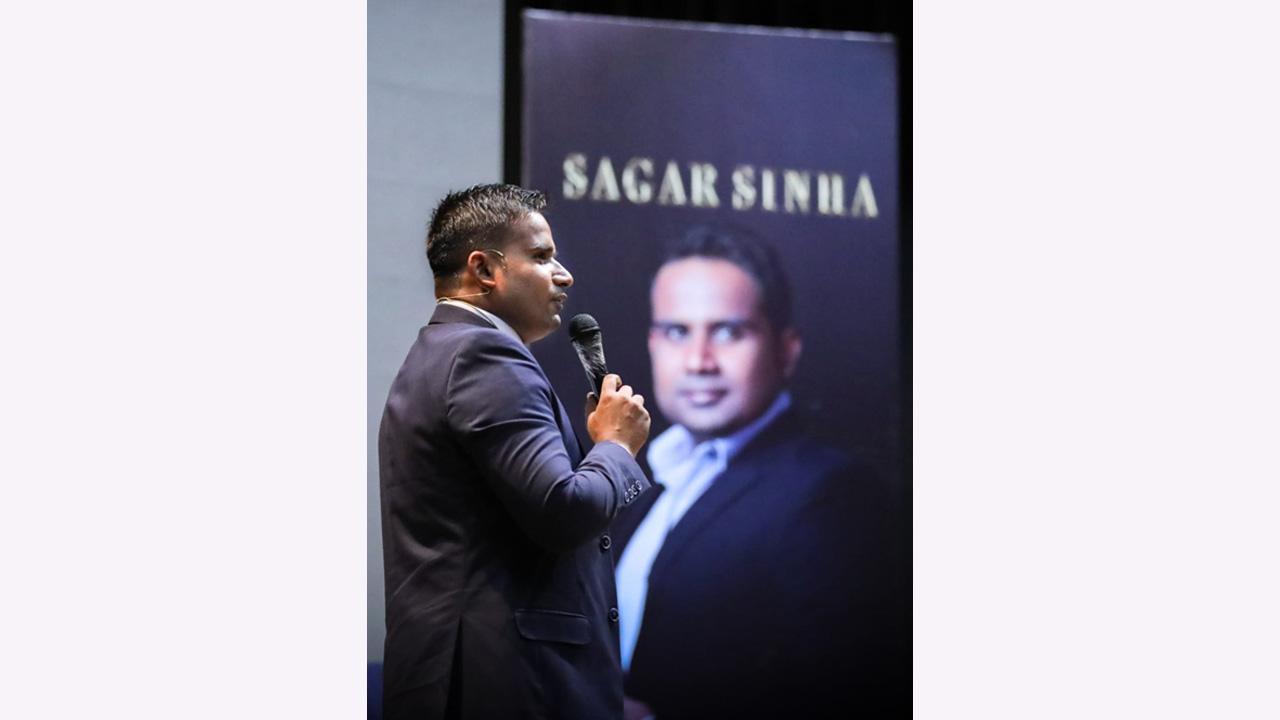 Not many walk on this challenging route to take the responsibility of developing a nation by inspiring and transforming the youth as well as professionals of the country. Although some may take the initiative, only a few can create an impact. Sagar Sinha has proudly proved this with his recognition as the Best Motivational Speaker of India. This prestigious accolade celebrates Mr. Sinha's exceptional ability to inspire, motivate, and transform individuals through his powerful speeches and unique approach to personal growth.
ADVERTISEMENT
Sagar Sinha has devoted his professional life to assisting others in making people realize their full potential and succeeding in all facets of their lives. He has established himself as a top motivational speaker, enthralling audiences all over India with his revolutionary words thanks to his energetic and fascinating speaking style.
From students and young professionals to business leaders and entrepreneurs, Mr. Sinha's speeches have had a profound effect on a significant number of people as well as provided assistance to many organizations. He is a sought-after speaker at conferences, seminars, and business events because of his knack for relating to listeners from all walks of life and conveying lasting lessons.
Sagar Sinha strives to support aspiring people in accomplishing their personal and professional goals. He is among the finest at fixing issues. In 5,000 lectures and seminars across INDIA, Sagar Sinha has benefited over 1,000 enterprises and addressed more than 1,000,000 individuals. He is seen to address more than 250,000 audiences through live webinars and conferences as a Keynote speaker and seminar facilitator.
Sagar has a background in academia and has motivated people worldwide through online training and courses that have transformed and developed them. In the areas of business, philosophy, and psychology, he devoted the last ten years studying, researching, writing, and speaking. Sagar Sinha is also a best-selling novelist. Additionally, he has nine years of experience working as an IT specialist for the company. Over 500 audio and video learning programs he wrote and produced have been distributed throughout India.
He gives presentations on personal and professional development to both corporate and general audiences. His engaging lectures and seminars on Success Psychology, Selling, Self-Esteem, Goals, Strategy, and Creativity provide both short-term and long-term benefits.
Sagar Sinha, the eminent speaker, has established a platform devoted to empowering people through cutting-edge initiatives and life-altering encounters. Thousands of people's lives have been transformed under his guidance by enhancing their skills, giving them the right information, and inspiration they need to overcome obstacles and achieve extraordinary achievements. Sagar Sinha discusses a variety of facets of personal growth in his talks, such as self-motivation, goal-setting, mentality transformation, and leadership. His astute and helpful counsel has assisted people in overcoming obstacles, developing resilience, and developing a winning mindset.
Motivational speaker Sagar Sinha on receiving the recognition of the best motivational speaker, expresses his goal to stoke people's inner fires so they can achieve their full potential and live successful, fulfilling lives. He dedicates the honor to his audience, who trusts his words and walks on the path he shows.
Sagar Sinha's humbleness and constant effort to motivate people make him the country's best motivational speaker.
To connect with him, visit
"Exciting news! Mid-day is now on WhatsApp Channels

Subscribe today by clicking the link and stay updated with the latest news!"
Click here!