Ranjit Sarkar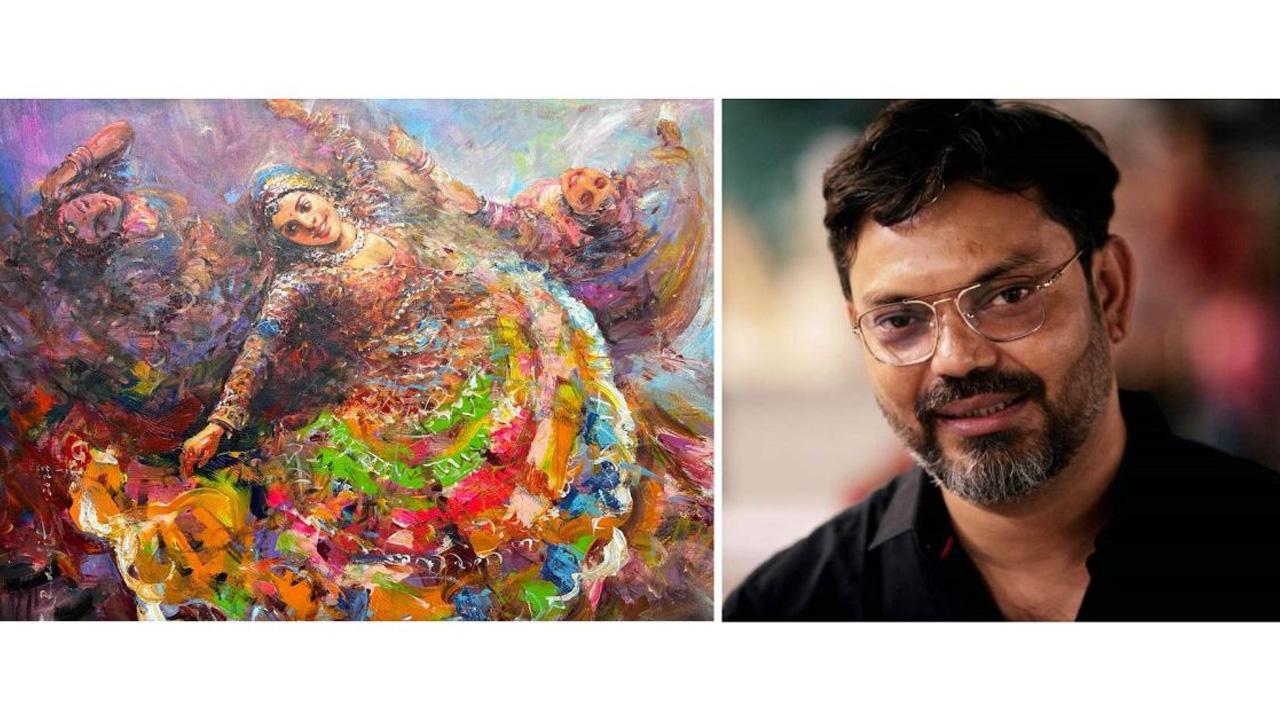 Ranjit Sarkar with his painting
Exploring the Artistic Marvels of Ranjit Sarkar: A Fusion of Tradition and Impressionism Ranjit Sarkar, a gifted artist hailing from the cultural hub of Kolkata, West Bengal, has carved a niche for himself in the world of art. Born in 1975 and a graduate of Calcutta University in 1997, Ranjit embarked on a journey into the realm of Indian style painting. His artistic prowess was further honed under the guidance of Professor Samir Ghosh, the department head of Chandpara Art College. Ranjit's artistic philosophy is deeply rooted in the dramatic representation of mythology and religious characters. His work elegantly navigates the interplay between human passion and the surroundings, often portraying a modification of natural appearances to evoke an intense impression of realism.
ADVERTISEMENT
This show will be inaugurated on 26th September 2023 at 5pm by Guest of Honours – Mr. Rajendra Patil(President, The Bombay Art Society Founder Director, India Art Festival Editor, Art Journal), Sunita Sanghai(Owner of Vachi Art), Sorabh Agarwal(MD-Mahi Exports), Mr. Shailesh Sheth(Owner of 'E' Art Gallery), Sudhir Bahl(Chairman of Life Force Health Systems Pvt. Ltd)
The Journey of Expressive Artistry
Solo Exhibitions:
In his solo exhibitions, Ranjit Sarkar has consistently showcased the vibrancy of his artistic vision:
2019 (Festive Celebration), India Habitat Centre, New Delhi: An exposition of festive cheer and cultural richness captured through Ranjit's artistic lens.
2018 (Abhirup) Gurgaon, Haryana: An exploration of the extraordinary, celebrating the unique and the beautiful.
2018 (Vibration) India Habitat Centre, New Delhi: An exhibition pulsating with the vibrant energy of Indian traditions and heritage.
2017 (Soulful Expression-2) All India Fine Art and Crafts Society, New Delhi: A display of artistic expression that delves into the depths of the soul.
2017 (Soulful Expression) Lokayata Art Gallery, New Delhi: A showcase of art that reverberates with deep emotions and spirituality.
Group Shows:
Ranjit Sarkar has been an integral part of numerous group exhibitions, showcasing his artistry alongside other talented creators:
2018 (Trio) Gallery no.7, Lalit Kala Academy: A collaborative display of artistic brilliance and creativity.
2017 (Master Stroke) Visual Gallery India Habitat Centre: A collective effort to capture the essence of masterful strokes in the world of art.
Art Beyond Borders
Ranjit Sarkar's art has transcended geographical boundaries, making its mark in various international art events:
Affordable Fine Art 2019, Boston, U.S.A.: His art traveled across the oceans to enchant and captivate art enthusiasts in the United States.
World Art Dubai, 2018, Dubai, U.A.E.: Ranjit's creations found a global stage in the vibrant city of Dubai, captivating art lovers from diverse backgrounds.
Tricera, 2018, Singapore: Singapore played host to Ranjit Sarkar's artistic endeavors, where his work mesmerized the art community.
Jaipur Kala Mahotsav, 2017, Jaipur: The rich artistic heritage of Jaipur provided a perfect backdrop for Ranjit's beautiful creations.
A Brushstroke of Recognition
Ranjit Sarkar's artistic brilliance has been recognized and acknowledged through various awards:
AIFACS Award 2017: An accolade honoring his exceptional contribution to the world of art.
Kalaspandan International Award: A testament to his international acclaim and recognition.
Master Sangsar Chand Award: Recognizing his mastery in the world of art.
Best Participant Artist (BHS): An acknowledgment of his excellence as a participant artist.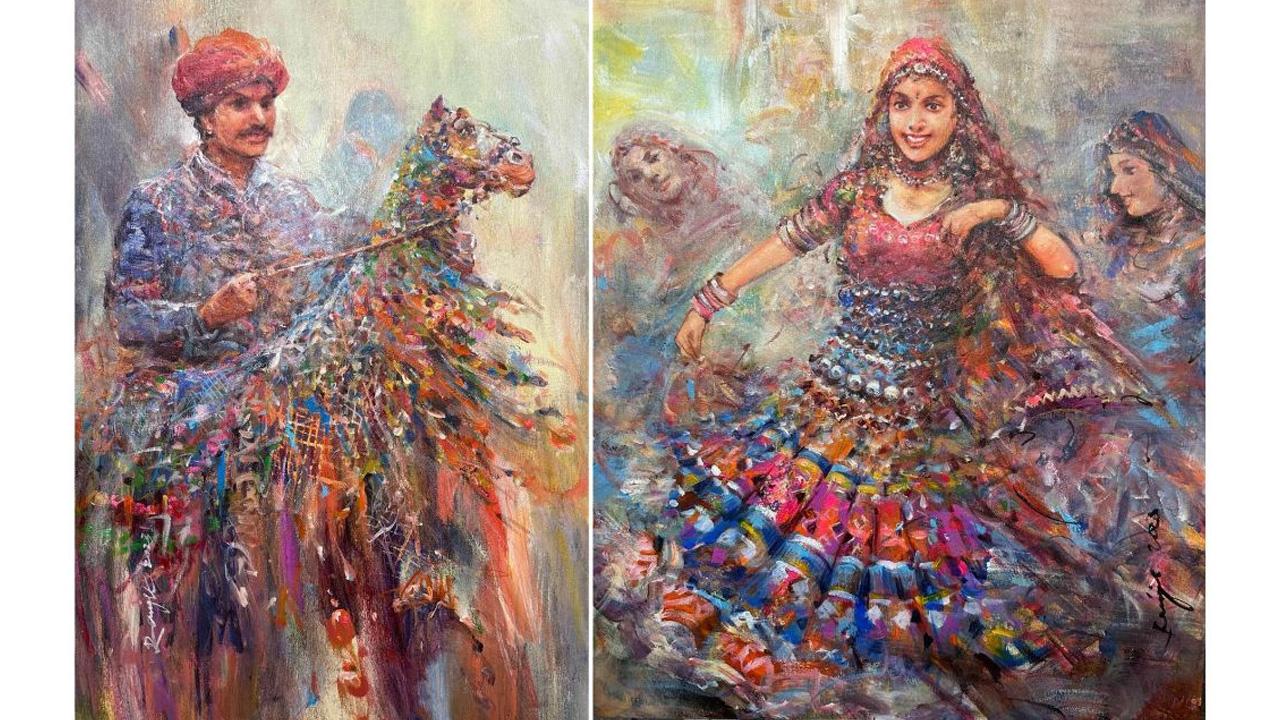 Painting a Reverent Ode to Womanhood Ranjit Sarkar's paintings pay homage to the beauty, grace, and benevolence of women, akin to the reverence bestowed upon them in Indian traditions. He skillfully weaves the essence of ancient Indian temple architecture, idealized portraits, and impressionism into his works, creating an awe-inspiring blend of tradition and modernity.
In conclusion, Ranjit Sarkar's art invites viewers to rediscover the simplicity, joy, and profound values rooted in Indian culture. His paintings are not just canvases but a celebration of life, love, and the enduring charm of Indic traditions.
From: 26th September to 2nd October 2023
"Inflection of Tones"
10th Solo Show of Paintings
By Renowned artist Ranjit Sarkar
VENUE:
Nehru Centre Art Gallery,
AC Gallery, Dr. Annie Besant Road
Worli, Mumbai - 400018
Timing: 11am to 7pm
Contact: +91 8527954422
"Exciting news! Mid-day is now on WhatsApp Channels

Subscribe today by clicking the link and stay updated with the latest news!"
Click here!