Tired of looking tired? Do the bags under your eyes make you look older? Often overlooked, the skin under your eyes is up to 10 times thinner than the skin on the rest of your face, which is why it is the first spot to show early signs of ageing.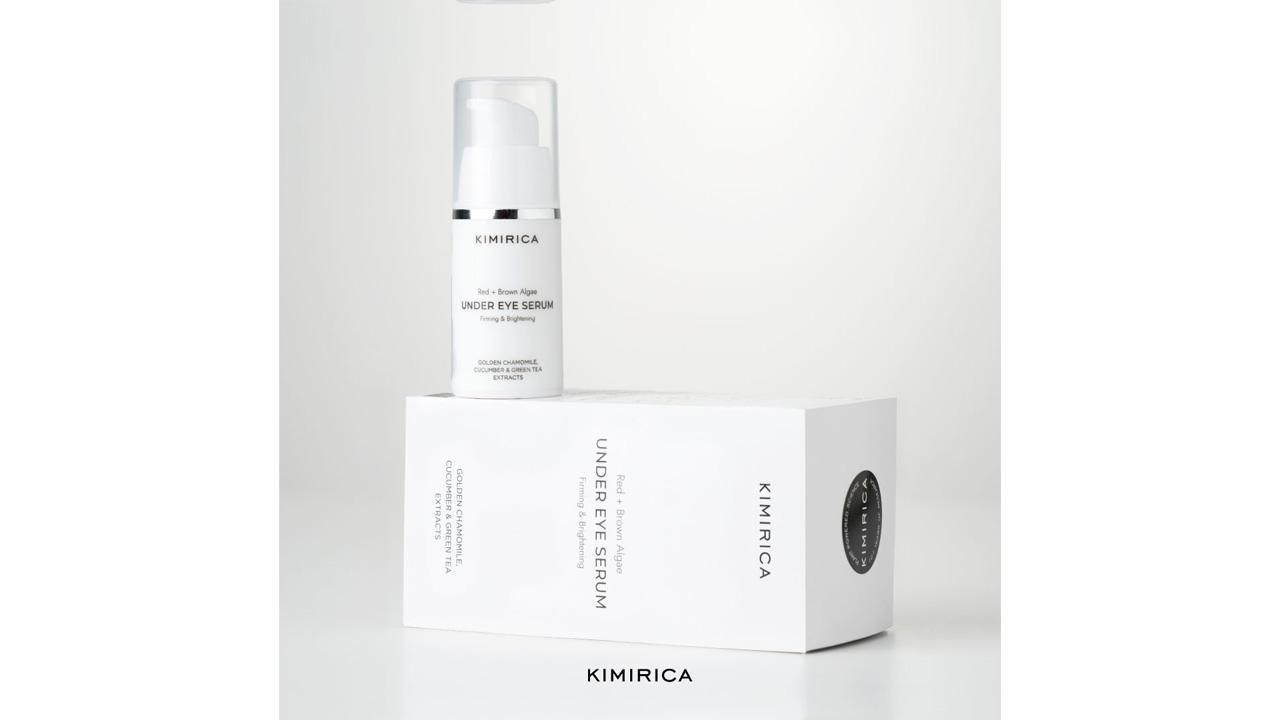 It's time to introduce a transformative formulation into your skin care routine. While everyone's skin and routines are different, eye cream is still an integral part of every skincare regime. It may be tempting to use a swipe of everyday moisturiser on the skin around the eyes, but moisturiser alone may not be enough. The skin around the eyes is more fragile, prone to dryness, and quicker to show signs of ageing and fatigue; Kimirica Under Eye Serum is specially designed to address all these concerns.
Kimirica's Under Eye Serum is a high-performance gel-creme formula infused with a revolutionary multi-Algae complex. This naturally-derived, high-performing botanical complex reduces the appearance of dark circles & under-eye bags while protecting the skin from damaging UV rays and blue light. Along with this, the addition of hydrating Golden Chamomile Extract that calms and soothes stressed skin and naturally cooling Cucumber Extract makes the formulation more potent and effective. The under-eye area lacks oil glands that help keep the skin moist so it is essential to use products that help hydrate the drier under-eye skin and help it to look smoother. Ingredients rich in antioxidant properties like Vitamin E assist in retaining collagen in the skin. These high-performing plant-based ingredients work at the cellular level to treat the most delicate part of your face– the skin under your eyes. In a subjective evaluation, 84%* of the people felt that their under-eyes looked depuffed and radiant after just three-four weeks of use, whereas 90%* of the people said their under-eyes felt instantly hydrated and soothed.
ADVERTISEMENT
The product has been thoughtfully formulated to slow down and dial back the appearance of puffiness, fine lines, dark circles, UV damage, hyperpigmentation and under-eye bags. Our dermatologically tested formula has been thoughtfully formulated with plant-powered ingredients like multi-algae complex and golden chamomile extract that effectively improve skin health and do not cause side effects. Kimirica's Under Eye serum is a perfect everyday essential to enhance the overall appearance of your eyes in the most uncomplicated way.
"Our skincare caters to consumers who are tired of over-complicated routines, toxic ingredients, and want healthy skin naturally," says Kimirica's co-founder Rica Jain. "The industry has become overwhelming with so many products and ingredients which is why we focus on clean and conscious solutions that are formulated with plant-powered science. Our approach is to offer high-performing scientific ingredients + balancing plant-based actives."
Kimirica's Under Eye Serum, entire bath, body, wellness, and skin care range is now available for purchase at www.kimirica.shop, Kimirica retail stores, and online marketplaces (Amazon, Flipkart, Myntra, Nykaa). To learn more about Kimirica skin care, please visit www.kimirica.shop.