It almost gives an adrenaline rush when we see Women advocates who have succeeded their way purely through talent and perseverance in a male dominated industry.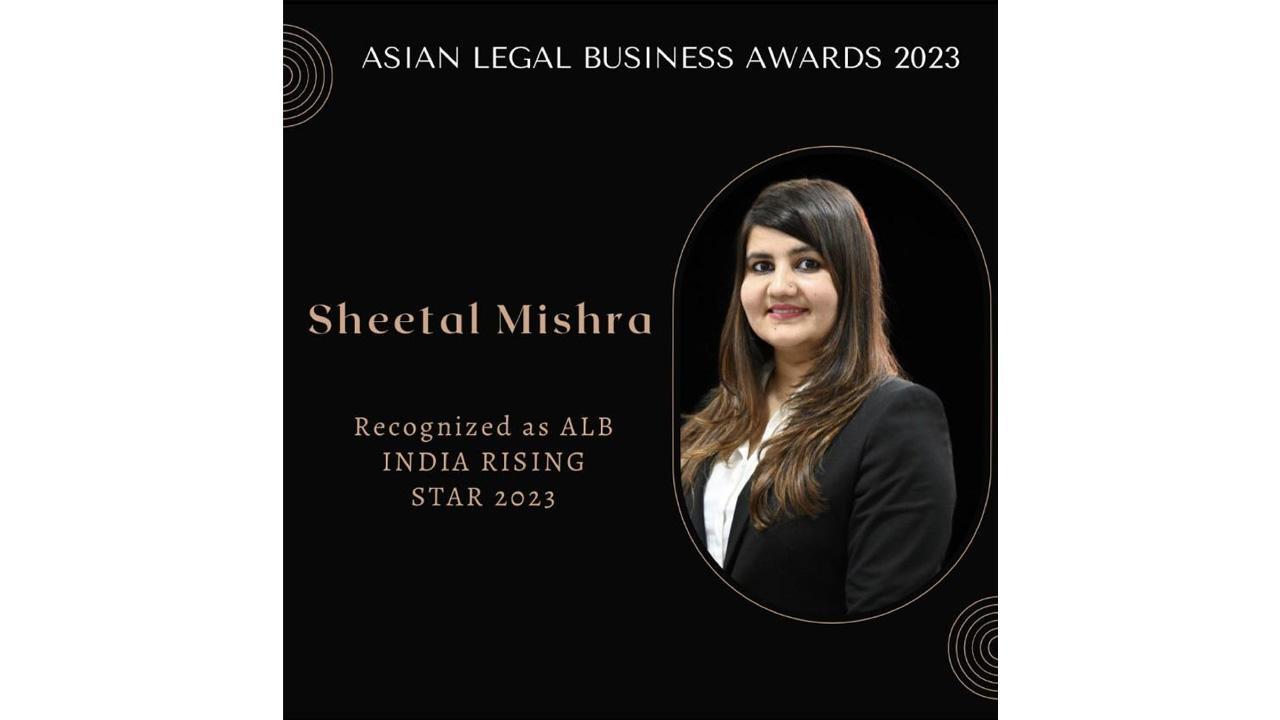 Ms. Sheetal Ravi Mishra
There is so much to learn from their success story, all about their thick and thins and everything in between. Today we are talking about one such woman, whose honest and opinionated voice is enough in winning fights inside both, courtrooms and negotiation rooms. She is none other than one of the ALB's India Rising Star 2023: Ms Sheetal Ravi Mishra, a versatile & seasoned legal expert bringing more than 9 years of experience on the table in corporate as well as litigation practise.
About Sheetal's professional journey hitherto
ADVERTISEMENT
Currently positioned as a Senior Associate at ALMT Legal, during her professional career, over the years, Sheetal has spent time working in all three spheres of the legal practise arena i.e., while undertaking litigation (wherein she has appeared before the Apex Court, several high courts, state forums, DRT, Electricity Commissions, CAT, etc.); as a part of law firms (including Chir Amrit Legal and ALMT Legal) and working in-house (leading the legal vertical in Kangaroo Kids Education Ltd.).
Such cross-sector experience enables Sheetal to analyse all aspects of a matter/transaction at hand, including the business and commercial aspects thus, bringing favorable results which work in the business interests of the clients.
Sheetal's achievements thus far
Sheetal has a varied experience in the field of TMT, IP, Education Law, Data Protection, M&A, etc. and is presently developing her practise in these fields. Sheetal has also undertaken several pro-bono matters for the causes of women upliftment, child rights, protection of rights of professionals, animal welfare and is also an active mediator for matrimonial disputes.
"To avoid being stuck on margins in a field dominated by men, Women lawyers need to practise both, caution and boldness to break stereotypes". Sheetal's advice on women in the similar profession.
Being recognised as Country's Rising Star 2023
"Patience is the most important virtue of a lawyer and hard work will pay dividends in time. Perseverance and keeping yourself and your targets aligned are the only things which will be your aid in climbing the ladder of success". Sheetal encourages the newcomers in the profession.
In the recent affair of the matter, she is one of the emerging names in the legal industry and has been recognized as an ALB India Rising Star 2023. The ALB's list of India rising stars 2023 features lawyers below the age of 40 who are making a mark in the country's legal market on the basis of their high standard of service and outstanding skills. This list brings together the best legal practitioners from across India to showcase their exceptional achievements and outstanding performance.
Heartiest to congratulations to her on the win.