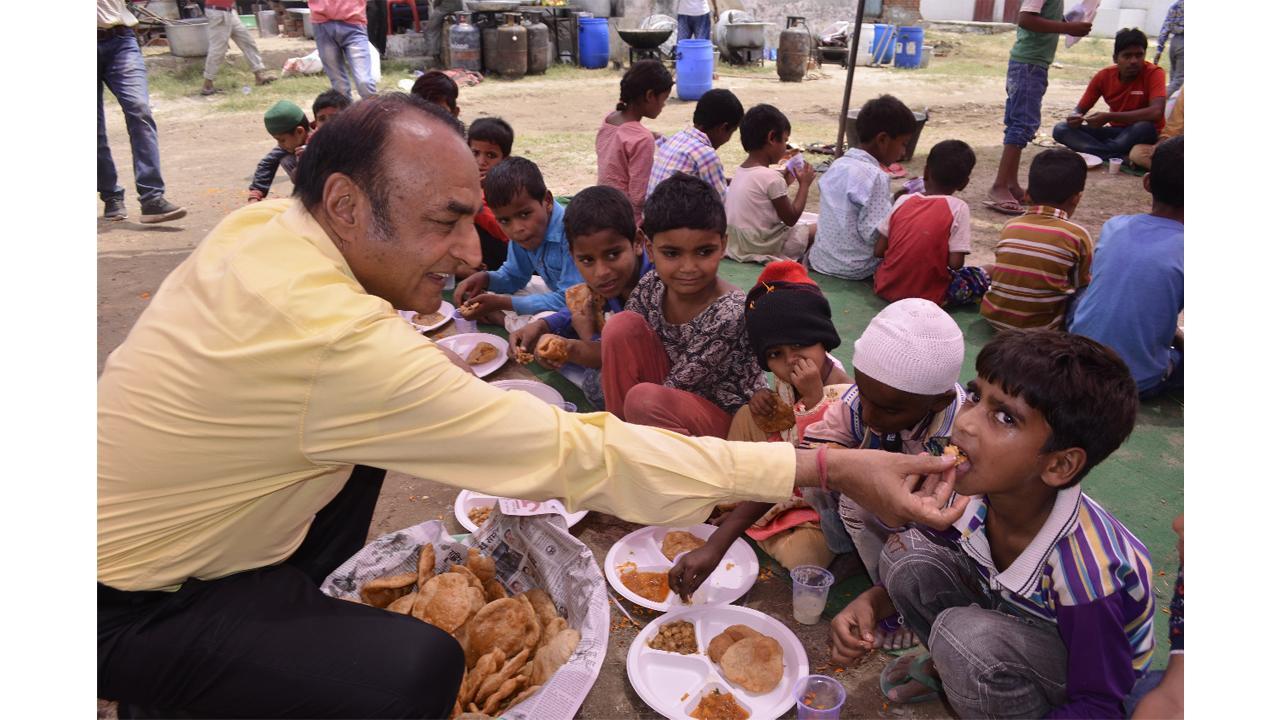 Dr. Arvind Kumar Goel
A nine-day festival, dedicated to Goddess Durga and her nine avatars is what  symbolizes Navratri. It also offers the best opportunity to one and all  rekindle our collective responsibility to empower women in India.
One social activist cum philanthropist who religiously works for the cause is Dr Arvind Kumar Goel. His contribution towards the upliftment of girl child is exemplary. No wonder! This messiah of the poor has been distributing sweets to the hundreds of families who witnessed the birth of "goddess" in the form of a girl child in their homes since the last one month.
Taking cue from the auspicious festival of Navratri that denotes victory of good over evil, Dr. Goel has taken the challenge to eradicate one of the most abhorred social evil - gender-based discrimination.
While adhering to the policy of 'Nip the evil in the bud", Dr Arvind Kumar Goel's strategy in this regard is to attack the root cause of the evil - mindset.
By distributing sweets to the girl child producing families is to connect to these households and instill within in minds of the parents that girl child is sacred and they must treat daughters and sons equally and not discriminate on the bases of a child's gender, an age-old problem that needs to be tackled at the home level.
Second evil that Dr Goel intends to take on is violence against women. Here again his intelligent mind feels that home is the smallest governing unit in a nation where the transformation begins. He interacts with the families and counsel them to inculcate in the male child, deep respect for womenfolk. And to ensure it works, he tells adult males to begin to respect the women of the house.
Although it is a Herculean Task, Dr Arvind Kumar Goel who is said to possess divine powers of healing and is revered by millions of poor beneficiaries is confident of bringing about the much needed change.
The third evil that he is working hard to eradicate is malnutrition among the girl child which is so rampant. According to Dr Goel, a woman is the creator of the human race and her health is of utmost importance because if she is healthy, the world is healthy. 
In North India, a traditional practice of 'kanjak' forms an essential part of Navratri celebrations wherein young girls -- considered to be goddesses in human form -- are offered traditional food.
Taking a leaf out of this ritual Dr Arvind Goel advocates that nutritious feeding of the girls should not be limited to only special occasions but should be throughout the year.
On this auspicious occasion, Dr. Goel also organised kitchens for free food camps he had set up in different areas of the city where lunch is provided. Health check-up camps, lectures on nutrition, education, health and hygiene are scheduled to be organised in the coming weeks.
He is thankful to Maa Durga that he was chosen one. It's been two decades since Dr. Goel has been feeding the poor through various ways. He believes that no one should sleep hungry, especially in a world with so much wealth as ours.
Dr. Arvind Goel is also a voracious advocate and supporter of the right to education, particularly for a girl. He is a firm believer of the saying - If you educate a man, you educate an individual. But when you educate a woman, you educate society. Through hundreds of educational institutions that Dr Goel helps run, he has elaborate plans to ensure there is ample space for girl child education hailing from socio-economically challenging backgrounds.