This is the season of lighting up your mood like the lighted diyas and the divine vibe. With the cheers of spirituality and the traditional significance enveloping the week, we are all set for Navratri.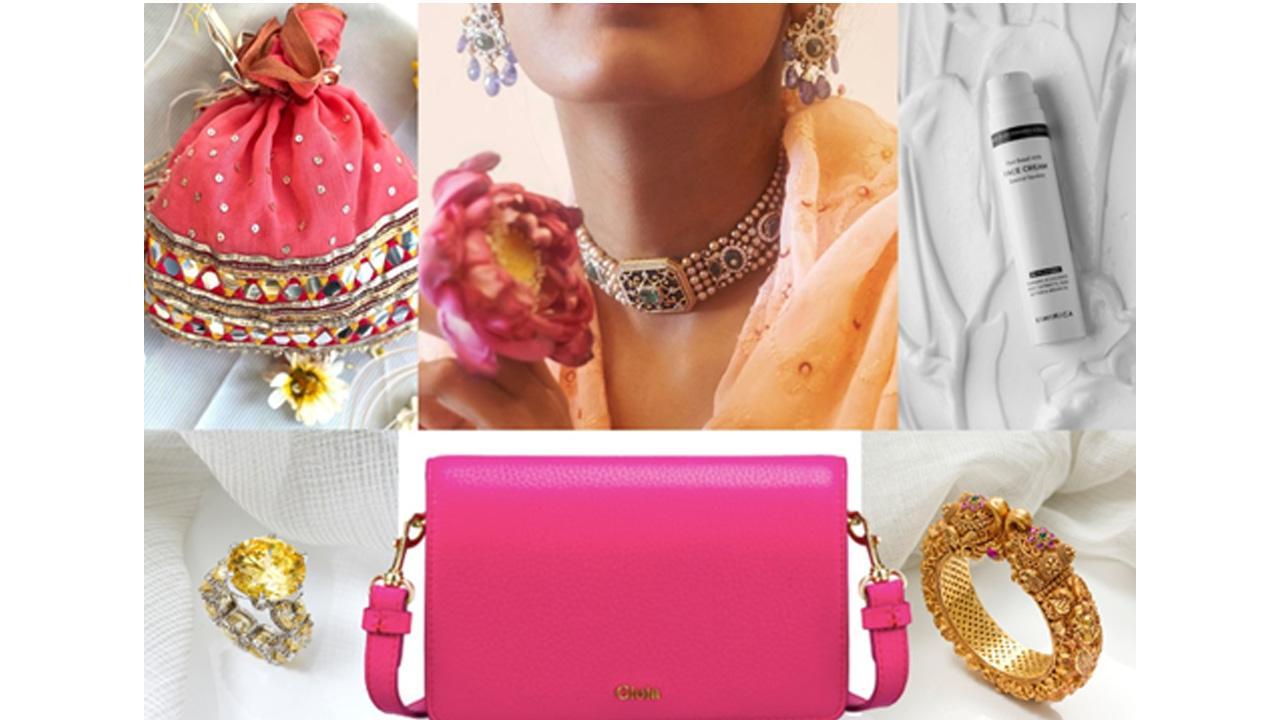 That also brings us to an integral part of showing gratitude and offering gifts to the family as a gesture of affection and seeking blessings for the loved ones.
One of the brands that can help you bring grace to the celebration is Diamond Cubik. With its statement jewellery including dainty bracelets, classic neck pieces and one of a kind earrings, the brand is curating finesse with the ornaments. From Polki diamonds to the crafters endeavouring to create unique adornments, Diamond Cubik is the perfect way to bring your dear ones a token of love.
Another way to surprise your friends and family this Navratri is to go modern with your choice of gift and add a little quirk to the festivities with a Risha Mehra bag. Sprinkling vibrance to the occasion and curating a bag for every moment to cherish, the brand is creating tides in the market with its exemplary designs and colour palette. If you are one who desires to go an extra mile and pick a contemporary gift for people, this is your opportunity to delve into a diversity of styled bags and choose the perfect one for your close ones.
If your loved ones are not apparel people but instead focusing on skincare or wanting to develop a routine amidst the chaos to treat their skin healthily, Navratri is one of the best occasions to begin with it. Why, Because you are going to gift them Kimirica face cream that they just can not say no to. With natural moisturisation and forming a protective layer protecting your skin from cell damage, the cream is your saviour for this event and many more to come. Looking for supple, healthy and glowing skin has never been easier  than this, plus what better way to start than this festive week. You can get yourself a pack while gift wrapping some more for your partner, family and friends.
The period of cultural ethnicities coming together to separate distinguished goddesses and praying to the supreme power also calls for the warmth to reach to our cores. That is exactly what House of Tuhina brings to the table. Exuding love, elegance and warmth through its timeless designer jewellery, it makes for a good Navratri gift not only because of its aesthetic value but also because of its credibility and quality of metals. From authentic jewellery to having a wonderful collection for every festival, it sure connects to people hearts and make them feel like home in their own skin.
Lastly, if you are still in dilemma about which one to opt for, let us give you another option to intensify the chaos of oh so perfect brands at your disposal this Navratri. Gioia, translated literally to joy in Italian, is stealing the spotlight by producing fascinating leather and garnering all luxury brands under its umbrella to catalyse a state of happiness. The brad believes in understanding its audience and their artsy desires and thus works on a,made with Gioia to spread Gioia, motive to amp up the fashion and utility game in the industry. Choosing this as a Navratri pick is only going to accentuate your feelings for your loved people and make them feel values and wanted.
Navratri might have us fasting but our fashion does not have to and neither does our loved one desire to stand out has to. It is all about giving this a thought as you sleep over it and wake up to checkout what resonates with you and your people, make them feel worthy and inclusive these festivities onwards.
In the end, it is about the support system that is watered along with the gratitude for people and love for self love that makes us who we are. Let us build on that starting this Navratri.