As the sun rises on September 21st, Navi Mumbai's real estate giant, Paradise Group, celebrates an impressive milestone - 33 years of unwavering excellence.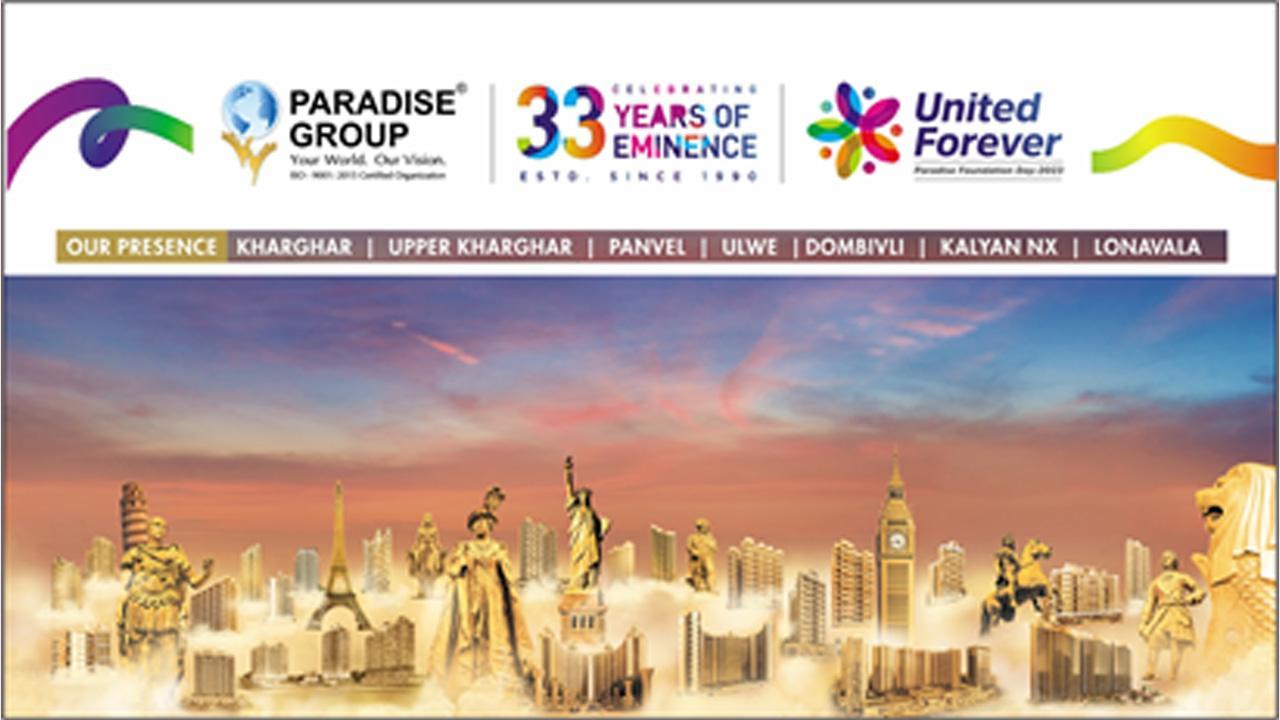 Under the dynamic leadership of Chairman Madhu Bathija, Managing Director Manish Batijha & Director Amit Bathija, the company has not only shaped the city's skyline but has also played a pivotal role in the development of Navi Mumbai's infrastructure. This year's theme, "33 Years of Excellence," is a testament to their enduring commitment to quality, innovation, and themed-based lifestyle projects.
ADVERTISEMENT
A Legacy of Excellence
Paradise Group's journey began in 1990, and since then, it has been a remarkable ride of growth and transformation. Over the years, the company has garnered a reputation for delivering homes that exceed expectations in terms of quality, design, and themed-based lifestyle.
At the heart of Paradise Group's success is a simple but powerful philosophy: to provide a lifestyle that reflects excellence in every aspect. This commitment to excellence is evident in every project they undertake, be it residential, commercial, or mixed-use developments.
Manish Batijha: The Visionary Leader
Behind Paradise Group's stellar success stands its visionary leader, Manish Batijha. With a deep understanding of the real estate industry and an unwavering dedication to innovation, Mr. Manish Batijha has been the driving force behind the company's 33-year journey of excellence.
Under Mr. Manish Batijha's leadership, the company has consistently pushed the boundaries of what's possible in real estate development. His vision for creating themed-based lifestyle projects has captured the imagination of residents and investors alike. It's not just about building homes; it's about creating a holistic living experience that blends modernity with heritage.
Contributing to Navi Mumbai's Infrastructure Development
Paradise Group's influence extends beyond real estate. They have been instrumental in shaping Navi Mumbai's infrastructure, contributing significantly to the city's growth. As Navi Mumbai continues to evolve into a thriving metropolis, Paradise Group's commitment to quality and innovation has been a catalyst for progress.
The company's projects often go hand-in-hand with the development of infrastructure in the area. They don't just build homes; they build communities that thrive in harmony with their surroundings. This approach has not only enhanced the quality of life for residents but has also attracted attention and praise from competitors and industry experts.
Innovation and Themed-Based Lifestyle Projects
What sets Paradise Group apart in a competitive real estate market is their relentless pursuit of innovation. From eco-friendly amenities to smart technology integration, they have consistently delivered projects that anticipate and meet the evolving needs of their customers.
Their themed-based lifestyle projects have been a game-changer. Whether it's a project inspired by nature, culture, or modern luxury, Paradise Group has a knack for creating living spaces that resonate with people's aspirations. These projects have not only raised the bar for quality but have also set trends that others in the industry follow.
Looking Ahead to a Bright Future
As Navi Mumbai continues to grow and evolve, Paradise Group remains at the forefront of this transformation. Under the leadership of Managing Director Manish Batijha, the company is poised for even greater heights. Their legacy of excellence, commitment to innovation, and contribution to Navi Mumbai's infrastructure development make them a trusted name in the industry.
In conclusion, Paradise Group's journey of 33 years is a testament to their dedication to excellence in every facet of real estate. With Manish Batijha steering the ship, the company has not only been a trendsetter but a pillar of support for Navi Mumbai's growth. As they continue to innovate and deliver themed-based lifestyle projects, their influence on the city's landscape and lifestyle remains profound, promising many more years of excellence to come.
"Exciting news! Mid-day is now on WhatsApp Channels

Subscribe today by clicking the link and stay updated with the latest news!"
Click here!