The set-up under this co-working 'Space to Grow' led the ecosystem to make a substantial difference in the way offices are viewed.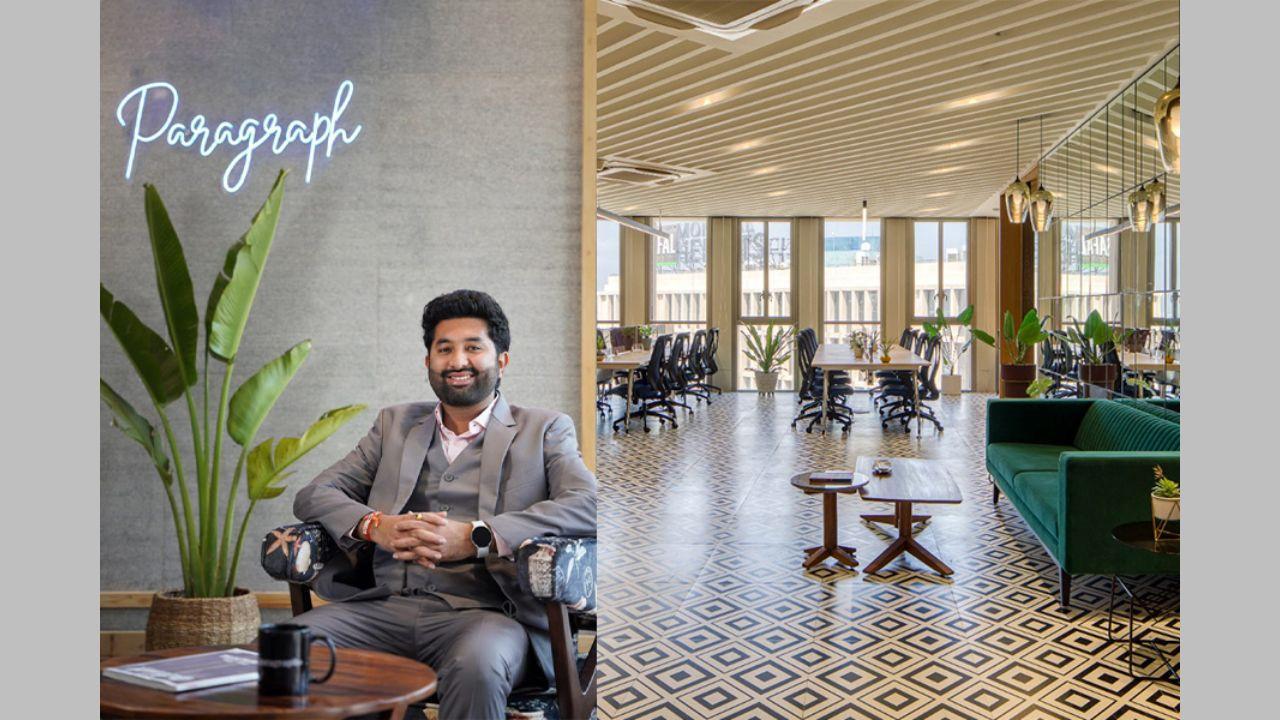 The freshness of brewed coffee over client calls, the sound of laptop keys tapping away reports, and colleagues holding up in discussions; define a typical office environment. But what if it is also plugged in and played with the ideal breaks, fun interactions, and numerous amenities? That is a Paragraph for you - an ideal and premium co-working space based in Ahmedabad.
Two years post-COVID, the remote culture neutralized, paving the way for a strategic shift in businesses, irrespective of their size and scale. Fortune 500s, Corporates as well, as MNCs warmed up to the idea of co-working. As opposed to the traditional office set-up, this move brought organizational framework and structure to the current co-working culture. It provided an ultimate booster for employee/employer productivity and creativity while encouraging one to perform better.
ADVERTISEMENT
The set-up under this co-working 'Space to Grow' led the ecosystem to make a substantial difference in the way offices are viewed. Through its beneficial amenities and infrastructural facilities, it minimalized the need for traditional offices that come with higher real estate costs, utility and maintenance costs, housekeeping concerns, and other expenses.
Even though it is a known fact that keeping a traditional office can be daunting for any organization, as well as there can be restrictions to the same when the team size grows or reduces. Thus with flexible office spaces or the co-working aspect, businesses or individuals can begin from day one by reserving seats for themselves and their team and enjoy the value additions that come with it. The pay-per-seat also makes for a good investment when individuals or businesses have just begun and wouldn't want the burden of maintaining a traditional office setup.
Moreover, co-working serves as the perfect opportunity for corporates, MNCs, and small-medium businesses to set up their remote, regional or head offices. Paragraph, a collaborative working space and business centre located on S.G. Highway in one of the most iconic corporate business parks of Ahmedabad, Mondeal Heights, offers great connectivity to the capital city of Gujarat, Gandhinagar, apart from providing a magnificent working environment for their personnel.
Paragraph Co-Working Space's Founder, Mr. Harshil Khajanchi, established the venture with a thought process to ease the daily hassle of company office set-ups and supply them with every possible allied and added resource with a quintessential ambiance. His concept of co-working definitely bridged the existing gap in the market and further revolutionized the culture of co-working.
Paragraph caters to its clients with a fully furnished, well-managed, and carefully serviced office space by providing the facility of Hot Desks, Dedicated Desks, Private Chalet, Professional Chalet, Conference Rooms, Virtual Office, Hour Glass Chalet, as well as Custom Build-Outs. Moreover, it houses concierge services, super-fast internet, flexible office hours, mail and courier handling, office supplies, IT support, a unique common area - breakout zone, CCTV, access control, cafeteria, stocked pantries, and community managers, among many others. Any member (client) associated with the co-working space could also enjoy executive amenities and add-ons per their choices and preferences.
"Co-working spaces not only offer flexibility and lower costs but also provide unique networking opportunities. As a result, the demand for co-working offices in India is consistently on the rise. Even Indian startups are opting for collaborative office spaces due to their benefits. Paragraph, being one of its kind co-working space in Ahmedabad, has been helpful in saving many businesses save a sizable operational cost without compromising on a new-age working environment. Moreover, the strategic location offers greater connectivity and reduces all the logistical hassles," adds Harshil Khajanchi.
Not only this, but the co-working space-business centre is also technology-enabled, wherein the members can book conference and meeting rooms on Paragraph's specially developed application that requires minimal human intervention. On the app, members can also raise support tickets, which are then solved by the on-site teams. The paragraph also supports the power of networking by organizing its own events, and providing member access to everyone on its campus.
At Paragraph Co-Working Space, members enjoy an easy move-in and move-out, no maintenance costs, with zero capital investment. And due to this, it has already attracted attention and long-term association with brands such as Flipkart, Royal Enfield, Cushman & Wakefield, Arcelor Mittal, Spice Jet, OLX Autos, OLA Electric, Cipla Limited, Kraft Heinz, Avendus Capital, Make My Trip, Go Ibibo and many more. Even Japanese companies, such as Ajinomoto and Inabata, preferred this space for their employees and clients alike.
 As the future of co-working looks brighter by the day, Paragraph is and will continue to bask in the glory by envisioning a future that expands from 2,00,000 sq. ft. by 2023 to an ambition of serving businesses and individuals from its 5,00,000 sq. ft. space by 2025. Redefining Spaces that Grow to a 'Space to Grow', Paragraph is and will always be dedicated to initializing new-age co-working culture with a better evolution towards the way offices have been previously imagined. To make Paragraph a medium to help you and your company to grow without the hassles of maintaining an office, connect with them at +91 98251 10514 and make them a part of your journey to the ultimate success.
For more information, you can visit their website: https://www.paragraph.business/