Swami Ramananda Guruji's remarkable skills in astrology have also been acknowledged by educational institutions and cultural societies, which have bestowed him with numerous awards and accolades.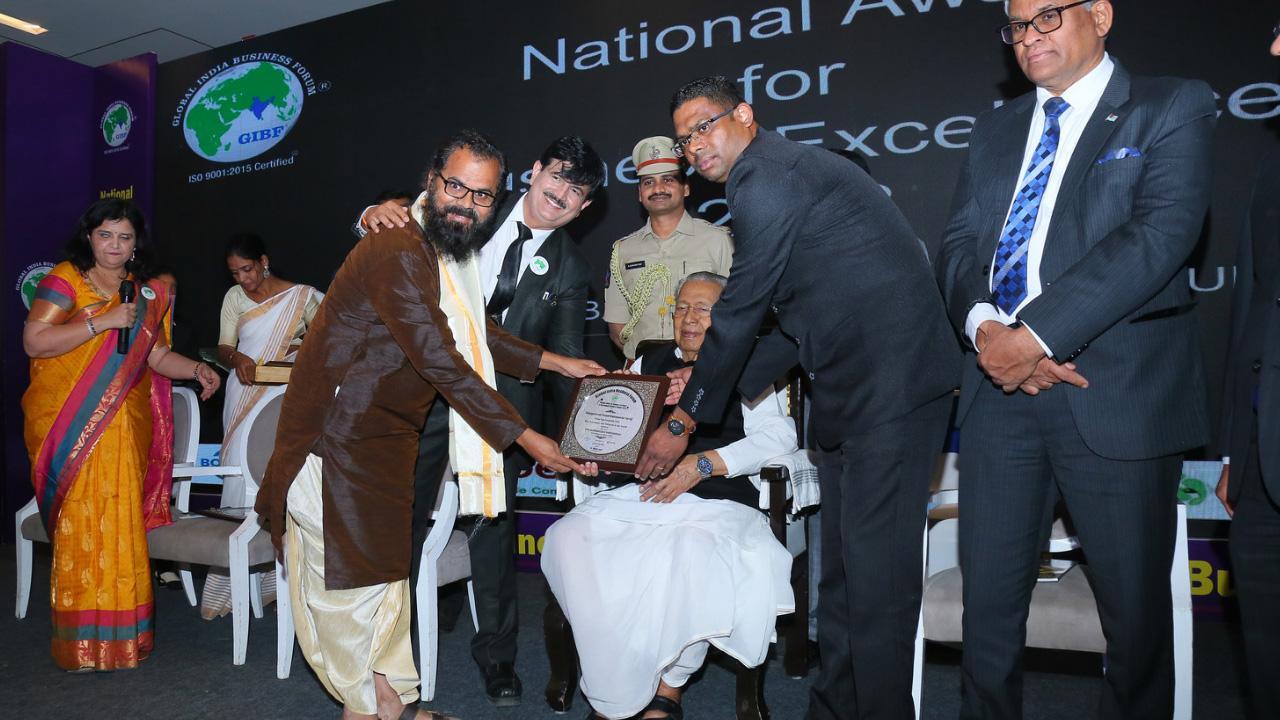 Swami Ramanada Guruji honoured with the "Best astrologer in India 2023" Award
Dr Manopravesh Guruji Swami Ramananda, a prominent astrologer and spiritual guide, has been bestowed with the esteemed title of India's Best Astrologer of 2023. This prestigious recognition is a testament to his exceptional skills and deep knowledge of various disciplines of astrology.
Renowned for his expertise in Vedic Astrology, Gemmology, Numerology, Nadi Astrology, Tarot Reading, Palm Reading, and Face Reading, Swami Ramananda Guruji has amassed over 35 years of experience in the field. His dedication to the craft and unwavering commitment to providing accurate predictions have earned him the well-deserved reputation of being the best astrologer in India.
ADVERTISEMENT
Several esteemed institutions and governmental bodies have acknowledged the exceptional abilities and profound insights of Swami Ramananda Guruji. For example, the Government of India honoured him with the prestigious title of the Cultural and Arts Theatre, recognizing his outstanding contributions to the field of astrology. Additionally, he was presented with the esteemed "Jyothisya Siromani" award at the National Unity Arts Festival by the Government of Karnataka.
Swami Ramananda Guruji's remarkable skills in astrology have also been acknowledged by educational institutions and cultural societies, which have bestowed him with numerous awards and accolades. Notably, the Uttarakhand Cultural Trust has recognized him as the best astrologer in India, further solidifying his reputation as a luminary in the field.
In addition to his astrological prowess, Swami Ramananda Guruji is widely recognized as a Yogi, Mystic, Spiritual Guru, and specialist in Manopravesh. His holistic approach to spirituality and profound understanding of various divine sciences have attracted a wide following of seekers and believers.
"It is a great honour to receive the title of India's Best Astrologer of 2023. I am humbled by this recognition and grateful for the support and faith bestowed upon me by my clients and well-wishers. My aim has always been to provide accurate guidance and bring positivity and harmony into people's lives through the science of astrology. I will continue my efforts to uphold the highest standards of astrological practice and serve the community to the best of my abilities," said Dr Manopravesh Guruji Swami Ramananda.
Born in Telangana, India, Swami Ramananda Guruji embarked on his spiritual journey at the tender age of thirteen. Recognizing the profound benefits of Yoga and Meditation, he advocates for their inclusion in daily routines to guide individuals onto the right track in life. With a deep-seated belief in the transformative power of these practices, Guruji established a Yoga and Meditation Centre in BN Reddy Nagar, Vanasthalipuram, Hyderabad, with the noble aim of bringing these ancient disciplines into the lives of all.
At his centre, Swami Ramananda Guruji generously offers Yoga, Meditation, and Satsang sessions free of cost, fostering a vibrant and rejuvenating experience for all participants. These classes are open to anyone interested in realigning their lives and finding inner harmony. The teachings and practices imparted by Guruji serve as guiding principles, illuminating the path towards well-being and self-realization.
In a testament to his unwavering dedication to spiritual upliftment, Swami Ramananda Guruji is set to launch a new centre near Kalwakurthy village in Hyderabad. This upcoming facility will accommodate a larger community, offering a diverse range of spiritual activities, including astrological predictions, Satsang, bhajans (devotional songs), and Annadhanam (donating food). In addition, it will serve as a sanctuary for seekers from various countries who seek Vasthu (Vastu Shastra) guidance, health remedies, and astrological insights.
Swami Ramananda Guruji's profound knowledge and guidance have attracted visitors from across the globe. His expertise in Vasthu, health, and astrology has brought solace and transformative remedies to countless individuals. The compassionate teachings and blessings he imparts resonate deeply, nurturing a profound sense of peace and spiritual growth.
As Swami Ramananda Guruji continues to illuminate the lives of seekers through his selfless service, he remains a beacon of light, spreading the timeless wisdom of Yoga and Meditation to all corners of the world. With his transformative vision, he aims to bring liveliness and harmony into the lives of individuals, fostering spiritual awakening and holistic well-being.
For more information, visit - https://swamyramanandji.com/
"Exciting news! Mid-day is now on WhatsApp Channels

Subscribe today by clicking the link and stay updated with the latest news!"
Click here!