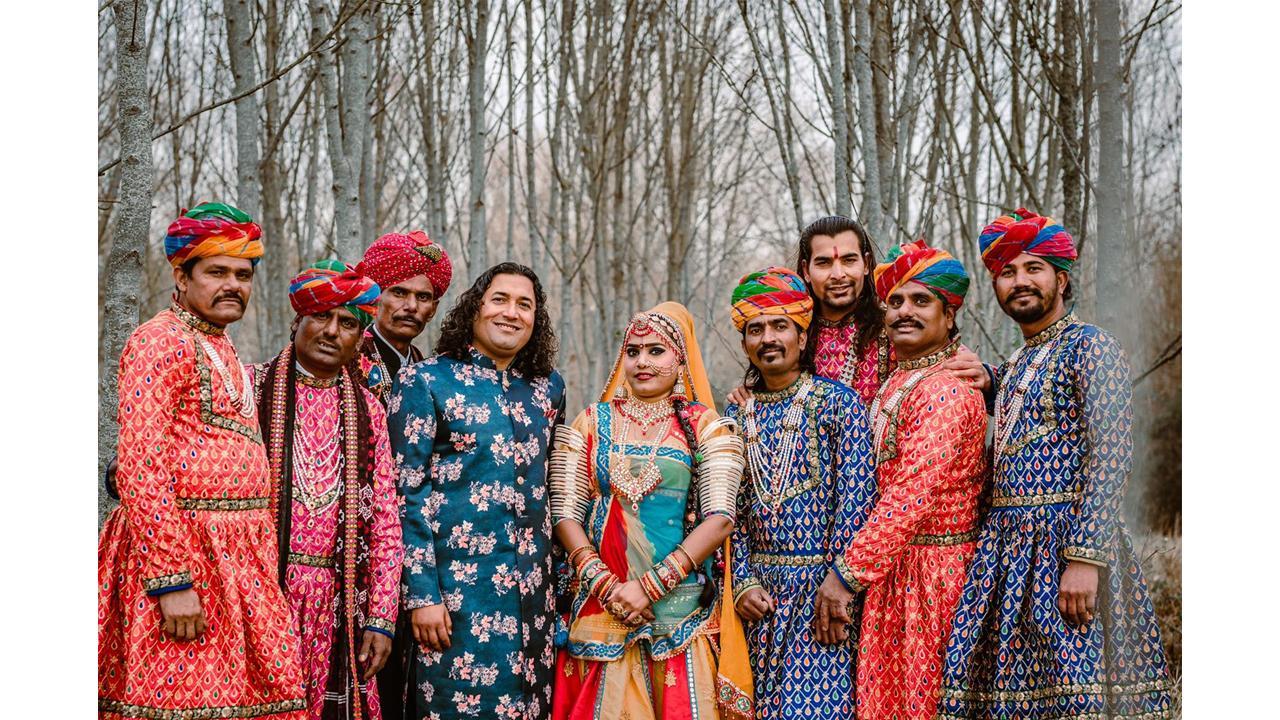 Rahis Bharti with his Dhoad Band
"I had an amazing time tonight. Dhoad troupe is absolutely fantastic. I felt I was in Rajasthan itself," said Nimisha Patel in California, USA after the performance of Rahis Bharti and his Dhoad band.
"I didn't expect this programme to be so spectacular – dances, music, the musicians, tabla players, the women were amazing," said another Indian woman from the audience. 
Rahis Bharti, since childhood had a great liking for the folk music of Rajasthan as it was in his blood due to his family being in music for seven generations. Despite being born in a poor family, he had dreamt big to introduce Rajasthani folk music to the entire world and today his dream has translated into a proud success story. Today Bharti with his Dhoad Band is making India proud throughout the world with Rajasthan folk music, songs and dances.  
Hailing from Dhod village in Sikar district of Rajasthan, Bharti 22 years ago set up his band named 'Dhoad'. He took the Rajasthani folk music across the world single-handedly and also gave opportunities to local artists from Rajasthan at the international level.
'Love how you are promoting Indian culture and dance all over the world, Rahis. Tucson is so fortunate to have experienced your show. Dhoad: the Gypsies of Rajasthan, at our gorgeous and historical FOX Theatre…… The Crown Jewel of Tucson', tweeted Neelam Sethi. 
LP, Pop Rock Star singer from the USA said, "I love the Dhoad Gypsies. They are incredible and each one of them has talent." He had performed with Dhoad Band for a 2 lakh audience in Festival Notte de la Taranta, Italy.
Bharti said, "I have performed over 2500 concerts and shows in more than 120countries. So far, provided an international platform to around 700 local artists from Rajasthan and empowering them for the last 22 years."
"My objective is to bring local artists and dance forms of Rajasthan to the international platform and get them recognition. I want to preserve and popularise the traditional folk music worldwide and is appreciated all over," he added. 
This reflects how a man, born in a poor, simple and traditional family has contributed not only to the field of folk music but also empowering the local artists. It is because of the vision and mission of Bharti that Rajasthani music is well known and liked by millions of people worldwide today. 
Padma Shri Gulabo Sapera, Kalbeliya dancer from Rajasthan, who introduced the famous Kalbeilya dance to the world said, "I feel so happy that there are people like Bharti in the world who appreciate this art and feed thousands of homes of the folk artists in India. Today thousands of girls are dancing because of Bharti and they go with him to perform in different countries."
She said that Bharti is doing a lot to keep folk music, songs and dances alive and is doing his best to promote them. Some 50-60 folk artists stay with him. Each folk artist must be having at least 10 members in their family and because of Bhatri, each artist is able to feed his family members, Sapera added. 
Ajeet Khan, from Akhepura village near Makrana in Nagaur district of Rajasthan, sings and plays dholak in Dhoad Band. He said, "I am illiterate and it was Bharti who took me to foreign countries to perform. I got a chance to perform before the Queen of Norway and I felt very happy." 
Rahis Bharti with his Dhoad Band invited for prestigious international festivals and concerts hall  for coming 7 Months for European Tour 2022 at Festival Roche de Palmer  in France , Biggest festival of Europe Sziget - Budhapest , Hungary , Transform festival - Norway , India Festival in Switzerland, Tunisia , italy , Germany , Festival Joutes correns , Paris - France 
Bharti created history when he performed in Disneyland Paris where an audience of more than 5 million witnessed Indian music and dance performances. Bharti's team performed for 4 months in 2019 in Disneyland, becoming the first team to represent India there. He is the creator and director of various programs performed by the legendary Bollywood Masala Orchestra - Spirit of India, Jaipur Maharaja Brass Band and Chalaang - drummers of India.
Dhoad has performed for the Welcoming Ceremony of Prime Minister Narendra Modi in Paris in 2015 and in Queen Elizabeth II's Diamond Jubilee celebration in London, Former President of India Honorable APJ Kalam Azad during his visit in Jaipur 2012 in Science Park.
Other performances of DHOAD include the one for the President of France François Hollande; for the Prime minister of France Édouard Philippe; Président of Croatia Ivo Josipovic in Croatia in 2013 and in the private birthday party of Mick Jagger, the lead vocalist of the legendary rock band 'The Rolling Stones'. He has won many awards at national and international awards.
His journey from a small village of Rajasthan to the international platform has impressed Frenchman Martine le Coz, who wrote a book on Bharti's life. The book titled 'Rajasthan's heartbeat Rahis Bharti' is written in French and will be out in Aprile 2022  this year.