Binsar, a hidden gem in the Himalayas, is located in the state of Uttarakhand, in the Almora district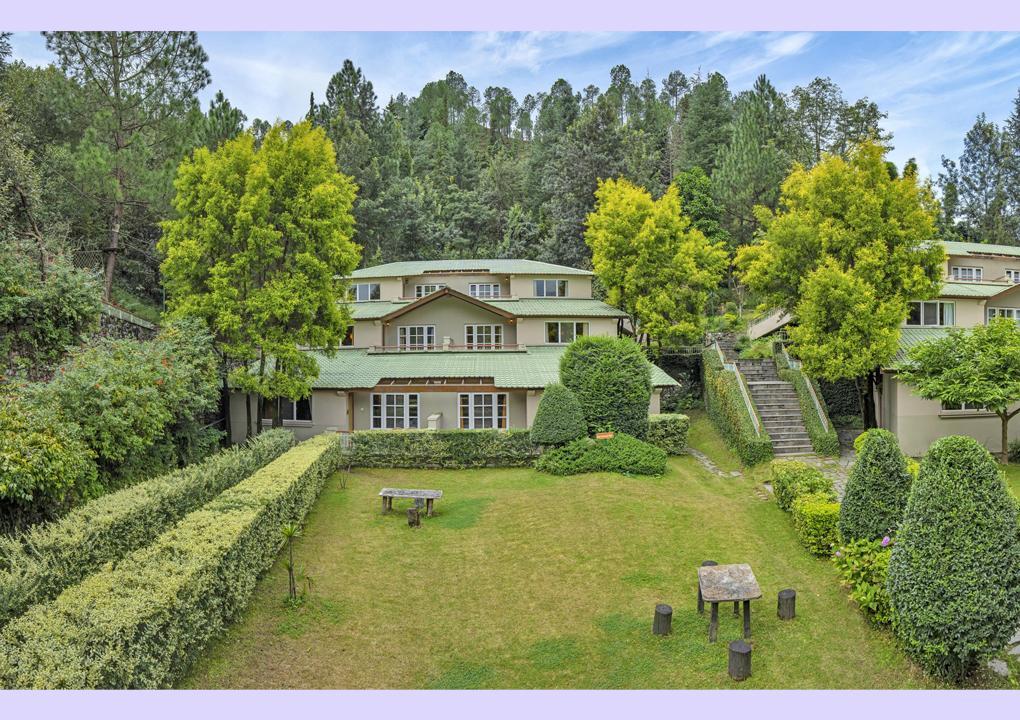 Club Mahindra Uttarakhand Resorts in Binsar
Binsar, a hidden gem in the Himalayas, is located in the state of Uttarakhand, in the Almora district. Situated at an altitude of 2,420 meters, Binsar offers panoramic views of prominent Himalayan peaks such as Nanda Devi, Kedarnath, Trishul, Chaukhamba, Panchachuli, and Nanda Kot.
The lush greenery, unspoiled trails, and the serenity of the surrounding oak and rhododendron forests make it an ideal destination for trekkers and nature lovers. The area is rich in flora and fauna, providing ample opportunities to spot rare birds and wildlife. For those who are looking for a peaceful getaway amidst natural splendour, far from the clamour of city life, Binsar in Uttarakhand serves as an unparalleled destination.
ADVERTISEMENT
For those wondering where to stay, Club Mahindra offers two premium resorts in Uttarakhand that are ideal for the perfect family vacation. These resorts provide a luxurious retreat, complementing the natural beauty and serenity of the area.
Club Mahindra Binsar Valley Resort
At Club Mahindra Binsar Valley in Uttarakhand, you'll discover a holiday experience tailored for every member of the family. Surrounded by the serenity of nature, the resort offers a tranquil retreat that lets you unwind and recharge. For the young ones, the resort offers endless opportunities with amenities and experiences designed just for them.
When it's time to head indoors, you'll find accommodations that are a perfect blend of homely comfort and luxurious indulgence. The living spaces strike a delightful balance, outfitted with modern amenities that cater to all your needs while still exuding a cozy charm.
Simply put, whatever your holiday dreams are like, Club Mahindra Binsar Valley is ideal to make them a reality.
Experiences and Activities to Enjoy at Club Mahindra Binsar Valley Resort:
Kumaoni dance class
Bird-watching tour
Cooking classes for kids
Night camping
Activities like rock climbing and tree climbing
Club Mahindra Binsar Villa Resort
Located near the charming town of Almora in Uttarakhand, Club Mahindra Binsar Villa elevates the concept of Himalayan resorts to a whole new level. Unlike any other, this unique retreat is adorned with rustic log cabins and surrounded by the invigorating aroma of pine trees. Here, nature isn't just a backdrop; it's an intimate part of your vacation experience.
One of the best resorts in Binsar, this abode boasts top-tier amenities, offering the perfect sanctuary for those days when you'd rather soak in comfort than venture out. And yet, stepping outdoors presents a mesmerizing Himalayan canvas right at your threshold.
Imagine waking up in your enchanting wooden cabin, perched high in the mountains, where every window serves as a frame for a constantly shifting panorama of natural beauty!
In essence, Club Mahindra Binsar Villa doesn't just offer a stay; it offers an experience where the serenity of the mountains and modern comforts blend seamlessly. So, prepare to be captivated each day, in every way.
Experiences and Activities to Enjoy at Club Mahindra Binsar Villa Resort:
Village and riverside trekking
Yoga
Kumaoni Aipan art
Activities like ladder climbing and rappelling
Kazra Baba temple trek
Places to Visit in Binsar
Binsar is a treasure trove of natural beauty and interesting places to visit that are of historical significance. Here are some places to visit in Binsar:
Binsar Wildlife Sanctuary: A must-visit for nature enthusiasts, perfect for wildlife photography and bird-watching. Here, you can spot the leopard, Himalayan bear, jungle cat, and more than 200 species of birds.
Zero Point: The highest vantage point in Binsar offering panoramic views of Himalayan peaks like Nanda Devi and Kedarnath. A photographer's paradise and a hiker's dream destination.
Bineshwar Mahadev Temple: This is a 13th-century temple dedicated to Lord Shiva. Not only a spiritual hub but also an architectural marvel, this temple provides a serene atmosphere for meditation and reflection.
Khali Estate: Known for its sprawling tea gardens and lush landscapes, this place is ideal for leisurely walks and enjoying the scenic beauty of the area.
Local Markets: A treasure trove of local handicrafts, woollen garments, and fresh produce. The markets offer a chance to immerse yourself in the local culture and shop for unique souvenirs.
Ranikhet: Just a short drive from Binsar, Ranikhet offers lovely gardens, ancient temples, and enchanting views of the Himalayas. It's another excellent choice for nature and adventure lovers.
Almora: Nearby Almora is known for its cultural richness, handicrafts, and delicious cuisine. The town's charming local markets are a perfect place to experience Kumaoni culture.
Chitai Temple: Famous for its unique practice of tying bells to make wishes, the temple is dedicated to Golu Devta and is one of the most revered temples in the region.
With such a varied range of attractions, Binsar caters to every kind of traveller, whether you're an adventure seeker, a history aficionado, or someone just looking to unwind in nature's lap.
"Exciting news! Mid-day is now on WhatsApp Channels

Subscribe today by clicking the link and stay updated with the latest news!"
Click here!