.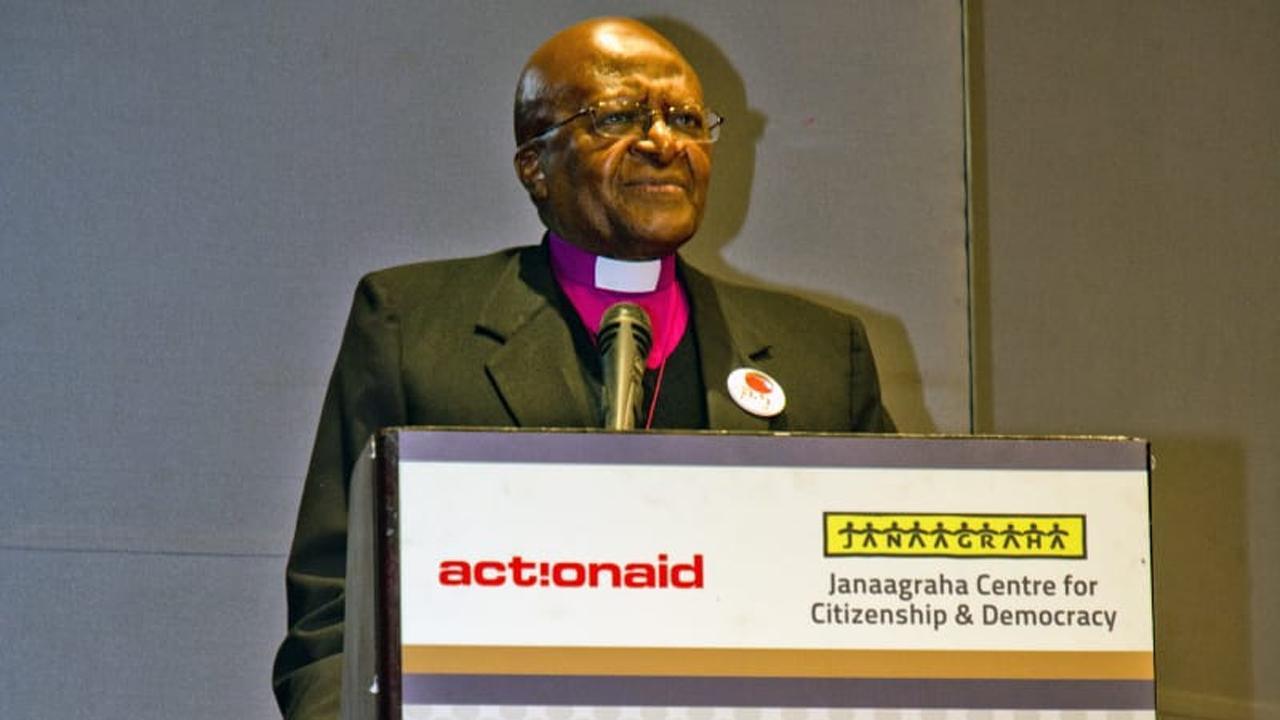 Archbishop Desmond Tutu, delivering the first L C Jain Memorial Lecture in India in 2013.
One evening in winter of 2013, Archbishop Desmond Tutu waved his magic wand, and turned the people gathered to listen to him into South Africans. He was dissatisfied by the response he received on his acknowledging the debt of gratitude that millions and millions of people in South Africa felt to the people of India, for India's contribution to the liberation from apartheid. It was India, reminded Archbishop Tutu, which had first moved to have apartheid boycotted by the United Nations and be declared a crime against humanity.  The initial applause he received was, in Archbishop Tutu's words "a rather lousy acknowledgement".  So, Archbishop Tutu proceeded to take out a special magic wand and waved it over the audience and turned all the people gathered into South Africans. The applause he then received was deafening.
ADVERTISEMENT
The jokes he said that evening epitomizes my memories of the fun-loving, leg-pulling, titan of a human who has been rightly described to be one of the "great spirits and moral giants of our age". Even his acceptance speech for the Nobel Peace Prize, awarded to him in 1984, featured a joke: The existence of a Zambian Minister of Naval Affairs, in a land-locked country was mocked by a South African. "But you have no navy, no access to the sea. How then can you have a Minister of Naval Affairs?" said the South African.  The Zambian retorted, "Well, in South Africa you have a Minister of Justice, don't you?"
Under apartheid Archbishop Tutu had become "public enemy number one" for haters of equality and of course the apartheid government.  His support for sanctions against South Africa made him unpopular amongst some liberals, including Alan Paton, who argued that sanctions would cause economic distress to white and black South Africans. Archbishop Tutu was made head of the Truth and Reconciliation Commission (TRC) in 1995, a task he accepted because of his belief in the concept of "restorative justice", over "retribution or punishment". But he criticised the process as incomplete, as he saw the Commission only as a "beginning and not an end". It was as head of the TRC that "The Arch" was first diagnosed with prostate cancer that finally led to the death of a man revered as his nations conscience and a gift to humankind.
Over the years Archbishop Tutu has been honoured for his years of ceaseless striving for the advance of humanity, and the end of racism, injustice, and oppression, "not just in apartheid South Africa but across the world, wherever wrongdoing occurred, and especially when it impacted the most vulnerable and voiceless in society." Rarely has such greatness rested so lightly on anyone's shoulders.
On the precious few occasions I have the honour and privilege of spending time with him, Archbishop Tutu would patiently listen to all details of ActionAid's work and efforts. He was particularly keen on aspects of our work related to the advancing of rights of girls and young women, across social diversities of caste and race, and on the rights of workers. As founding member of The Elders, an independent group of global leaders working together for peace, justice and human rights, that was set up by Nelson Mandela,  Archbishop Tutu,  proved to be a true internationalist, remaining keen to spread justice to vulnerable and deprived people across the world. Prof Issa Shivji, one of Africa's leading public intellectuals, and a friend and mentor to many of us has said, "Archbishop Desmond Tutu was the last of the iconic figures of the anti-apartheid struggle. To his credit he did not leave in debt, for even in the evening of his life, he showed his mind clearly on the vicious apartheid-like situations that continue to exist on this earth!"
Archbishop Tutu's travel to India in 2013, was one of his rare forays after his retirement from public life. He came to deliver the first L C Jain Memorial Lecture. Lakshmi Chand Jain, noted Gandhian freedom fighter and a peace and justice activist, also served as the Indian High Commissioner to South Africa.  ActionAid Association is proud that LC Jain was the first Chairperson of the organisation, and we were co-host of the lecture where Archbishop Tutu spoke. The lecture can be heard here.
In a span of less than half an hour, Archbishop Tutu manifested his ageless wisdom and remarkable wit, commitment to the poor and deprived. He spoke about the links between freedom struggle of India and the anti-apartheid movement in South Africa, noting that Nelson Mandela and others could walk out of jail because of India's own struggles with colonialism.  Archbishop Tutu also warned about the consequences of increasing inequality and marginalizing the vulnerable. His note of caution, though in the South African context, was also relevant for inequality in India.
The Nobel Laureate concluded by paraphrasing Martin Luther King Jr.: "We can choose to learn to live together as brothers and sisters, or perish together as fools."
Archbishop Desmond Tutu is an endless source of compassion and wisdom. He has influenced the course of history in apartheid South Africa, and serves as inspiration for all lovers of justice and peace.  The magic he wove over us in November 2013, is much-needed for us to spread hope for the futures we want for all of humankind and for all life on Earth.
Sandeep Chachra
Executive Director, ActionAid Association
(Views expressed are personal and do not necessarily represent those of the organisation)