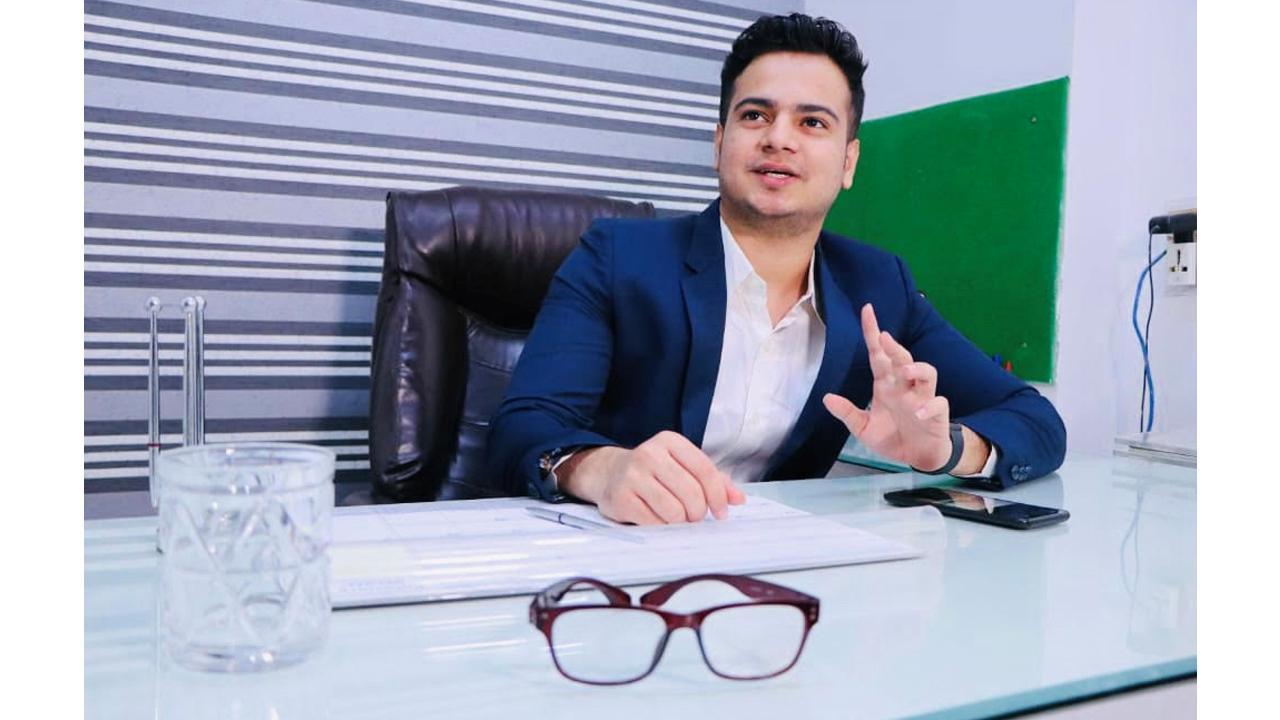 Mr. Meraj Zariwala
Starting a business seems thrilling, but the thrill comes from conquering obstacles and accepting the chance of failure, just as in any good novel. Leaving everything behind and entering the realm of entrepreneurship appears to be a fantastic notion. 
It is not simple to be an entrepreneur, building a successful, long-term business is difficult. It is critical that all aspiring entrepreneurs recognize and embrace the fact that starting a business can be difficult. 
Having an entrepreneurial family background may be extremely beneficial since you have someone to look up to, someone's expectations to meet, and most importantly, guidance.
Meraj Zariwala, a budding entrepreneur, is poised to reshape the healthcare industry. He is currently working as the managing director for a multi-specialty hospital and also a co-founder of Realty in real. Meraj is the son of Mr. Farid Zariwala, an angel investor and successful businessman, but make no mistake, Meraj is not your typical born with a silver spoon child looking to follow in his father's footsteps; he is passionate and consistent and is trying to build a name for himself in the healthcare space to add to his father's legacy. 
The Road to Entrepreneurship 
Meraj believes that his education has allowed him to rethink healthcare delivery in general. "It has equipped me with the required knowledge and skills to lead effectively in a global setting. In India, this includes developing conceptual abilities in planning, health care funding, resource planning, hospital, and health care material management, research methodology, and the hospital accreditation process" he quotes. 
Furthermore, he also added that "growing up in an entrepreneurial family benefited me in more ways than just igniting my interest in business at a young age — though it did that, too. I also obtained valuable real-world business experience much before many of my contemporaries started their own businesses."
From here to there: Past to the Future
Meraj is a Bronze Medallist from the University of Illinois at Chicago, where he majored in Biological Sciences with a minor in Business Administration. He completed his post-graduate certificate in Hospital Administration at DY Patil Pune. Meraj also holds a post-graduate diploma from Symbiosis International Pune in Hospital Designing and Planning. In the fall of 2023, he is planning to join John Hopkins to obtain a master's degree Healthcare Systems Engineering.
Meraj comes from a household of five: parents and his two sisters. His mother is a stay-at-home mom, and his father, Mr. Farid Zariwala, is a well-known businessman and the founder of Noori Group of Companies who has many projects spread across Mumbai.
The company's experience is displayed through an assortment of residential and commercial projects and an estimated land-bank inventory of over 10 million sq. ft, distributed across Mumbai and Thane, and is backed by three decades of corporate heritage and solid financials. 
"I've learned from experience that working families are often just one paycheck away from financial ruin. And it taught me first-hand how critical it is for every family to have access to quality health care" says Meraj.
For the future, Meraj intends to offer high-quality health-care services to the broader public, as well as incorporate his ideas for building healthy communities and helping humanity thrive.'
He also intends to construct healthcare centres with state-of-the-art infrastructure that would provide preventive, rehabilitative, curative, and promotional healthcare services at a premium quality and low cost. 
The wakening of a long-held Passion
"As a first-generation college student, I had no idea that professions in public health existed until I interned with Illinois PIRG during my junior year, a non-profit organization that fights strong interests and promotes society's health and well-being. I worked on a bill to reduce the abuse of antibiotics on poultry farms during my internship. I discovered how important it is for individuals to be informed of the health risks, policies, and assessments in their neighbourhood while investigating the long-term health implications of antibiotic resistance. 
This made me think about my native country, where overpopulation puts enormous strain on an already frail public health system, resulting in certain sections of India obtaining substandard health care. People from lower socioeconomic classes are the hardest affected of all oppressed groups, as there is a significant dearth of health centres and initiatives geared toward their well-being. My goal is to develop and implement health policies that address the needs of the general public, both the rich and the poor, as well as to persuade health professionals all across the world to do so" he further quoted.