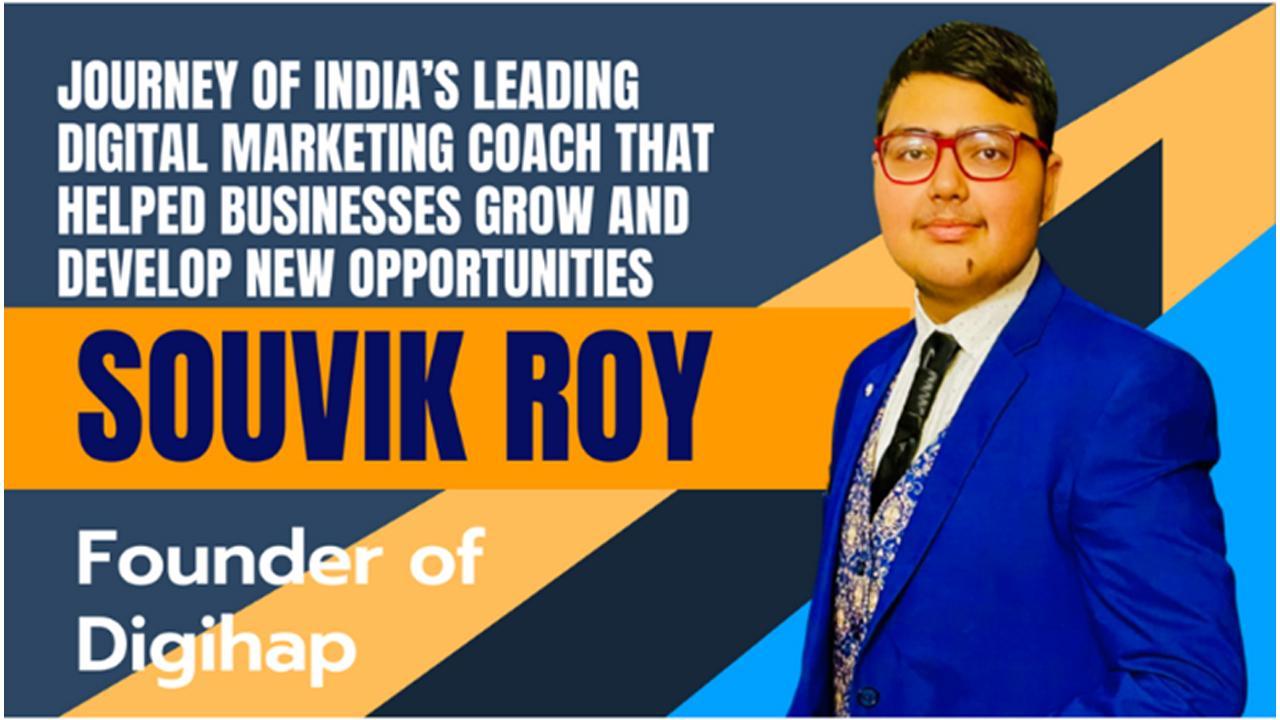 Souvik Roy
No doubt, Digital marketing is the most rapidly evolving and inevitable industry that is growing in prominence as the Internet and technology evolve. Indeed, it is the only industry that is supporting all other industries and businesses in their efforts to obtain a foothold in the online world. Consumers would not have discovered a potential firm that could provide them with attractive services in the future if it had not been for digital marketing. This burgeoning industry has driven enterprises and digital marketing aspirants to jump into the sphere, with many of them receiving marketing gurus' instruction to become self-employed or to elevate their existing businesses to new heights. Souvik Roy is one such Digital Marketing Coach who, since the age of 16, has helped boost overall awareness of brands and organizations, produce quality leads, and convert more sales using the appropriate abilities and techniques, leaving everyone in wonder.
Souvik began his career as a freelancer and part-time YouTuber with the goal of educating and enriching young entrepreneurs and assisting them in scaling their enterprises in the digital world. Souvik learned Technical Skills as a result of his early interest in technology. He began watching success stories of many YouTubers who had come up with various concepts and business ideas when he was 16 years old. In addition, in order to help his family's financial situation, he began to learn digital skills by putting money in courses that yielded 100x returns. Souvik has developed skills in communication, leadership, time management, financial literacy, presentation, business audit and brand awareness, and marketing in the last several years since he began his journey in the digital world.
Souvik's mindset was always to help people, not to get money, as he strongly thinks "Money is the by-product of what you do when you're passionate about something." Though his path had never been straight and clean, he had experienced many ups and downs in his life, the most challenging aspect being a lack of resources and guidance. One thing he learned was that quitting up would not help him because he never considered it as an option. Instead, he developed a passion for it and began studying on his own via sheer hard effort, persistence, and patience. He had realized that in an ideal world, building a career around something you are passionate about is a win-win. He made his passion a daily grind that could make it just that a grind. This triggered him to incept Digihap, an e-learning platform that provides a plethora of courses in the sphere of Digital Marketing, entrepreneurship, start-ups, solopreneurship, and finance.
In the words of Souvik "One thing, I want to Convey to every people is that Never Give up as worst Strength doesn't come from what you Can do. It comes from overcoming the things you once thought you COULDN'T. At times we have to cross the painful dark way to reach the glorious success destination. Even the darkest night will end and the sun will rise. Keep hustling and be consistent. Always Remember Success is a journey, not a destination"
It goes without saying that everyone aspires to be successful in their own lives, careers, or passions. However, in order to be successful, you must put in a lot of effort and commitment because nothing can be accomplished without it.
Instagram – https://instagram.com/digitalsouvikk?utm_medium=copy_link
YouTube – https://youtube.com/channel/UCRb1QLzWX9sqGESGhOviS3Q
Digihap-