During a ceremony in Kochi, Mr Faggan Singh Kulaste bestowed an award upon Rev. Sr. Dr Vinitha CSST, Principal Dr Alphonsa Vijaya Joseph, Senior Administrator & Former Principal Dr Sajimol Augustine.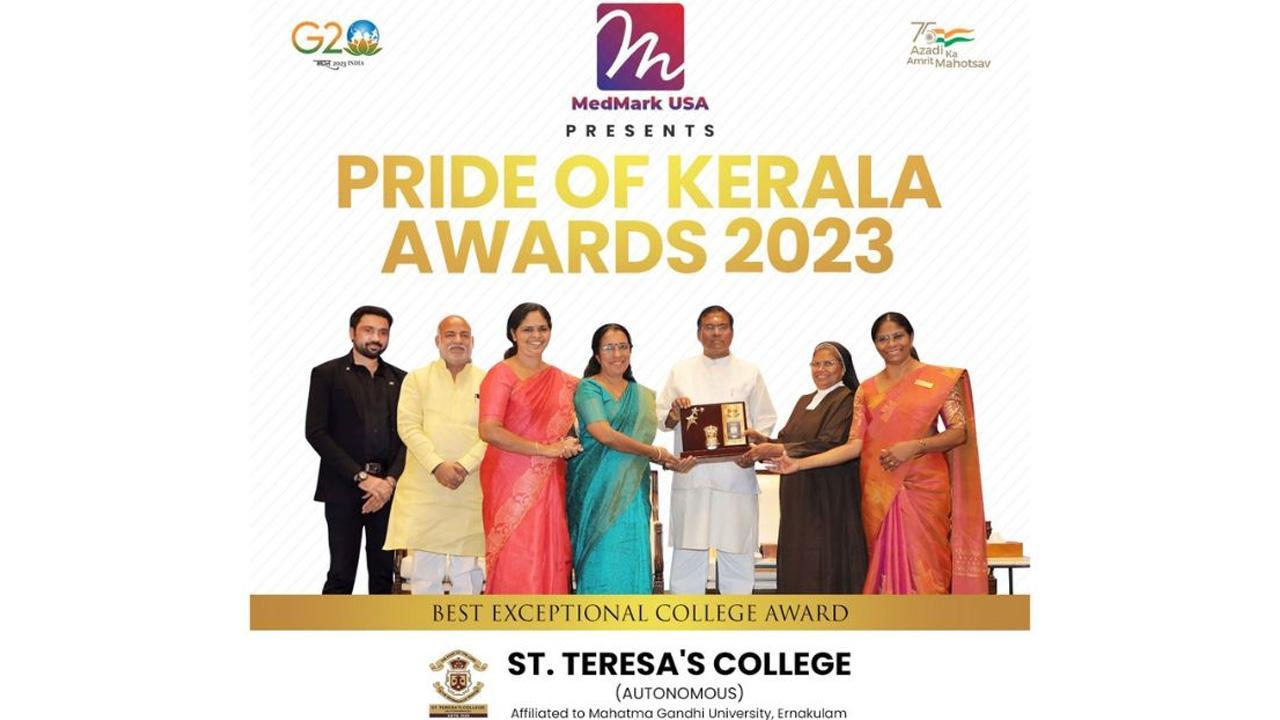 The institution known as St. Teresa's College, located in Ernakulam, has been acknowledged for its noteworthy accomplishments through the presentation of the esteemed "Pride of Kerala" accolade during a ceremony arranged by Medmark. The event was graced by distinguished dignitaries, such as the Honourable Minister Faggan Singh Kulaste from India's Ministry for Rural Development & Steel and the Honourable Minister Ramdas Athawale for Social Justice and Empowerment. The guests commemorated St. Teresa's College's noteworthy societal contributions while reaffirming its unwavering commitment to academic excellence.
During a ceremony in Kochi, Mr Faggan Singh Kulaste bestowed an award upon Rev. Sr. Dr Vinitha CSST, Principal Dr Alphonsa Vijaya Joseph, Senior Administrator & Former Principal Dr Sajimol Augustine. M, and Vice Principal Dr Kala M S, on behalf of their peers. Mr Azeez Abdulla and Minister Ramdas Athawale attended this event. The acknowledgement above contributes to the extensive array of commendations St. Teresa's College has garnered throughout its history.
ADVERTISEMENT
St. Teresa's College has been acknowledged for its outstanding achievements in diverse domains, particularly education, through the Pride of Kerala award. This recognition is a testament to the institution's exceptional ability to distinguish itself amidst intense competition. The institution's community members, comprising management, faculty, and students, were recognised with a well-deserved award for their innovative work and unwavering dedication to their mission.
Since its inception on 15th June 1925, this establishment has made a favourable impact in the field of education. Having originated from modest origins, the establishment has grown significantly to emerge as one of the leading institutions equipped with cutting-edge facilities and infrastructure.
The institutional focus of St. Teresa's College centres on the holistic development of young women, with an emphasis on fostering intellectual growth, maturity, responsibility, spiritual enlightenment, and social motivation. Throughout its 98-year existence, this institution has demonstrated steadfast dedication to achieving excellence, reaching numerous significant accomplishments and establishing itself as a leading minority institution in Kerala. St. Teresa's College, recognised as a female education trailblazer and the first college for women in Kerala to receive financial assistance, is a noteworthy model for others to emulate.
This institution's demonstration of academic and research excellence is evidenced by its notable accreditations and rankings. For instance, the National Assessment and Accreditation Council (NAAC) granted it Five-Star Level status in 1999. In 2019, it achieved an A-grade status with a cumulative grade point average (CGPA) of 3.57 for the cycle four evaluation by NAAC. Moreover, the fact that it has been ranked as the 41st institution on the National Institutional Ranking Framework (NIRF) national list is a testament to its dedication towards imparting superior education.
The research activities of this institution have garnered significant recognition from esteemed organisations such as the Department of Science and Technology-Fund for Improvement of Science and Technology Infrastructure (DST-FIST) and the Department of Biotechnology (DBT). St. Teresa's has received several distinguished accolades, including the Best Bhoomitra Sena Club Award, the National Energy Conservation Award, and the World Malayalee Council Best Project Award, which reinforce its reputation as a hub for pioneering research.
St. Teresa's College distinguishes itself not only through academic accomplishments but also through its exceptional performance in extracurricular pursuits. St. Teresa's has consistently emerged victorious at the Mahatma Gandhi University Youth Festival for over three decades. The institution's commitment to promoting environmental sustainability and implementing energy conservation measures has also been widely recognised and commended.
The conferral of the Pride of Kerala Award for Outstanding Achievement in 2023 marks a significant milestone in the institution's trajectory. Their unwavering commitment to education and relentless efforts to establish a motivating learning atmosphere indicate their exceptional dedication.