Top 10 Emerging & Promising Women Entrepreneurs of 2023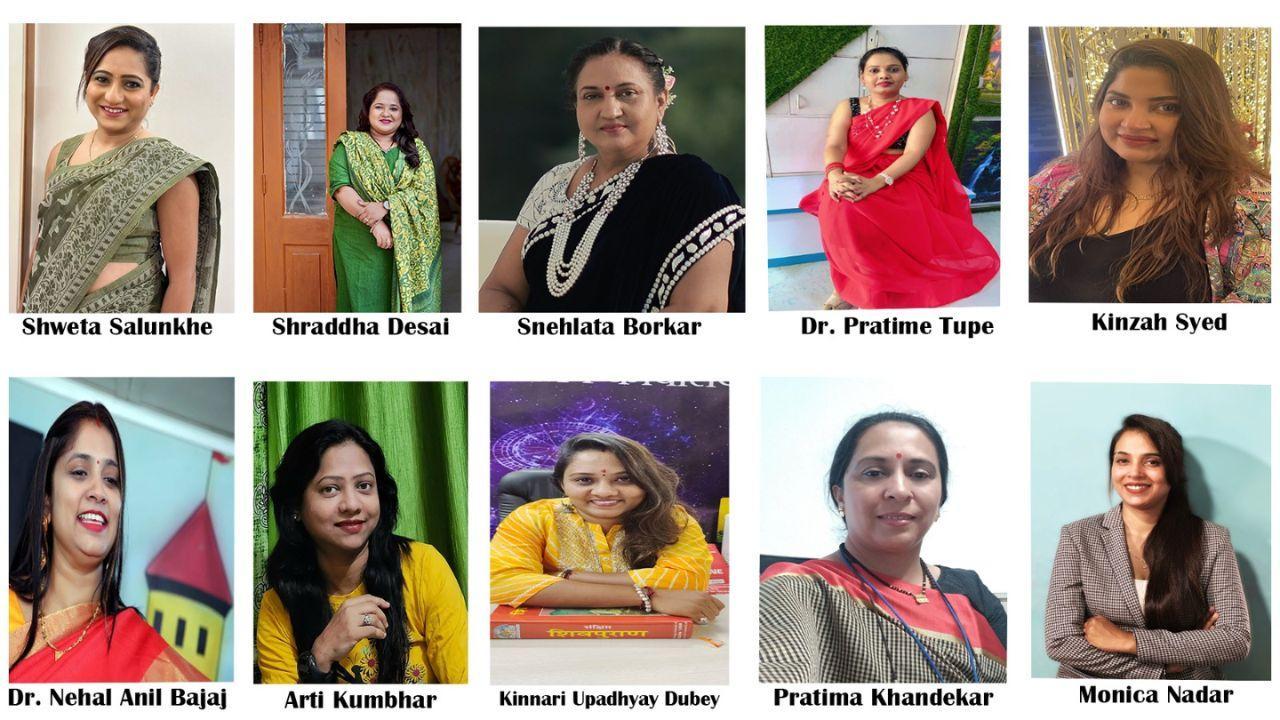 Top 10 Emerging & Promising Women Entrepreneurs of 2023
New Delhi (India), April 17: The world of business and entrepreneurship is rapidly changing, and with it, the role of women in shaping the industry is becoming increasingly prominent. As we head into 2023, there are a select few female entrepreneurs who are making waves in their respective fields and are poised for even greater success in the years to come. These top 10 emerging and promising women entrepreneurs have not only demonstrated exceptional talent and drive but also have a vision for the future that is both innovative and inspiring. 
Let's take a closer look at who these remarkable women are and what makes them stand out in today's competitive business landscape – 
ADVERTISEMENT
1. Shweta Salunkhe
As the Chief Legal Officer and co-founder of multiple successful companies, Shweta Salunkhe has been featured in Forbes India. Her leading F&B brand, Coffee & More, has recently announced its national and global expansion plans of over 170 outlets around the world. Under Mrs. Salunkhe's guidance, the brand has been ceaselessly catering to customers' innovative and exciting ideas, making a bold mark in the F&B industry. Coffee & More is launching a prepaid card with RuPay which can be used for all banking operations, including online and offline transactions and internet banking across the nation, as well as on e-commerce platforms. 
2. Shraddha Desai
Owner and Founder of Ayudhara Agrofoods. Her company boasts a range of exceptional cold-pressed oils that are made using traditional techniques and sourced from local farmers. Ayudhara Agrofoods was not just a business for her but a passion. She is committed to providing high-quality, nutritious, and healthy products to her customers while also supporting the rural economy by sourcing her raw materials from local farmers. She is particularly proud of her efforts in creating job opportunities for women in both production and marketing, stating that empowering women was key to society's progress. The Women Iconza Award 2023 was a fitting tribute to Ms Desai's exceptional contribution to the field of Manufacturing Edible Oil. 
3. Dr. Snehalata Girish Borkar
Dr. Snehalata Girish Borkar, a true phoenix iron lady from Pune, Maharashtra, who has been awarded for her outstanding achievements as a 1st generation entrepreneur and woman of excellence in 2012, and for her lifetime achievement, Maharashtra Ratna Puraskar, Sushma Swaraj Women Icon Award, and Bharatiya Naari Ratna Award in 2022 and 2023. She is the founder of Phoenix-Iron-Lady and a spiritual educator, as well as an author of the biographical book "The Incredible Drama She Was Born Into". Her life exemplifies the true meaning of entrepreneurship and her accomplishments are an inspiration to all. Dr. Borkar's journey as a 1st-Generation-Entrepreneur is truly inspiring, and her commitment to empowering women is evident through the numerous awards and accolades she has received over the years.
4. Dr. Pratima Tupe
Dr. Pratima Tupe is a renowned skin, hair, and weight loss specialist and cosmetologist who has been serving her patients for over 25 years. She is the founder and chairman of the acclaimed "Dr. Tupe's Skin Hair Laser Slimming Center" located in Mumbai. Her expertise in post-graduate diploma courses in cosmetology, trichology, and obesity management at Tulip International in Dadar has made her one of the most sought-after dermatologists in Mumbai. Dr. Tupe has earned a reputation as a top cosmetologist and hair specialist in the city. She holds vast experience in treating all kinds of skin disorders and her mastery of cosmetic dermatology treatments. Dr. Tupe also specializes in weight loss management and offers nutritional guidance to her patients. 
5. Kinzah Syed
Kinzah Syed an Internationally Certified Cosmetologist & Trichologist, has been recognized for her exceptional work in the field of dermatology. As the founder of the esteemed Aesthetic Clinic, K SKIN BAR, located in Goregaon West, Mumbai, Kinzah has earned a well-deserved Doctorate in Dermatology. K SKIN BAR is well-known for its celebrity-approved skin treatments, including painless lasers, chemical peels, and various machine facials such as Hydra, Korean, vampire, and BB Glow. The clinic also offers permanent makeup and other beauty treatments that cater to the needs of the common man, all while being affordable. Her dedication to her craft has resulted in numerous awards and accolades, making her a trusted name among clients and peers alike.
6. Dr. Nehal Anil Bajaj
Dr. Nehal Anil Bajaj is a woman with a versatile personality having a combination of multiple talents and a passion for empowering parents to build meaningful and healthy relationships with their children. She has over 7 years of experience as a preschool entrepreneur and parenting coach. Her extensive training as an internationally certified parenting coach, numerologist, NLP expert, and Law of Attraction practitioner allows her to guide individuals and families through deep changes that help them achieve their personal and professional goals. Dr. Nehal's expertise is highly sought after not only by parents but also by many schools. Her work as a preschool entrepreneur, successfully running a franchisee of Podar Jumbo Kids Plus, further strengthens her expertise in early childhood education and development.
7. Dr Arti S Kumbhar
Dr Arti S Kumbhar is a Clinical Psychologist, Healer, Mental Health Expert, Mind Coach, Counselor, Occult Science Expert, & Social worker. She founded Unique Pathway and Vreendavan Kids Pre-School & Day Care, providing a nurturing environment for children and Autism Training Center &  Preschool. Dr Arti worked in the banking sector while pursuing her passion for counseling, healing, and academic teaching. In 2019, she left her bank job and focused on empowering herself and others as an entrepreneur. Dr Arti's passion for spreading awareness of unconditional love has led her to invent the ManoRagini Mind 5 Element, The Power of Creation. She has earned numerous accolades, including the World Humanity & Peace Award'2023 and the Indian Entrepreneurship Award '2023 and Rashtriya Abhiman Puraskar'2023.
8. Kinnari Upadhyay Dubey 
Kinnari Upadhyay Dubey is a renowned and also adept practitioner of Tarot, Angel Board Reading, Mantra Healing, Yantra Making, Vastu, GemStone Consultancy, and DMIT Counseling. With 12 years of experience in the field, Kinnari has been operating her astrology office in Mulund for the last 9 years. She is a firm believer in the power of the universe and credits her destiny and Guru's blessings for leading her into the field of astrology. Though her formal education is in Computer Science, Kinnari deepened her understanding of astrology under the guidance of Shri Avinash Gangeleji and received certifications in Medical Astrology from Navyug Jyotish Sanstha (Delhi) and Jyotish Ratnam from Gokul Global University (Gujarat). 
She has attended numerous Jyotish Sammelans and was felicitated by Dr. Ajai Bhambhi.
9. Mrs. Pratima Khandekar 
Mrs. Pratima Khandekar is a versatile personality, skilled in various areas such as counseling, therapy, healing, teaching, and analysis. She has a social cause and has conducted successful study skill sessions for children in municipal schools. 
Pratima is also associated with reputed institutions specializing in the education of children with special needs and provided counseling assistance to families in rural areas during the pandemic. Her services include Marma therapy, sound and frequency healing that can transform various aspects of life, heal emotional trauma and spiritual enhancement, and does not require medication. She is well-connected with organisations such as IWC, Rotary & WIMA. For over 12 years she has been providing counseling and career guidance to 10th and 12th students who did not fare well and their parents.
10. Monica Nadar
Monica is the founder of a handcrafted art company called Delightful Creations. The company creates art that not only beautifies homes but also inspires and stimulates your senses with captivating aromas.
Founded in October 2021 by a mother-daughter duo, this family-owned business has quickly established itself as a go-to for high-quality, health-conscious art products, including fragrant candles, resin art pieces, etc. One of the unique features of Delightful Creations is their emphasis on using only the best quality raw materials. For instance, they use grade-A quality soy wax and fragrances for making candles and high-quality epoxy for resin art. 
Thanks to its founder Monica's dedication to quality, Delightful Creations has quickly become a favorite among art enthusiasts and those who appreciate beauty and quality in their homes.
"Exciting news! Mid-day is now on WhatsApp Channels

Subscribe today by clicking the link and stay updated with the latest news!"
Click here!