It starts with the right leadership to start a business and carry on with it. Meet 2023's most inspiring and dynamic Entrepreneurs who are making noise in the industry for all the right reasons.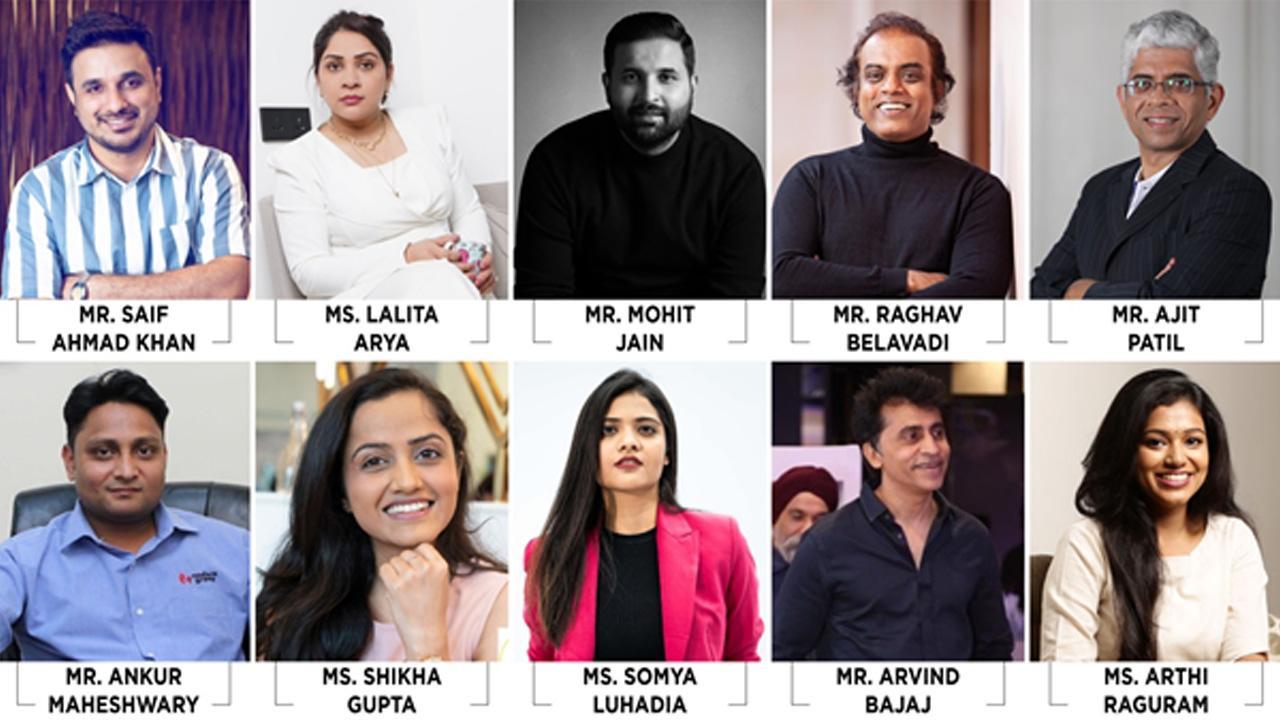 Their expertise, skills, and hard work are setting new paths for the next generation. Learn how these business leaders followed their passion and achieved their goals:
1) Mr. Saif Ahmad Khan, CEO of Luhaif Digitech
Saif Ahmad Khan, an Alumnus of IIM Nagpur, is an entrepreneur, philanthropist, and CEO of Luhaif Digitech. Saif brings more than eight years of industry leadership with a comprehensive, synergistic blend of expertise in business process management and an understanding of sophisticated international markets.
"AdTech and Digital Marketing are closely related as AdTech provides the technology for delivering and managing digital advertising campaigns, while Digital Marketing focuses on the strategy and tactics for promoting products or services through digital channels. Together, they will continue to shape the future of advertising by allowing for more precise targeting and measurement of ad campaigns, as well as greater personalization and interactivity for consumers", added Saif Ahmad Khan.
2) Ms. Lalita Arya, Vice President, Derma Puritys
With a strong influence on beauty and creativity, Ms. Lalita Arya leads the development of skin, hair and body treatments, brand identity, and strategies to establish and offer items that inspire clients and promote beauty and wellness. She is a self-driven and motivated entrepreneur with a proven track record of success and extraordinary achievements in building companies, from simple ideas to multi-million businesses.  She is on a mission to grow this organization to new heights and establish Derma Puritys as the standard of luxury skin clinics in metropolitan cities hungry for skin care.
"The aesthetic skincare clinic industry is expected to see significant growth in the coming years, as more people are becoming conscious of their appearance and seeking non-invasive treatments to enhance their skin. The demand for advanced skincare treatments such as Botox and fillers, laser hair removal, and advanced facials is increasing, which will drive this industry's growth, " added Lalita Arya.
3) Mr. Mohit Jain Ceo & Co-Founder, Kimirica Lifestyle
Mohit Jain is the CEO and Founder of Kimirica Hunter International, an Indo-Canadian manufacturer of luxury hotel amenities and one of the fastest-growing start-up's in India. Kimirica Hunter International is India's largest manufacturer of Luxury Hotel Toiletries and Guest Room Amenities, serving the most significant number of regional international hotel chains. Their finest quality Guest Toiletries are developed with natural formulations using natural actives, pure essential oils, exquisite natural fragrances, and 100% paraben-free preservatives. A director with Kimirica Lifestyle Private Limited, Qalm Wellness Private Limited, Souq Lifestyle Private Limited, Prefme Matrix Private Limited, Pataa Technologies Private Limited, Startin Indore Forum, Mohit Jain is currently connected to ten different businesses.
4) Mr. Raghav Belavadi, Founder & CEO, Hype Luxury
Serial entrepreneur and fintech professional, Raghav Belavadi brought revolution with his innovative thinking and introduced to the new generation a new way of riding luxury cars at an affordable rate. Seeing the clear gap in the luxury car market for aspirational young professionals, he started Hype, a niche technology startup in 2017. With the vision to bring a paradigm shift in the mobility space with a rental offering through a mobile platform for customers who choose to ride luxury cars. Today, Raghav's brainchild has expanded over 23 cities in India and internationally in Dubai and the UK and his innovative venture not only provides luxury cars to its consumers but also jets and yachts. Apart from Hype, Raghav put immense effort in establishing other startups like ANDIAST and Jrox, in the online education space and proAGILITY Fitness, a fitness training institute for children in India. Holding a Bachelors's degree in Mechanical Engineering from the University of Mysore, he also pursued Advanced Communication Training from the University of Oxford. An accomplished enterprenuer, Raghav was the first person to set up a startup in InsurTech, ANDIAST Tech.AG in Switzerland in 2011 till 2016. He was the Executive Vice President at Accenture in Switzerland, Canada, and India. Besides being a fitness enthusiast, he also takes interest in skiing, horse riding and soccer.
5) Mr. Ajit Patil, Co-Founder/ Managing Director of DeepTek
Ajit Patil is the Co-Founder/ Managing Director of DeepTek – a venture doing cutting edge work in medical imaging AI space. DeepTek has strategic equity investment from TATA Capital Healthcare Fund and NTT DATA. Prior to this Ajit has founded and exited multiple ventures – which includes Vertex Software, a Japanese market focused IT Services company - which had a strategic equity alliance with Mitsui Co. Ltd. and exited to NTT DATA Japan. Ajit is a graduate of IIT Kharagpur.
 6) Mr. Ankur Maheshwary, Founder and Director, Modern Group
Mr. Ankur Maheshwary is the founder and director at Modern Group and is the man behind providing world class entertainment to the Indian subcontinent. A visionary from Delhi college of Engineering wishes to ensure that each one of us experiences a dip into an immersive environment whether it is in the form of his 7D theaters or virtual reality gaming. A management graduate from ESADE Business School and rich private equity experience makes sure he means serious business when it comes to gaming. He is the brain and heart behind a chain of multi-dimensional theaters- Mastiii Zone in over 21 locations nationally. An entrepreneur who loves traveling the world and loves gadgets, spends most of his time in research and development back in his production factory in Gwalior where he and his enthralling team release super hit concepts like Virtual Reality cricket, Surgical strike in 7D and work on 7D, 9D theatre and virtual reality technology projects. His team is also involved in curation of world class animation projects and technologies like hololens and augmented reality.
7) Ms. Shikha Gupta, Hormonal Expert, Nutritionist & Health Coach
Shikha Gupta is a Nutrition & Health Coach. She has worked for the last 10yrs with top bariatric surgeons & leading hospitals in Mumbai. She was just working like any other nutritionist, reading about patients' cases & giving them meal plans. While she found herself extremely unhappy with the Health Industry culture, she decided to change her job completely & decided to never turn back even after 6 years of experience. She was really scared that people would object to the guidelines she gave them, as it was so unpopular from what they already knew. This was the most challenging phase of her life. And it was when she realized she needed to prove herself strong. She slowly started off with her freelancing journey. She kept showing up through blogs, videos, posts & stories. She was committed, ambitious & worked really hard. That's when a frustrated nutritionist turned into a proven full-fledged health coach. Today, she has treated 2000+ patients across the globe. And hold a promising community of 121k+ people on Instagram. She believes that health is not about calories in and calories out. There are deeper layers in building any disease like hormones, gut health, stress, environmental factors, and lifestyle. She helps people get over the root cause of their disease where weight loss comes as a by-product.
8) Ms. Somya Luhadia Fitness Trainer and Nutritionist
An engineer turned fitness trainer and nutritionist, Somya Luhadia has paved her paved to become one of the Top Fitness Influencers of India. She started her journey in 2017 by launching her first Fitness & Health Conservatory (Health Academy) in Jaipur. She wanted to extend her expertise to everyone and she took the help of social media to reach out to every corner. Her Youtube channel "Glow Girl Tales" was recognized by Youtube as the "Fastest Growing Youtube Channel" in the health category in the first year itself. Her sheer hard work and dedication has received love from 1 million people. She is constantly upgrading herself by taking certification courses from renowned fitness organizations such as ISSA, Zin Zumba, American Heart Association and many more. Today, she has successfully imparted fitness training to more than 10,000+ women across the country through her paid program while 80 millions people have viewed her Youtube videos. Somya has been recognized as one of the "Top 100 Influencers of the Year" by Exhibit Magazine and also was awarded as the "Best Health Fitness Influencer" by the World Influencer & Blogger.
9) Mr. Arvind Bajaj, Founder, Ezok Shoes

Starting his career at a young age in the city of Agra, Arvind Bajaj today is a successful professional who carved his own way through sheer hard work and zeal. During his initial struggling years, he learnt about shoe manufacturing and its nitty-gritty while working for various export companies. In 1992, his first opportunity came in when he was able to secure his direct export from UK. With passion for quality and timely delivery, Arvind's growth curve has only been rising. Today his company Amar shoes operates from two ultra-modern plants based in Agra and Noida spread over two lac sq feet of covered space, employing over 1200 people with most modern machines in the world. The company produces over 4000 pairs of leather shoes daily exporting to world famous brands like Mango, Zara, Aldo, Esprit, Nine West, Guess and many more. Arvind also launched another brand EZOK for men's premium leather category in late 2021 when he saw a huge lack of quality footwear. He was surprised to see the harmful substances being used in footwear and general people's lack of awareness about it. Through EZOK he is trying to address this serious issue and wants to educate the consumer of the value and importance of an eco-friendly and sustainable product.
10) Ms. Arthi Raguram, Founder, Deyga Organics
Ms. Arthi Raguram, Founder, Deyga Organics, is a new-age entrepreneur whose passion for creating nature-inspired, self-care products have been a driving force of the brand. Her skincare journey began very early as she was an athletic student who spent most of her time out in the sun. Natural ingredients helped her skin stay protected and healthy. Growing up with sensitive skin, Arthi decided to steer clear away from products loaded with harsh chemicals. She maintains this resolve with every Deyga creation as well. Arthi made sure every ingredient was handpicked and every product was responsibly crafted. Deyga has now made waves and broke barriers as a community of Eco-conscious customers. Arthi Raguram is graduated in BA Economics from PSG College of Arts & Sciences and did her PG Diploma in Business Administration from Jansons School of Business - both from Coimbatore. Ms. Arthi set up a small manufacturing unit in Erode and launched Deyga Organics with a few products. Deyga's products sold only on Deyga's website and in select stores. Today Deyga Organics is one of the best beauty products across the world with a turnover of Rs. 30 crores. Deyga Organics has won several awards such as The Times 40 Under 40 Best Skincare Brand Award, The Economic Times Green Entrepreneur Award and The Times Business Awards 2020.