Have you ever wondered how writers create compelling characters and beautiful fictional worlds that never cease to interest you? Do you ever feel moved when you think about how skillfully poets play with words and touch every corner of our hearts?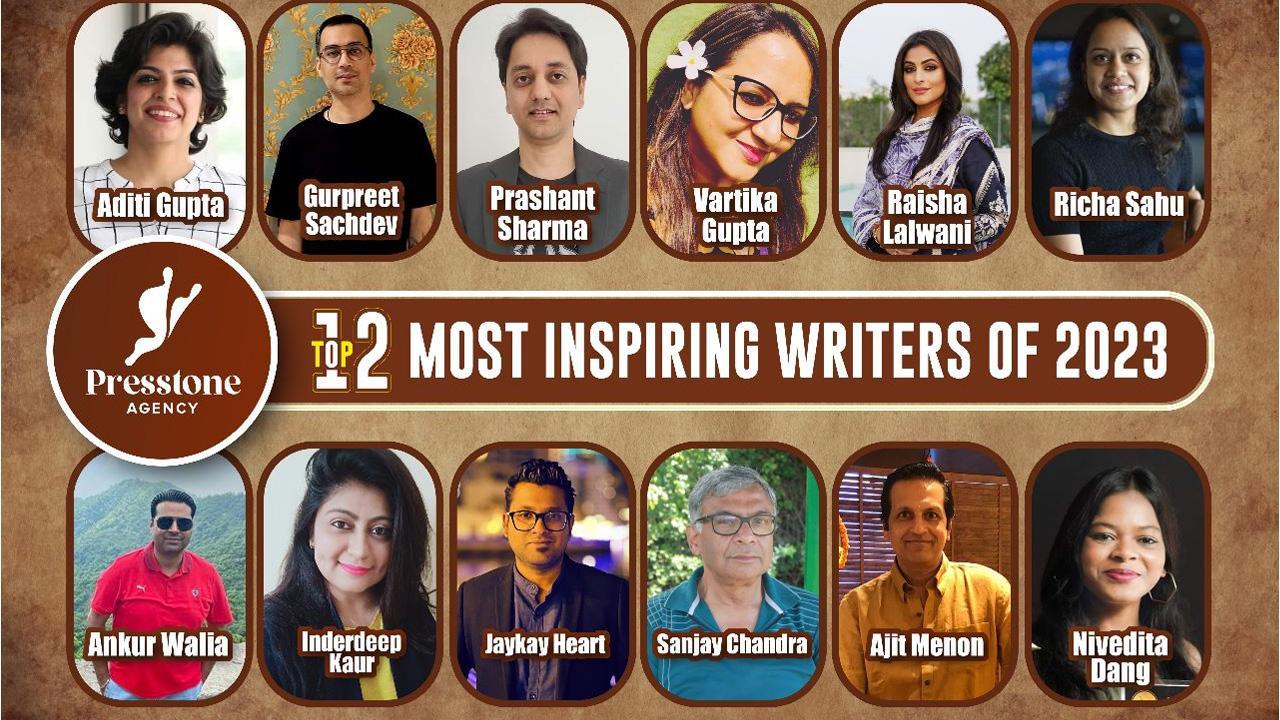 Here are 12 writers who weave a web of emotions with their artistic and creative abilities.
1. Aditi Gupta
Aditi is a writer living in Gurugram. She is a homemaker, busy mom, healthcare entrepreneur, and writer. Aditi believes that the secret ingredient in spreading happiness is writing. She discovered her passion for writing a year after she had a baby. Currently, she's on the road to publishing her first book. She also publishes short stories on her blog - Live a Little Love a Lot.
You follow her page on Instagram @livealillovealot
Facebook https://www.facebook.com/livealillovealot/
Website- https://www.livealittlelovealot.com
2. Gurpreet Sachdev
Gurpreet is a poet from New Delhi who loves to read and blog. He currently works as a full time IT consultant. Yellow Tree is his first book as an author. Gurpreet finds joy in exploring new places and ideas. He posts about his poetry regularly on Instagram at @gurpreetsachdev_
3. Prashant Sharma
Born and raised in India, and currently living in Dubai, Prashant Sharma tries to explore different genres with his books. His earlier books were about the underworld, a simple love story, the butterfly effect and about growing up. In his latest- A perfect love story... until it was not, he explores a childood romance which is met with the harsh realities of life.The story is a roller coaster emotional ride touching upon the patriarchy of the Indian society and is infused with self composed shayari to help the flow.
4. Vartika Gupta
Vartika Gupta is working in an IT company but she is passionate about writing. Her first Hindi poetry book 'Me Teri Parchai' from start has been very popular among the youth. Vartika has dedicated this book to her late mother "Dr Beena Rani Gupta", a Hindi HOD. Vartika has written her first Hindi poetry book "Me Teri Parchai" based on the topics of Life, love, women, social evils and friendship, the major things that run in every single person's heart. In this poetry book, Vartika has given a beautiful message that even after failing in life we can bounce back stronger.
5. Raisha Lalwani
She's a poetess, a singer, a motivational Tedx speaker, the list goes on and on but you know what's special about her? What's special is, she's also a mommy,  which gives her a unique insight into LaLaLand which is how 'Ben & Andrew' have come to life  in her latest book for children - 'THE DAY MY BROTHER BECAME MY BEST FRIEND' and while she's  there,she tickles your imagination, she rhymes & just like that everything shines.
With her initiative '#WriteVentBreathe' , she emphasizes on the importance of putting pen to paper.
6. Richa Sahu
"Trouble Tales of Silly Nili" series is exactly what the Indian market needed. Set in contemporary India in a typical metro the book captures the life of new-age city kids which is mundane and grand at the same time. "Election Fever" is the first book of the series that chronicles the adventures of Neelakshi aka Nili, often referred to as "Silly Nili" by her classmates due to her penchant for getting into trouble. Written by Richa Sahu, An ISB Hyderabad alumnus, who lives in Hyderabad with her husband who is a not-so-bad guitarist and a daughter who is a really good baker!
7. Ankur Walia
Crazy Time Not To Be Young! by Ankur Walia is a fresh perspective on mid-life crisis. His childhood in small hill towns and background as a management professional is reflected in the grounded story of the protagonist- Rohan Khosla, a middle-aged man facing divorce and professional disaster. It is interesting how Ankur weaves the story around friendship, love affairs, professional exploration, grass root politics and eventually spirituality to lead the character to self-discovery. The Author is not bound by any stereotypes of writing and sticks to his originality. The characters and situations in the novel seem real and relatable
8. Inderdeep Kaur
Inderdeep hails from Guwahati ,Currently working in a corporate based out of Gurugram, but is a Writer from heart.She has performed many a times on different platforms ,She has also been critically praised & appreciated by Priya Mallik for her delivery style & content  on her live performance. Inderdeep has a instagram handle wherein she posts her beautiful creations under the name- inderdeep#thewriterinme wherein she uses different forms to present her poetry such as videos / templates, Also she is writing a poetry book which is due for release around July 2023. Moreover her work is also a part of 3 anthologies.
9. Jaykay Heart
Jaykay Heart (Pseudonym) is an emerging 'new age' author of Indian origin. His debut fiction 'A Butterfly Riddle' was widely praised in social media for its unique and fresh storyline, accompanied by gripping writing style. The fiction falls in the psychological thriller/ mystery genre. 'The Times of India' endorsed and quoted his very first book as 'a compelling mystery with all flavours of love'. Author holds dual master's in business finance and psychology, respectively. He is a daytime finance professional and nighttime writer, whose interests spans across literature, finance, psychology, mysticism and travel. Author's real name is Jayakrishnan Mohan and he is currently settled in Dubai.
10. Sanjay Chandra
Born in 1959, Sanjay Chandra is a graduate electrical engineer. He worked in the Indian Railway Services, government company, private sector, before starting his own ventures. He has partnered with companies to create strategies and solve complex problems assisting them to expand their business within and outside the country. Along the way, Sanjay also realised that he has a storyteller within him – every communication in his life was a story in itself! He has two books to his credit – The Gymnast, published in 2022, and The Life and Times of a Common Man, published in 2019. Both the books have won several awards.
11. Ajit Menon
If you love thrillers, this book will leave you gasping for air. The story is inspired by real-life events narrated to the author, Ajit Menon, by his father, Arvind Menon, a retd intelligence officer while he was growing up. The plot revolves around a brutal murder, a son who vows revenge, and an elite antiterrorism group called the Panther's Ghosts.
Ajit takes the readers on a rollercoaster ride filled with suspense, drama, action, and an underlying feeling of patriotism. Follow @rajveerprataprana for an engaging experience with the lead character. Available in bookstores near you and online at Amazon.
12. Nivedita Dang
Nivedita Dang is from the Indian city of Ranchi. She is an award winning author and a singer and song writer. Coming from a small Indian town, her dreams are big enough to spread wings. She has authored four books. 'The confused Mind' deals with mental health and self-doubt, it is a literary fiction. 'When it feels right' mirrors you to decisions made in life, the regrets, the consequences. 'What God taught me in 2021' is about life lessons and advices and 'Essence of Life' an International awardee poetry book is about purpose and kick that drives human existence.