If you haven't found the perfect gift yet, we've got you covered! We know it gets difficult to choose the perfect gift for them because you are likely to want to shower them with all they deserve and much more, but here are some ideas and brands which would do the job for you!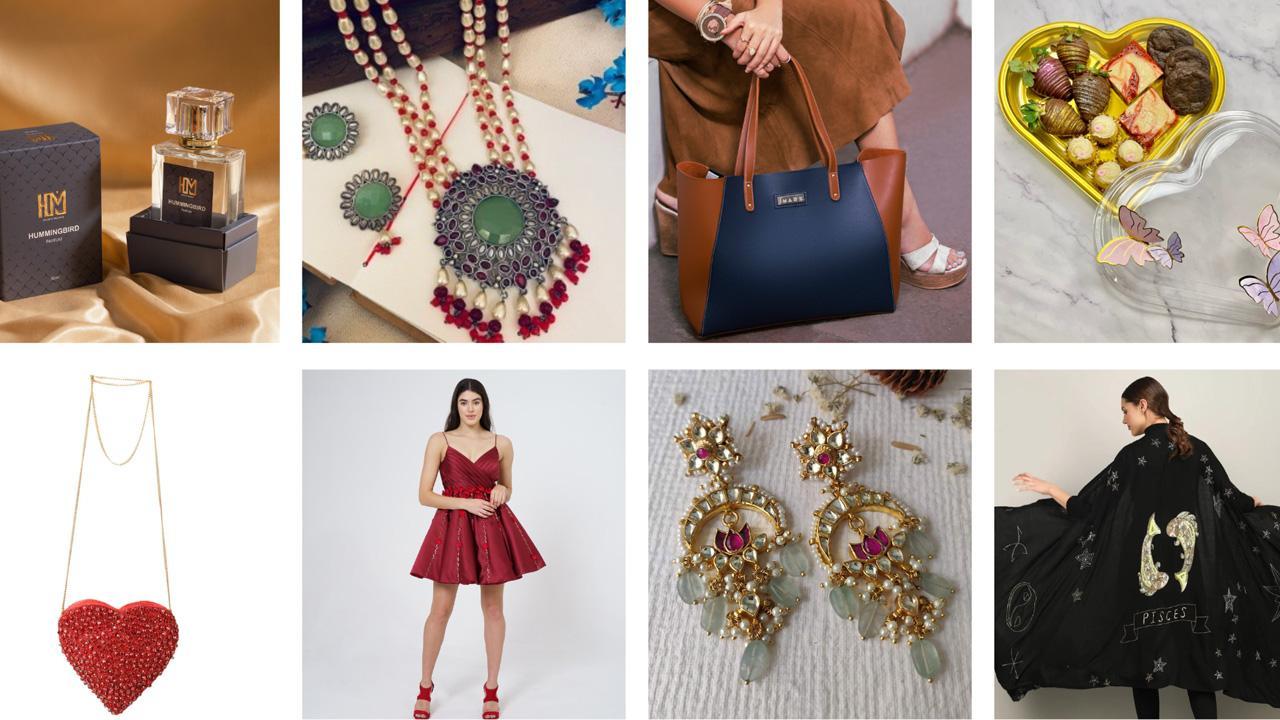 H.O.M. Perfumes
H.O.M. Perfumes is an Indian fragrance house that blends fragrances to offer unique, long-lasting, and memorable scents. Their range of unisex perfumes is luxurious yet affordable. Every precious memory is associated with a whiff of scent- from the first kiss to the worst breakup, nostalgia intermingles with fragrances to create a lasting memory. So why not shower your beloved with all the love and give them memories to last a lifetime? Hummingbird, their signature offering, is a flamboyant coming together of champagne, citruses & wild berry notes.
Instagram- @h.o.m.perfumes
Regalia Ornaments
Regalia Ornaments was founded by Savri Gupta in the year 2016 with selective designs curated from a variety of locations. Over the years, Regalia has had a stronghold in the retail and wholesale industry by creating creative designs of jewellery, bags and apparel with over 800 designs suited for any casual or formal occasion. Their Chandi Batua collection is a beautiful and versatile gift to make your beloved feel special. If you are looking to gift your loved one a piece to jazz up their look for the upcoming wedding season, then the search is over, with an exquisite Monalisa Stone neckpiece.
Instagram- @regalia_ornaments
IMARS FASHION
IMARS is a well-established accessory brand known for manufacturing eco-friendly bags. The brand specializes in using high-quality leatherette, which is sustainable and vegan and feels as premium as natural leather. IMARS designers and artisans create contemporary, trendy and genuine designs for their customers in an affordable range. These bags are a perfect gift to give your beloved on this V-day due to their functionality, affordable price point and suitability for all age brackets. The Blue and Tan Imars Tote bag is a classic spacious and lightweight bag which will enhance the entire look of your partner.
Instagram: @imarsfashion
Flour & Frostings
Flour & Frostings, is a home bakery founded by Saheba Narang Ahuja during the lockdown. Saheba's original plan was to work abroad after graduating from pastry school but the lockdown had different plans for her. She ignited her passion for baking from home and the word spread like wildfire. This bakery specialises in creating custom-designed cakes & dessert tables, taking customers' dessert dreams and turning them into edible realities. This Valentine's Day, the love box is a perfect gift for your loved ones or yourself because they believe that the way to the loved one's heart is through their stomach and what better than a dessert? The Love Box is an intermingling of love, fun and comfort which consists of cupcakes and chocolate-coated strawberries, brownies and fudge cookies for creating memorable moments.
Instagram: @flourandfrostings
Ornatte
Ornatte is a renowned traditional Indian brand with a luxurious collection of handcrafted potli and bags. The products are created with care using the finest materials across India to create unique and stylish accessories well suited for day-to-day to special occasions. The Lola clutch is a handcrafted heart-shaped bag, quintessentially curated for Valentine's day to gift your special woman and to add a sparkling touch to your love towards her.
Instagram- @ornatte.in
Ribelle
The luxurious slow fashion pret with high-ended couture named Ribelle, emphasises in creating trans-seasonal collections using premium materials and threads of artistic galore. Valentine's Day presents another opportunity to express love for someone special in life, and they believe what better way than to treat them with an outfit with embodies luxury and sophistication? Ribelle's couture collection is embedded with a sense of grandeur, intricate designs and luxurious fabrics. The Barbie Doll dress will be a statement outfit to embrace power and love during this special day.
Instagram- @ribelle.in
Mortantra
Mortantra is an affordable luxury brand, that creates handcrafted jewellery with ancient skills and contemporary techniques. The brand makes heritage-inspired jewellery pieces that are rooted in Indian culture. A good pair of earrings will be a sweet little surprise apart from casual ring gifts, which she will cherish, love and wear them time to time. The statement pair of polki mint green earrings from Mortantra will earn your beloved a lot of compliments and make her feel special.
Instagram: @mortantra
Dusala Kashmir
Dusala Kashmir is known for curating a luxurious collection of stoles, shawls, capes and jackets. The shawls and stoles are creatively designed with luxurious fabric for a contemporary and elegant look. The pieces are handcrafted with embellishments which speak volumes of pride and perfection. If your partner believes in astrology, what better gift to give than a customised piece from the Zodiac collection! This cape is a perfect accessory for your loved one to cherish and will make definitely make them feel more confident.
Instagram: @dusalakashmir