The company has worked extensively in the field of health for the past 15 years.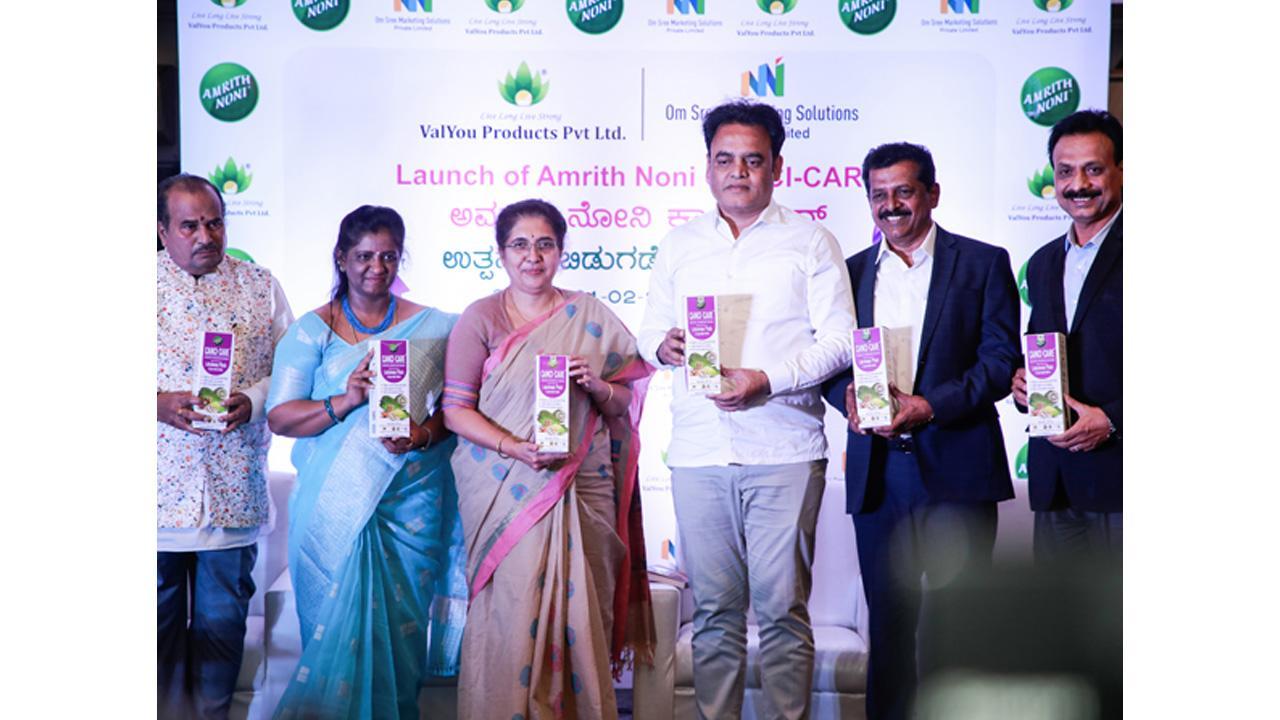 Prominent attendees at the launch of AMRITH NONI CANCI-CARE
Valyou Products has taken a giant step towards managing cancer by introducing its new product called "AMRITH NONI CANCI-CARE", Valyou Products Private Limited has always known the importance of health and thus provides amazing products under the brand name AMRITH NONI. The company has worked extensively in the field of health for the past 15 years,. Hon. Higher Education Minister Dr. C. N. Ashwathnarayan said on Saturday. After releasing the Amrith Noni Canci-Care product on International Cancer Prevention Day, Dr. Ashwathnarayan said, "Valyou Products Private Ltd, which has realized the importance of good health, has come out this product through Amrith Noni. It is a matter of great elation that Amrith Noni, which has been handling medicines for arthritis, asthma, gastric, and PCOD, has also come out with the adjuvant therapy for cancer. "This is a significant milestone in the health care field," the higher education minister added.
Speaking on the occasion, Dr. Sreenivasamurthy, MD of Valyou Products Pvt Ltd, said one of the deadliest diseases that mankind is battling worldwide is cancer, changes in lifestyle, food style, smoking, stress, alcohol and some of the environmental pollutants are the main causes of cancer.
"AMRITH NONI CANCI-CARE" acts as an adjuvant in cancer therapy. It consists of noni fruit extract, Lakshman phala/ soursop fruit and leaf extract, kaanchanaara, bhumiamla, jeevanti, karpasa, kumuda, Lodra, musta, palasha, putrajeevaka, Shwetha sariva, shivlingi and other anti-cancerous and anti-tumor herbs. The molecules present in these herbs aids in suppressing cancer by performing functions like Apoptosis (Cancer cell death), anti-proliferative (suppressing cancer cell growth), by decreasing glucose supply to cancer cells (suppressing the ATP) and thus aids in better living.
Most of the herbs in this combination acts as best anti-oxidant and anti-inflammatory to help in management of all kinds of cancers. The combination is designed in such a way to ensure one's overall well-being and to reduce any unwanted extra growth in the body. It also acts as an adjuvant in cancer therapy by helping to reduce the side effects of chemotherapy and radiation treatment. Prepared under the guidance of doctors and researchers, Amrith noni Canci-Care has undergone pre-clinical studies and has GMP and ISO certifications. It is prepared based on ayurvedic references and is safe for use.
As you all know Amrith Noni cultivates Noni and other ingredients in more than Hundreds of acres of land. The company has a GMP certificate from the Ayush department of Karnataka.
In her speech, Dr. Tejaswini Ananth Kumar, Chairman of Adamya Chethana, said that she was aware of the pain and agony of cancer patients and the mental trauma of the family members. "The achievement of Amrith Noni in coming out with this anti-cancer product is laudable," she added.
Vice Chairman of KSSIDC S. Dattatri of Shimoga said Amrith Noni had made Shimoga globally famous by producing the medicine through organic means.
Philosopher Aralumallige Parthasarathy, Smt Mangalambike, MD of Om Sree Marketing Solution Pvt Ltd, and CEO of Sri Marketing Solutions Narayan were present on the occasion.
For more information, please contact