Visit India's First-Ever Wedding-Themed Dining Experience in Mumbai: Shaadi Mubarak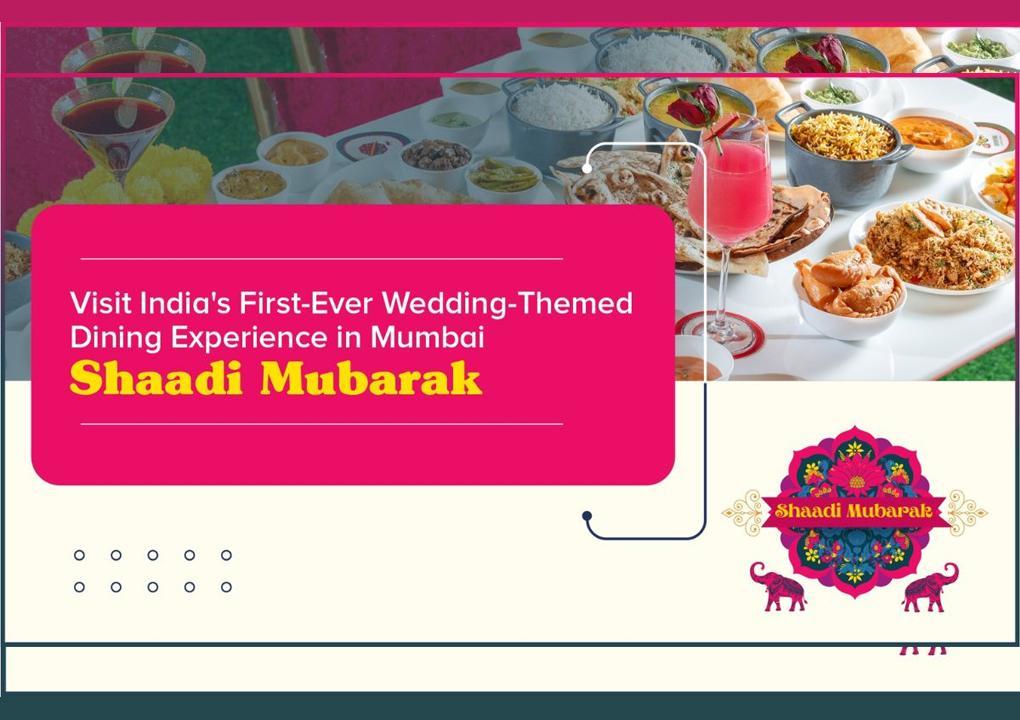 Mumbai Shaadi Mubarak
Mumbai (Maharashtra) [India], September 22: Shaadi Mubarak, India's first-ever wedding-themed restaurant, redefines the culinary landscape by offering a one-of-a-kind dining experience that marries tradition with innovation. Brought to you from the Founders of Pratap's The Dhaba, Shaadi Mubarak introduces patrons to a realm of vibrant festivities, captivating decor, and a delectable fusion of flavors.
ADVERTISEMENT
A Unique Wedding Wonderland
Nestled in the heart of Oshiwara, Mumbai, Shaadi Mubarak is not just a restaurant; it's an immersive journey into the world of weddings. As you step into the restaurant, you will be transported to a realm where every day is a celebration. The enchanting ambience, adorned with intricate floral arrangements, elegant lights, and vibrant decor, sets the stage for a dining experience that is nothing short of extraordinary.
Culinary Masterpieces Await
At Shaadi Mubarak, the menu is a culinary masterpiece, crafted to tantalize your taste buds and evoke the spirit of celebration. The restaurant takes pride in offering an extensive selection of cuisines that cater to every palate. Whether you crave the aromatic flavors of Mughlai cuisine, the zest of coastal delicacies, or the comforting warmth of North Indian dishes, Shaadi Mubarak has it all. Read more about the scrumptious food at Shaadi Mubarak here.
Signature Cocktails & Decadent Desserts
One of the standout features of Shaadi Mubarak is its collection of signature cocktails, each named after a wedding ritual. They are served in customized coasters, and will undoubtedly teleport you to a Big Fat Indian wedding. With an array of curated desserts, Shaadi Mubarak ensures that the end of your culinary experience is as memorable as the beginning as well.
Celebrating Milestones and Moments at Shaadi Mubarak
Shaadi Mubarak isn't just a place for romantic dinners; it's a venue for all your special moments. Whether it's an anniversary, a birthday, or a corporate event, the restaurant offers customized packages to make every celebration extraordinary. From personalized menus to thematic décor, nail art to mehendi artists, and performers to musicians - we've got it all. In fact, the restaurant also has a lac bangle maker to put you in that festive groove. The dedicated team at Shaadi Mubarak ensures that your event or experience is as good and pleasant as it can be.
Exceptional Service, Every Time
The staff at Shaadi Mubarak is committed to providing exceptional service with a warm and welcoming attitude. Their attention to detail and commitment to making every guest feel cherished sets this restaurant apart. Whether you're celebrating a grand wedding anniversary or a simple date night, you can expect nothing less than perfection from the moment you arrive.
Your Love Story Begins Here
Shaadi Mubarak is more than just a restaurant; it's a place where love is celebrated and memories are made. Whether you're planning a romantic dinner for two or a lavish event for many, Shaadi Mubarak is ready to be a part of your special moments. With its unique wedding-themed concept, delectable cuisine, and enchanting ambience, this restaurant promises an experience that's nothing short of magical.
Join Us at Shaadi Mubarak
If you're ready to embark on a culinary journey that celebrates love and flavour, we invite you to join us at Shaadi Mubarak. located on the 3rd Floor, Om Heera Panna Mall, Oshiwara, Andheri West, Mumbai, we are open to welcome you every day from 11 a.m. to 11:30 p.m. To make a reservation or inquire about our event packages, please call us at +919167636666.

Come, celebrate love, and savour flavors like never before at Shaadi Mubarak, where every visit is one to remember. To know more about us, click here.
"Exciting news! Mid-day is now on WhatsApp Channels

Subscribe today by clicking the link and stay updated with the latest news!"
Click here!