Who Is the Poster Girl Dr. Priyanka Maurya on Women's Manifesto Released By Priyanka Gandhi Vadra in Uttar Pradesh?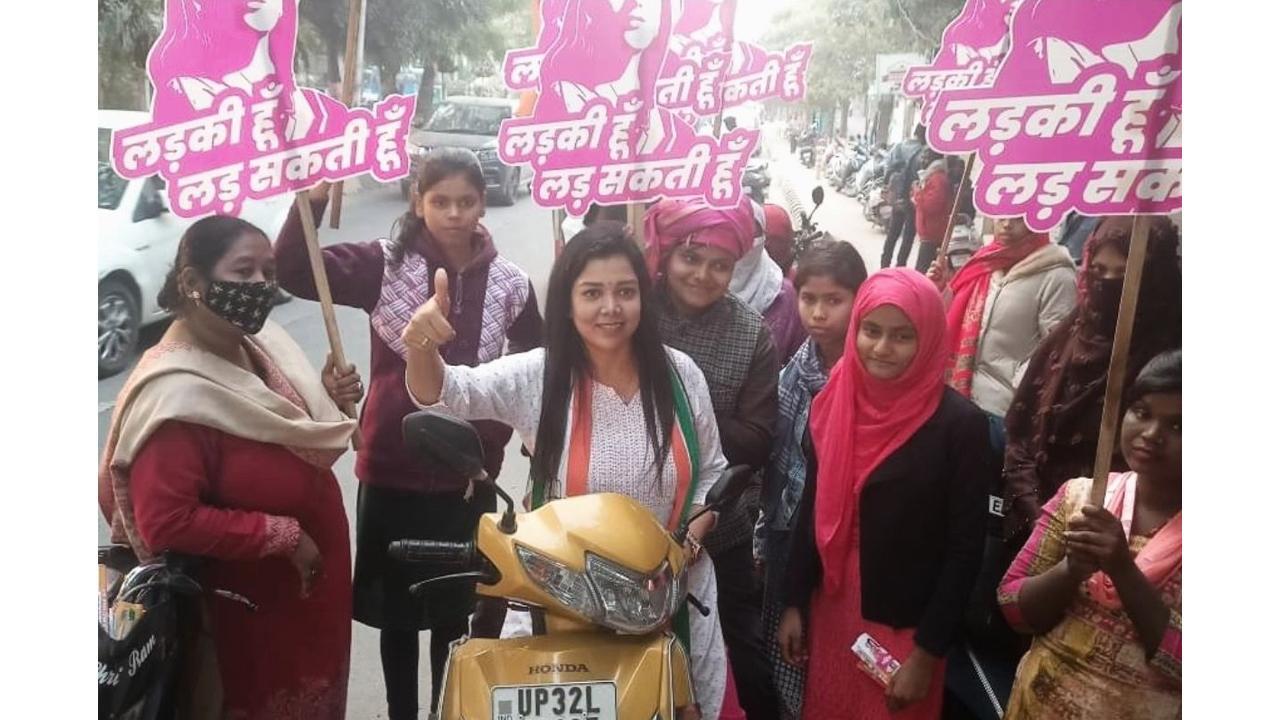 Dr. Priyanka Maurya
Congress's National General Secretary and Uttar Pradesh in-charge, Priyanka Gandhi Vadra, recently released her party's women's manifesto. The revolutionary women's manifesto named "Shakti Vidhan" was released by her on Wednesday, 8 December 2021, with the poster girl, Dr. Priyanka Maurya.
The Congress party has always been vocal about the issues faced by women in Uttar Pradesh. Because of the upcoming Legislative Assembly Elections in Uttar Pradesh, the party has prepared a manifesto for women. The manifesto has been released by Priyanka Gandhi Vadra, the Congress's General Secretary, at the Congress party's headquarters on December 8. 
The women manifesto titled "Shakti Vidhan" has been released by the pioneer politician along with the theme song, "Ladhkihoon lade Sakti hoo." The cover photo represents some top Indian working women, including the pioneer Dr. Priyanka Maurya's picture in the cover photo of the manifesto. 
The Congress politician and State Vice President of Mahila Congress, Uttar Pradesh, Dr. Priyanka Maurya, is on the cover page of the popular women's manifesto released by Priyanka Gandhi Vadra. A successful Homeopathic Physician & Consultant by profession, the multi-talented doctor, has been actively involved in social works with some of India's pioneer NGOs, Neki Ki Deewar and Roti Bank.
From helping poor people gain access to free medical advice amidst Covid-19 and lockdown days to running blood donation camps to creating awareness about cleanliness, hygiene, food nutrition, and other health-related issues. Dr. Priyanka Maurya has been working fiercely to provide excellent assistance and experience through her outstanding calibre.
Presently she is serving as the State Convener of Uttar Pradesh, organizing chair meetings, network activities, ground activities, and meetings. She is the National Coordinator of the Sanjeevani program for the underprivileged and the poor. She aids them in connecting with specialist doctors to obtain common health concerns related to medical advice. She is also the Brand Ambassador of Help India Rising Foundation, an NGO. She is not only responsibly representing the NGO but also generating brand awareness for them. Through being a great opinion leader in the community.
Priyanka Maurya's empathetic skills, sociable nature, determination to overcome obstacles, great communication skills, advocacy skills, contributions towards the people, especially the Congress party and Indian women, make her the perfect candidate to be on the cover page of "Shakti Vidhan" women's manifesto.
Priyanka Gandhi Vadra shared that this was the first time in Indian political history that a separate manifesto would be issued for women. The division of the manifesto has been done into six parts, self-reliance, self-respect, respect, education, health, and security. 
Some great measures included in this trending women's manifesto are the constitution of a special state-level commission to invest women rape and molestation cases, measures such as suspension of officers for negligence in rape cases, 40% reservation for women in ration shops, and MNREGA, a new scheme for opening FD on a birth of a girl in a family, special employment exchanges, free internet delivery to low-income families, a self-help group model implementation for poor women, special women's quota in male-centric jobs, loans availability at 4 per cent interest rate, and many more schemes and benefits for Indian women.
Dr. Priyanka Maurya is also a proposed candidate for the 2022 Vidhan Sabha Elections. She is going to contest for the Congress party as their proposed candidate for 170, Sarojini Nagar, Vidhan Sabha, Lucknow. Connect with her at
https://www.instagram.com/drpriyankamaurya27/
https://www.facebook.com/drpriyankamaurya27/