Beautification of one of Mumbai's landmark localities is on the cards courtesy Birla Estates Pvt. Ltd's Life Designed philosophy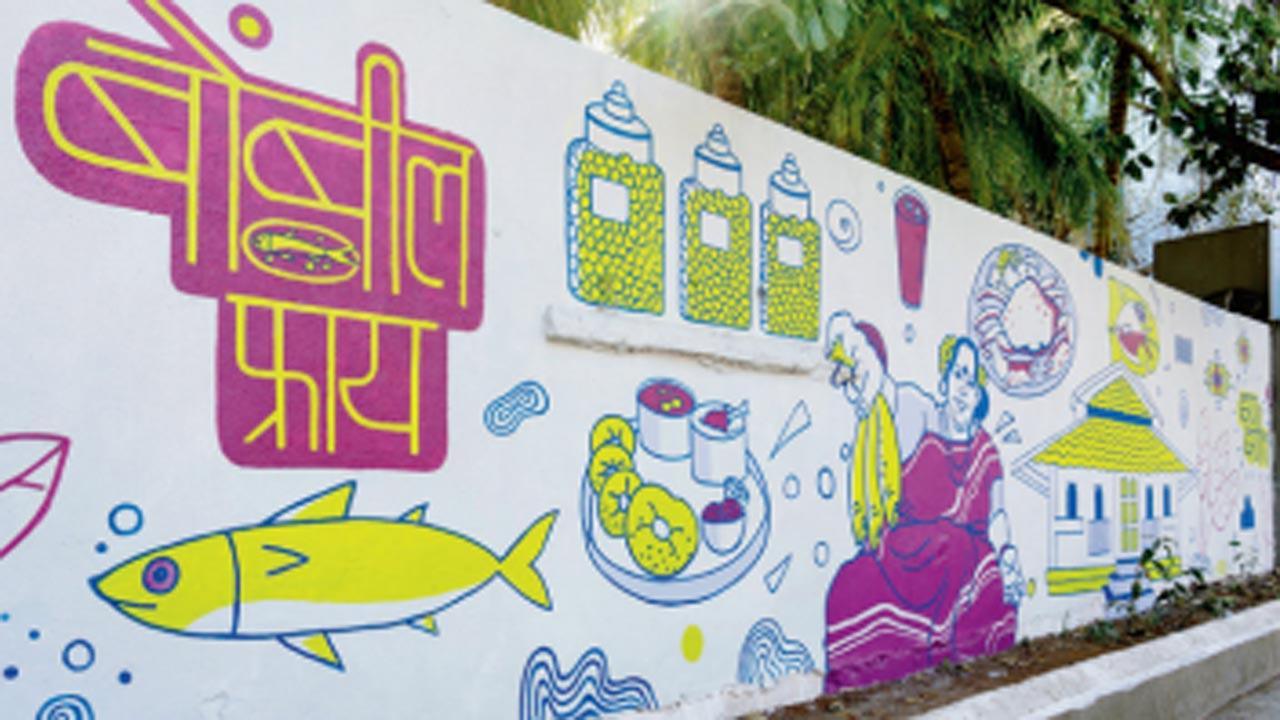 A mural showcasing Mumbai's seafood (Art Credits: @yadna_kanvinde & @mayur.mengle)
While Worli with its seaside promenade attracts Mumbaikars for a leisurely stroll, it is also a busy locality with several business houses, residential complexes and hospitality spaces jostling for its place of pride in this happening part of SoBo. Home to Mumbai's skyline but also to rapidly growing population, beautification and restoration is now taking centre stage to retain Worli's livelihood and attraction as the core business and entertainment nucleus of South Bombay.
Transformation technique
ADVERTISEMENT
While the sea-facing promenade is a landmark, the roads and lanes in Worli would not mind some repair and beautification. The authorities have been keen on revamping Worli and slowly upgrading the entire city's infrastructure along with state-of-the-art recreational facilities. Keeping in line with this vision, Birla Estates Private Limited (Birla Estates), a wholly-owned subsidiary of Century Textiles and Industries Limited (B. K. Birla group) has taken up the responsibility of the beautification of the expanses around Dr Annie Besant Road and Pandurang Budhkar Marg (PB Marg) in Worli as a public art initiative.
A passerby admires the mural on Worli's PB Marg, which is a tribute to the transformation of textile mills in Mumbai, and was created as a part of Birla Estates' public art initiative - Mumbai Rising (Art Credits: @sonal.vasave and @makarandnarkar)
An artistic twist
Regulars at the place are in for a pleasant surpriseas, Worli is all set to get the beautification it needed. And the icing on the cake is that the turn around will be an artistic revamp. Birla Estates is beautifying and turning the walls of Pandurang Budhkar Marg (PB Marg) in to canvases to paint 10 different stories capturing the nuances of Mumbai city in association with Floating Canvas Company and their talented artisans. The growth of Mumbai from seven separate islands to one of the world's largest cities can be charted through the lens of architectural landmarks that have come and gone, as well as those that stillstand or are just taking shape. Each of these have left a lasting impression on a city that never stops rising and surging ahead exactly like the theme of this beautification 'MUMBAI RISING'.
Aravani Art Project working their magic on the walls of PB Marg (Art Credits: @aravaniartproject)
The beautification process includes murals inspired by Mumbai's rich heritage of 20th century Art Deco architecture featuring iconic buildings that now form a part of a UNESCO World Heritage site. While some of the portrayals depict the lifecycle of Mumbai's mills that were once a prominent fixture of Mumbai's landscape, and abustling source of industrial and human activity, a few are abstract representations of land reclamation which enabled the fusion of seven separate islands into the mega polis that is Mumbai. And that's not all, in addition to this, Birla Estates has also taken up the responsibility to refurbish pavements and enhance thearea on both Dr Annie Besant Road and Pandurang Budhkar Marg (PB Marg) with planters, and build a cleaner and greener habitat.
A wall mural on PB Marg showcasing Mumbai's skyline (Art Credits: @gauravvikalp)
Talk of the town
It's only a matter of time that the transformation will be the talk of the town. Commenting on the initiative, Mr. K. T. Jithendran, CEO, Birla Estates, said – "Mumbai Rising is a public art initiative in line with our credo of maintaining the heritage of our city while creating an interactive ecosystem, which ties back to our vision of being consumer centric and delivering high quality spaces at the back of our ideology of Life Designed. It is an honour to be able to partake in changing the landscape of Worli for the betterment of the locale." This beautification project is part of Birla Estates'mission to create Life Designed spaces, which means to build and nurture the ecosystems around life, for life through the creation of urban canvases that interact with the people around it.
A wall mural showcasing Mumbai's Docks (Art Credits: @shraddha_mandale)
Birla Estates - A name in quality housing
A reputable name in the housing industry today, Birla Estates' foray into this business was based on the vision of creating a strong brand in real estate largely through the development of premium/higher mid-income residential housing in identified land parcels owned by the group as well as through joint ventures with land owners, with the aim to provide the customers with not just a good lifestyle, but also a good ecosystem that is designed around life.
A wall mural beautifully capturing Mumbai's Victorian architecture (Art Credits: @tanyaedenart)
Birla Estates create  Life Designed spaces which is the company's guiding philosophy of deriving inspiration from and influencing the lives they touch. Following the right path to bring the vision and mission to life, Birla Estates have successfully forayed into both commercial and residential projects in key metro cities like Mumbai, Bangalore and NCR and are focused on developing residential, commercial and mixed-use properties, with an aim to be amongst the top 3 real estate companies in India.
A wall mural on PB Marg, Worli depicting Mumbai's public transportation (Art Credits: @pratapchalke)
The company's focus on efficiency in design, customer centricity, sustainability and execution excellence will differentiate its offerings from those of its competitors. The company is head quartered in Mumbai and currently has regional offices in NCR and Bangalore. The business has a well-established commercial portfolio with 2 grade-A commercial buildings located in Worli, Mumbai with ~6 lakh square feet of leasable area that are fully leased out and occupied. Birla Estates is working on developing a valuable portfolio of over 200 acres of land owned by Century Textiles and Industries Limited. These land parcels are located in prominent micro-markets of Mumbai – Worli / Prabhadevi / Kalyan, Pune – Talegaon, Bangalore.
This story has been sourced from a third party syndicated feed, agencies. Mid-day accepts no responsibility or liability for its dependability, trustworthiness, reliability and data of the text. Mid-day management/mid-day.com reserves the sole right to alter, delete or remove (without notice) the content in its absolute discretion for any reason whatsoever