In the absence of a regular income, business people aren't in a comfortable position right now, but there is something that can help them get through these difficult times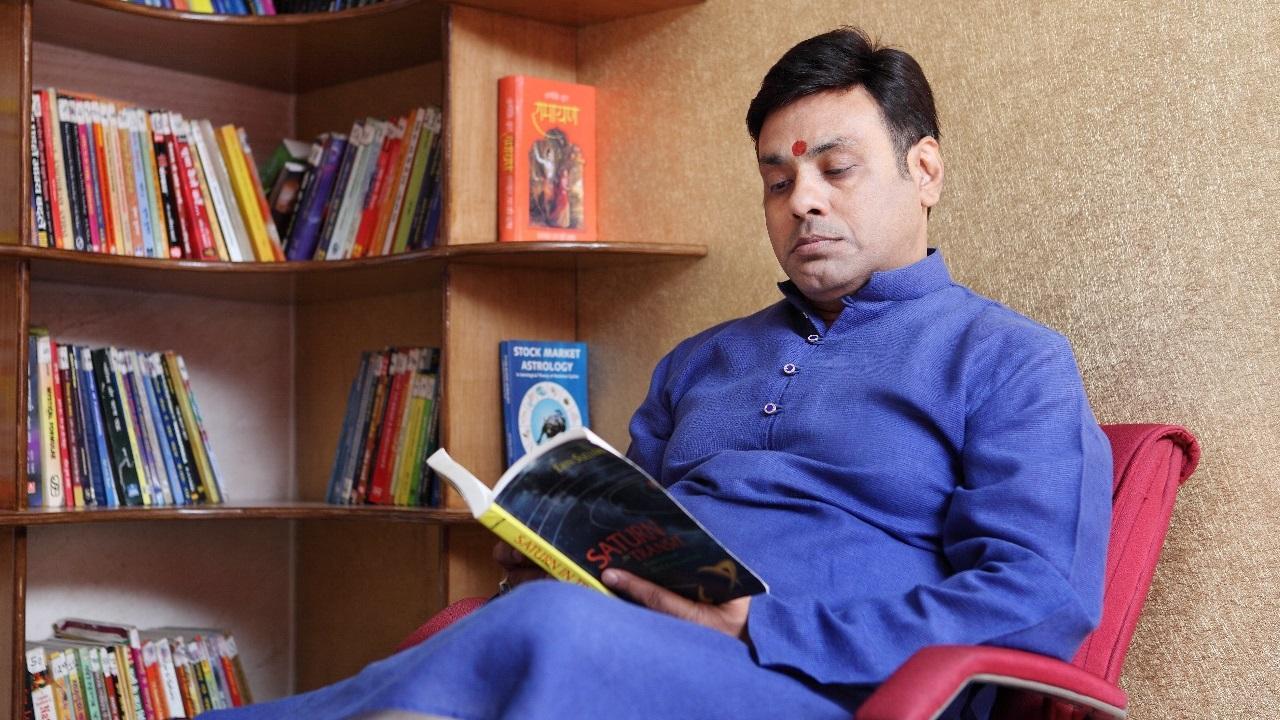 Dr. Vinay Bajrangi
We all know that Year 2020 was a year of unprecedented turbulence across the Globe and harder on people involved in the business and profession. In the absence of a regular income, business people aren't in a comfortable position right now, but there is something that can help them get through these difficult times and acquire a piece of sound advice regarding their future prospects. Vedic Astrology, an all-pervasive science, is perfectly equipped to handle your queries whether you are running a local venture or a multi-national operation. Dr. Vinay Bajrangi, India's famous Astrologer, deals with queries day in and day out that require him to lay threadbare the success secrets of bussing using astrology. Midday spoke to him & main excerpts of the same are given below: 
Q – Can one start business per birth chart/horoscope? Does it guarantee success in business?
Dr. Vinay Bajrangi (DVB): Business as per astrology is an old concept. In fact, business astrology is a part of Vedic life since times immemorial. However, in the present times, the specific branch of astrology that deals with business as a profession is called business astrology. It is a branch because it requires reading separate charts of your horoscope, namely Hora (D-2), Dashmansha (D-10), and the Shastiamsa(D-60) to predict your prospects as a business person. The 10th, 7th, 6th, 2nd, and 12th houses in these charts are specific business houses that help your astrologer to identify the extent of your success. It is the Yogas in your charts and houses, which indicate the business combinations present in your horoscope. That is how business astrology tells you about the amount of business success you will achieve in your endeavour.
Q - Can we do business per zodiac signs?
DVB: One thing that is clear is that your birth date indicates what kind of work suits you best. This may sound a very lucrative idea but let me tell you, there is no one zodiac sign that is suitable or unsuitable for business as a profession. Success in business is possible only because of the presence of a "potent business yoga" in your horoscope. Further, Yoga needs to fructify at the right time to derive the full benefit from it. Despite having the Yoga for a successful business in your horoscope, success may still evade you because the right time hasn't yet come. Giving Up Very Early while doing business can be avoided if you consult astrology, simply because your astrologer will make you aware of the right time to start and the right time to stop, both.
Q – Can astrologer guarantee business success from horoscope?
DVB: The success of a business depends upon whether you have the business acumen or not. Only after that you should seek help from astrology and make good use of it. For starters, business astrology helps you decide what type of business would be the most profitable. Further, astrology also assists you in deciding when to expand your business or whether to expand or not. An astrologer is a person who will be able to warn you in advance in case there is a difficult period or an anti-Dasha ahead of you. In fact, I would also say that a bit of detailed astrological advice, from a professional business astrologer can be instrumental in your business prospects. 
Q – What can astrology do if business is failing/falling? 
DVB: There may be hundreds of reasons why your business is failing. You may have selected the wrong business as per your birth chart, or there may not be proper planning for your business. Additionally, failure in marketing or untimely expansion of business could be some other causes of why a business is failing. Business astrology can be beneficial if you find that your business is failing. It is seen that owners are forced to use multiple exigent measures in case their business starts to fail. However, decisions thus taken, under duress, may or may not help save your business. In fact, that may even lead to greater losses. At this stage, consulting an experienced business astrologer could be the difference between your business' success and failure. 
Q – Can one find lucky business by date of birth?
DVB: You can definitely find your lucky business by date of birth. Your birth date indicates what kind of work or business suits you best. It is quite common practice to consult Business Astrology by Date of Birth and find out the right business suitable to your date of birth. This is because the ruling planets in your birth chart are accurate indicators of your luck and your business prospects. An astrologer analyses your chart to find out your ruling planet, which would then guide you on the nature of business you can be successful in, and when to launch or expand it. Additionally, you need also to know about the ruling planet(s) that may be influential only for a short time and then go back to being ineffective. Then, there are cases where a native may have multiple ruling planets in his horoscope, which indicates multiple businesses.
Q – Does business success depend on the business name?
DVB: Absolutely! The amount of power that your business derives from your business name's first letter is immense. In fact, repeatedly using your business name's syllables could actually activate the Nakshatra that guides your business. This holds even truer in case a business name is selected after due diligence done with a noted business astrologer. Repeated use of the business name, thus, not only uplifts the right Nakshatra, with which it is associated but doing that also stabilizes your business, bringing in success and profit.
Contrary to that, if one selects a business name without astrological consultation or flawed, it might instead activate a negative Nakshatra, reversing your business prospects.
Q – Can astrology help me generate business ideas?
DVB – The number of people I have seen going for unsuitable business ideas and, ultimately, suffering huge losses, has continued to reaffirm my belief that astrology helps generate suitable business ideas. Most often, a person takes up a business idea without consultation with an astrologer. Once he starts the business, the venture sinks because the planets are not in sync with the business idea. Out of the 12 houses in your horoscope, four influence business as a profession. If you consult a professional business astrologer, you can use his advice to gather sufficient information about the business ideas from your birth chart. So, a good business yoga is where it all begins. Once you can locate the business yoga, with the help of an astrologer, of course, you can move further to check what kind of business would be the most compatible to follow.
Q –Is astrology for business start-up different than regular business?
DVB – We have to begin by understanding that the temperament of someone who is already doing business is going to be different from someone attempting a new business. This difference comes in handy when an individual is facing a critical situation. At the same time, it would be interesting to note that whenever you seek a new business idea, for the first time, you need to check the adverse transit of the planet over your natal moon. In addition, the predictions for business start-up ideas are interpolated with a person's ability to continue being enthusiastic about it. Suppose an experienced astrologer is lending you advice. In that case, he will see your birth-chart/horoscope in this regard, and then, if he finds anything adverse regarding this, he will discourage you from going for that particular business idea. Having said that, it will take a meticulous study of your natal chart to conclude in this direction.
Q – Can business astrology also provide predictions for small business?
DVB – For a business astrologer, business is business; nothing is big or small because, for him/her, a client is a client. Therefore, he will offer equal predictions on whether your horoscope supports a big business prospect or a smaller one. Eventually, your birth-chart will decide what business you are going to do, not your astrologer. He is just the messenger. A correct horoscope, made of a correct date, time, and place of birth, will indicate clearly whether you should indulge in a small business idea or big. In my case, I've had clients who wanted to invest their hard-earned money into a profitable business idea. I've done an intense study of their respective birth-charts and saved their hard-earned money from going down the drain because they would've lost it in a grand business scheme. I have been emphatic in my advice to my clients. So, even more than a client's business acumen, his horoscope decides if he will shine in a small business or not, and an astrologer's job is to advise accordingly.
Q – Can business astrology make a prediction for new business?
DVB – Business astrology, though one of the branches of overall Vedic Astrology, is still a vast subject to study. Since it is your's planetary movement, which guides your business prospects, both old and new ones, it is relatively easy for an experienced astrologer to predict new business ideas for you. If you seek business advice from an ace business astrologer, he will study your birth chart/horoscope and then suggest the most suitable new business ideas for you to pick up. This also means there is very little chance of your business going kaput in the future. However, personally, I ensure that I analyse different aspects of a client's horoscope, such as D-12 and D-60 (Dwadasmansha and Shastiamsha), which reveal a client's chances of running a suitable business to the best of his capability. So, business astrology can make the difference between whether a client is just doing business or doing the most profitable business.
Q – Is it possible for a business astrologer to also advise on online business ideas?
DVB – You would be surprised to know that there is, in fact, a particular planet, Rahu, in the astrological nomenclature, which governs online business. This is the reason why online businesses also know no geographical boundaries. A man or a woman is likely to succeed in an online business if his/her birth-chart shows Rahu's prominent presence in it. If Rahu is favourably placed in a client's birth-chart, the person would see his online business flourish on the desired lines. And if you get in touch with the best business astrologer, with ample experience, he could, through a deeper understanding of your horoscope, be able to reveal the kind of online business that will suit you most. 
Q – What does business astrology have to say about business ideas for women?
DVB – One thing that is clear from my experience of over two decades, I can say with some authority that a man's horoscope is different from that of a woman. Therefore, there are different ways to study either of them. In a woman's horoscope, the focal planet is Mars, while it is Venus for a man's horoscope. As a result of these differences, predicting business ideas for a woman client will surely be different from that of a male client for an astrologer. I believe very strongly that women can do anything. Notwithstanding, it is the duty of a business astrologer to furnish an accurate, balanced suggestion/prediction to a client, whether a man or a woman.
Q - Who is called a best business astrologer?
DVB – Let me begin by saying that not everyone can be a good business astrologer. It requires a deep, meticulous study of a native's birth-chart before sound advice can be doled out regarding business astrology. A good business astrologer will only give advice, while the best business astrologer would advise you in the right context. Apart from knowing the latest business trends, an astute business astrologer should also identify the strength of Laxmi Yoga in your horoscope. A business astrologer, who is keen to become the best one in the profession, must keep learning every day because business means things changing every day. The best business astrologer would eventually be one who spends ample time studying horoscopes and keeping himself aware of the changing business trends.
But here I caution people to look for "who can be" a good astrologer than searching for "who is" the best astrologer.
Dr. Vinay Bajrangi, a famous astrologer in India, has similarly released interesting article on success in share market seeing overall turmoil in share market & careful selection of career in present times of turbulence. For many other insights of Vedic Astrology, one can connect with him through his website at www.vinaybajrangi.com or contact his office on 9278665588; 9278555588.
This story has been sourced from a third party syndicated feed, agencies. Mid-day accepts no responsibility or liability for its dependability, trustworthiness, reliability and data of the text. Mid-day management/mid-day.com reserves the sole right to alter, delete or remove (without notice) the content in its absolute discretion for any reason whatsoever