Are you a perfectionist yet not successful? Life Coach Abhishek Gupta helps you to come out of the trap of unhealthy Perfectionism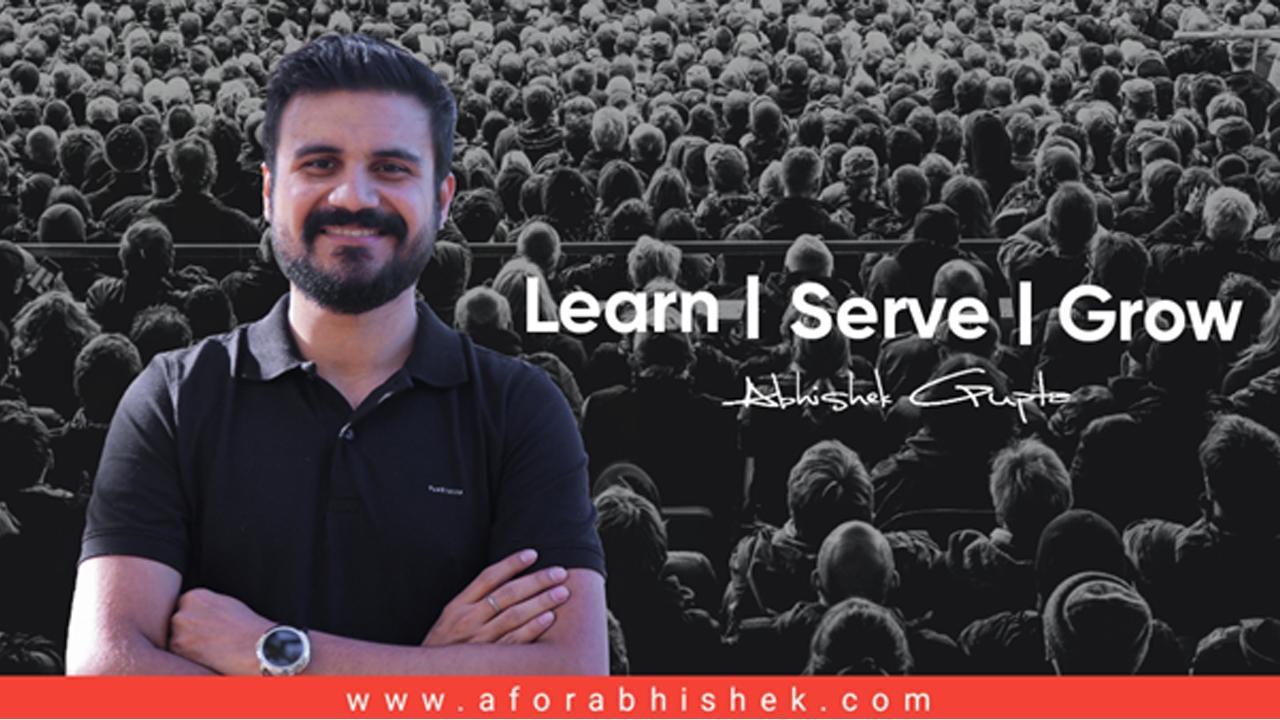 Abhishek Gupta
Perfectionism has come to become a significant reason for many people never to get started. Professor Tracey Wade of the School of Psychology at Flinders University in South Australia describes "unhealthy perfectionism" as "high standards combined with brutal self-criticism."

Why this Strive?
ADVERTISEMENT
A feeling of inadequacy is more often than not the driving factor behind humans plagued with the need to be perfect. Many of us are made acutely be aware of our inadequacies early on in life. These experiences may stem from home or school. The condescension or judgments passed by others wires our brain to a false belief that we are not enough and perhaps can never be.
Unsolicited opinions about one's physicality, academics, work, or social status can, unfortunately, take the form of definite ideas, thus harming our sense of self-worth.
This leads us to devalue our efforts and achievements and set an unrealistically high bar for all that we do. And once these unattainable and impractical expectations come to shatter – the toxic cycle gets rebooted once again.
This fixation towards Perfectionism comes along with a dread of and passionate aversion to failure in any form. This manifests in many ways, whether self-oriented or socially prescribed. Self-oriented Perfectionism leads us to find flaws in all that we do and takes ages to get things done. While the socially prescribed one leads us to project another's idea of success and fulfillment onto ourselves.


Downsides of Perfectionism
On the off chance that someone can achieve this fabled state of perfection – isolation wouldn't be much behind since we, as humans, can barely tolerate being around such people. They serve as a constant reminder of our shortcomings and, soon pushed into the category of "too good to be around" category. Apart from running the risk of becoming unwanted in the room, a futile chase after Perfectionism can bring to your doorstep the following disadvantages:

#1. Perils of Procrastination
It is indeed true that the Devil is in the details. And this need to fine-check all particulars would result in staling and postponing projects and tasks that fail to meet your holy standards. As you get busy for that 'right time' to deal with it, a simple task can take a deviously tricky turn. Thus, perfectionists are known to start avoiding even their closes passion projects for this failure to create a result/product. Every task begins seeming impossible to fulfill.
#2. Distorted Sense of Reality
Perfectionists would readily pick up on the smallest details, and this sense of finesse goes a long way in molding their careers. The flip side is that constant disposition to notice mistakes and flaws becomes an act of obsession, a selfish attitude, so to say. The knowledge of moderation soon fizzles out forgets when to stop tweaking every enterprise.
#3. Productivity takes a toss
A decrease in your productivity and tasks is one of the primary signs of one that seeks perfection. It's the direct result of the increase in procrastination. Assigning more than critical importance to any task would only hinder your growth and risk losing momentum in your field. Usually, the big jobs demand full focus and dedication that take the toll, and you wound up having achieved nothing other than small tasks of no consequence.
#4. Stunted Growth

Whether professional or personal, there isa constant need to fixate on details that only we seem to be bothered by. An unwillingness to embrace change is a vital sign to look out for if you think you've turned into a perfectionist. The delusion of having all the answers and always being correct makes one lose all chances at the reflection as they turn away all feedback coming their way.

Is there a way out?
A resilient outlook can find a way in any environment, and this is where perfectionists can shine. The need to stick to self-prescribed rules can be used to break free of this structure too. The first step, undoubtedly, is to dress the elephant in the room – that yes, you are – in fact – a perfectionist who has made things worse for themselves through an unhealthy outlook in many circumstances. The pursuit of perfection has taken a problematic turn for you, and your expectations keep on adding up with each passing day.
To get out of this toxic cycle, you ought to answer a couple of pf questions, and each question will take you further towards moderation.

#1. Why do I hold myself to high expectations?
The machinery behind the human behavior of seeking perfection is mostly run on the need to seek validation. A void that exists within seeks alleviation through acceptance by others. This need for emotional safety needs to be identified and addressed even tolet go of their perfectionist ways.
#2. Can I lower my expectation and not my bar?
Holding yourself accountable for decisions or pursuing exceptional results is never wrong – it is, in fact, the elixir to a person's drive. But if you are frequently on the lookout to best the next person – then the idea of success you hold is but a sense of vanity with insecurities inside. Strip down to the bare essentials once in a while and seek a better version of yourself and not just a mold of others.
#3. Can I prepare for the event, so I am not overwhelmed?
This is easily doable through playing out the script in your head.  Ease into any task or project or event by playing out – step by step – all that said job entails. Once you have a mock run in your head – everything becomes lighter, simpler, and a breeze indeed. All that you fear can go wrong – you would have already dealt with them and have a Plan B ready once you've mentally gone through with it. What makes this better is if you chunk up your projects and life choices instead of doing them all at once.
#4. Can I accept and celebrate the imperfections in me?
Let the chaos take over your life once in a while. All mistakes you are so afraid of making – do it. Do the opposite of what you do every day and see how others react. You will realize that it was you who was your most prominent critic. Meet all your fears head-on and let things take their course.


#5. Can I set boundaries for myself and others?
Perfectionists seldom say no to favors and requests. This is why you need to start saying so – to others as to yourself. As someone who strives to do everything correctly, it might be an organic response to take over all tasks that come your way – and then set forth executing it as none could. That's why it is even more important to have that conversation with yourself. It's one word – "No," but it liberates you from weeks of procrastination and second-guessing.



Perfection lies in the now, in the present. A perfectionist can seldom savor this "now" as they endlessly critique what has been or worry over what is to be. The need to put every step we take under the scanner limits one's potential, as does it stop us from experiencing the her-and-now in all its glory.
Perfection is an illusion that enslaves us with the bonds of insecurity. Take time to heal, let go of that chip on your shoulder and let life engulf you in its wonderful chaos. Things do not need to be set a certain way for you to belong & thrive, and it is time to embrace this truth. Continue to strive for excellence – but once in a while, do cut yourself. Some slack because you've earned it.
About the author-
Life coach Mr. Abhishek Gupta aims to help people take a leap of faith into enhanced productivity. A believer in deep learning and sustained growth, Abhishek Gupta created a niche for himself in the world of self-help and public speaking. His accolades are a testament to the incredible life skills he helped people master. The lack of mentorship that hampers growth is why he started with online mentorship to mentor businesses & individuals worldwide for their faster growth.
A certified Hypnotherapist & an NLP Master Practitioner, Mr. Abhishek Gupta has graced several organizations as a guest speaker, featured in live shows on national TV channels, worked with many celebrity trainers and has trained numerous professionals till date.His mentees include professionals from all industries like doctors, professors, managers,  politicians, scientists, lawyers, actors, and many more. He was awarded as the Best Life and Business coach in the year 2017 and as the Best Corporate Trainer in 2012. He is on a mission to transform 1 million people this year.
You can get his personal excellence courses for free at his website https://aforabhishek.com/
And connect with him on https://www.instagram.com/lead_with_abhishek/
Catch up on all the latest Crime, National, International and Hatke news here. Also download the new mid-day Android and iOS apps to get latest updates.
Mid-Day is now on Telegram. Click here to join our channel (@middayinfomedialtd) and stay updated with the latest news
This story has been sourced from a third party syndicated feed, agencies. Mid-day accepts no responsibility or liability for its dependability, trustworthiness, reliability and data of the text. Mid-day management/mid-day.com reserves the sole right to alter, delete or remove (without notice) the content in its absolute discretion for any reason whatsoever.
"Exciting news! Mid-day is now on WhatsApp Channels

Subscribe today by clicking the link and stay updated with the latest news!"
Click here!