"Although beauty may be in the eye of the beholder, the feeling of being beautiful exists solely in the mind of the beheld." - Martha Beck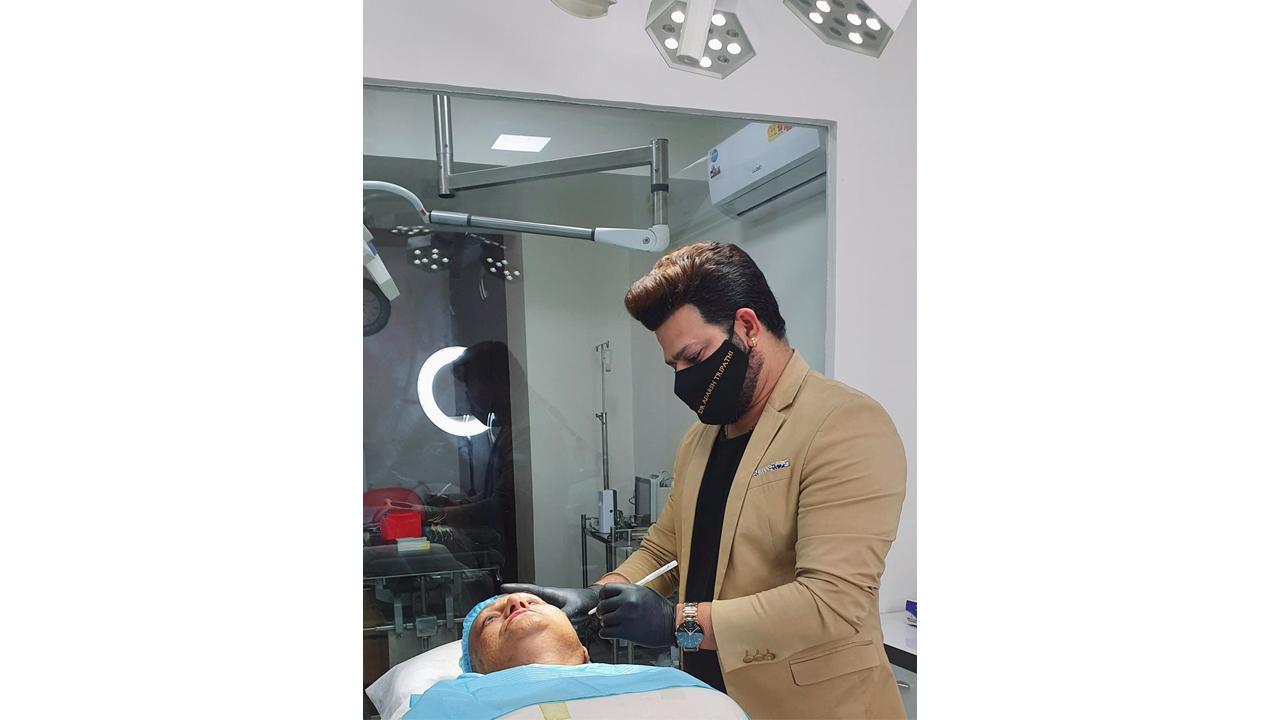 Dr. Adarsh Tripathi
With the single aim of transforming you into the best version of yourself and helping you realise the beauty within you, we bring to you a wide range of services at Sarayu Clinics, Rajinder Nagar, Delhi under the expert guidance of Dr. Adarsh Tripathi, a celebrity facial plastic, maxillofacial and hair transplant surgeon.
Did you know that many visible signs of ageing can be traced back to volume loss? As facial tissues thin out, lines become etched around the nose and mouth and cheeks look a little hollow. Dermal fillers are gel-like substances that are injected beneath the skin to restore lost volume, smooth lines and soften creases, or enhance facial contours. Most dermal fillers today consist of hyaluronic acid, a naturally occurring polysaccharide that is present in skin and cartilage. More than 1 million men and women annually choose this popular facial rejuvenation treatment to prolong their youth. Celebrities like Kylie Jenner, Kim Kardashian and even Anushka Sharma have had lip fillers and Botox in the past.
We, at Sarayu Clinics, follow a proper step-by-step procedure to make sure that your any and every need is met when it comes to enhancing your facial features. Starting with an initial consultation wherein a panel of our specialists determine the best type of filler for your face through examination of aged facial areas, a procedure by our experts is done on the required skin portion after applying a numbing cream. The process is fairly simple and is complete in about an hour. Then, you are provided with the necessary skincare regimen and a schedule for follow-up visits to make sure that you achieve the best results and sustain them for a longer time.
All that we ever want is to help you not fall prey to the judgemental world out there, through treatments that are natural and non-surgical; the best part - no one can tell the difference! Even though it is a societal convention that these treatments are specifically meant for women, men too have taken our help in treating hollow under eyes and enhancing their cheekbones, chin, lips and jawline in order to get a model-like masculine look. The results are yours to witness at our instagram page - https://www.instagram.com/sarayuclinics/ .
The fillers used are FDA approved fillers, only 3 of which are available in India and our inventory, which are Restylane, Belotero and Juvederm. At Sarayu Clinics, we make sure that there is no compromise in the quality of what we inject your face with.
Keeping customer satisfaction in mind, Dr. Adarsh has formulated specific techniques for every procedure to ensure best results and minimal downtime. His expertise obviously goes beyond fillers as is evident from his use of the most advanced and effective laser technology, achieving a 60% result rate in a single session of acne scars treatment and the fact that he is the only Indian to successfully complete a 4k UHD transplant. It's not surprising to know that his Forte lies in treating Grade 4 to Grade 7 baldness with the 4th generation Scarless FUT technique.
The bottom line is that the version of beauty that each one of us look for in ourselves goes beyond societal conventions, trends and judgements. It's your choice and your decision to be happy with every part of yourself. And that's what we at Sarayu Clinics want for you, to not make you the societal version of beauty rather let beauty be defined by you. So, what are you waiting for? To know more about us, visit https://sarayuclinics.com/. You can also connect with Dr. Adarsh himself at https://www.instagram.com/dradarshtripathi/ .