Driver Alpesh Devdhar has spent an average three to six months in jail every year for the past 11 years after molesting 15 women so far outside college premises; his most recent arrest was on Tuesday; his fed-up family disowned him years ago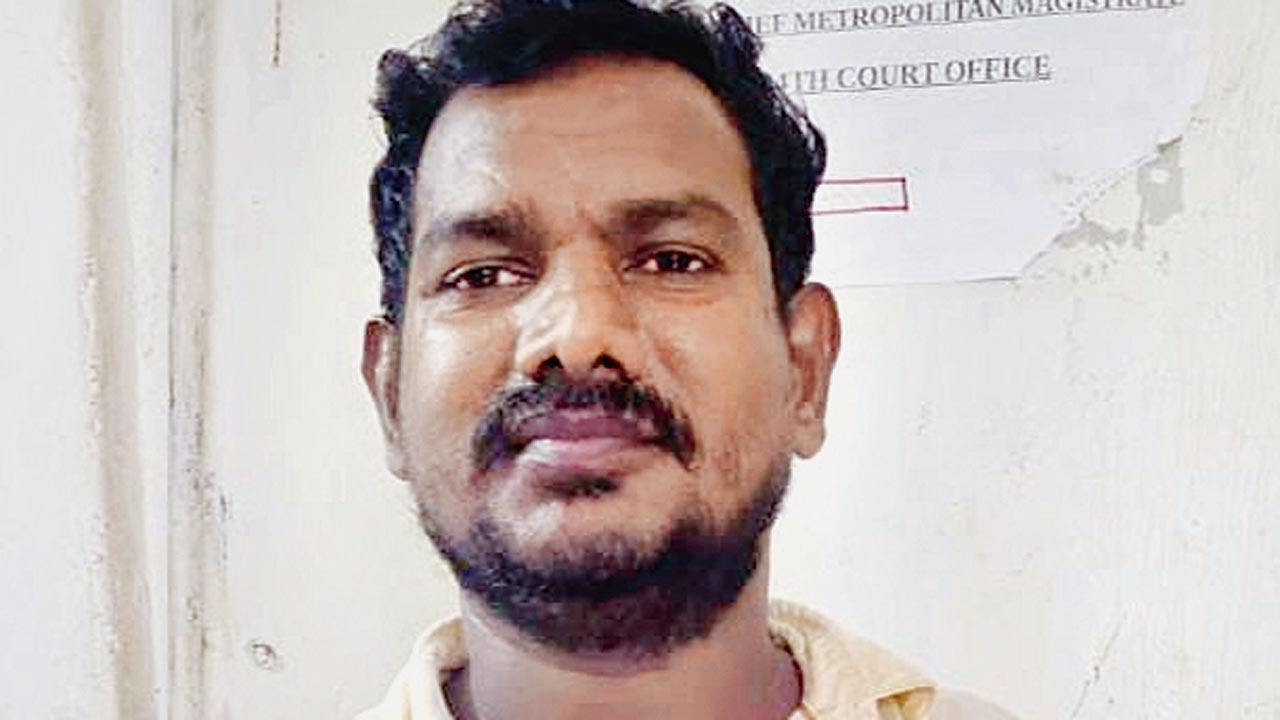 Accused Alpesh Devdhar was released from jail a couple of weeks ago and molested two college students outside their institutions in Malad on Monday
Listen to this article
Mumbai Crime: This molester needs to be jailed for good!
x
Be careful if you spot this person in your vicinity. The man in this photograph is a serial molester who has been preying on college students for over a decade. Following his latest apprehension by the Malad police on Tuesday, it has come to light that he is connected to more than 15 such cases. The cops suspect that numerous incidents may have gone unreported and are urging survivors to step forward and provide testimony against him. 
The Malad police took swift action against the accused who targeted two female students outside separate colleges in Malad on Monday, within 
24 hours.
ADVERTISEMENT
The police said he was arrested by the Juhu police in June on charges of molestation and had been incarcerated since then. However, he was released from jail a couple of weeks ago and resumed his criminal activities, molesting the two college students.
Under the guidance of DCP Ajaykumar Bansal from Zone XI, Senior Inspector Ravindra Adhane spearheaded a dedicated team led by API Sachin Kapse and his detection staff. This team undertook an exhaustive investigation, sifting through more than 40 CCTV footage recordings and creating a sketch based on the descriptions provided by the victims, said an officer from Malad police station.
The detection
"Both incidents occurred during the morning hours, the accused targeted victims, chasing and molesting them before hastily fleeing the scene. The modus operandi of the accused suggests that previous victims may have suffered in silence, out of fear or uncertainty about what had transpired. However, these two brave students took a stand and filed complaints with the police," the officer added.
"The physical appearance described by both victims matched, ultimately leading to the identification of the accused during the examination of CCTV footage. With the aid of technical analysis, the police traced and apprehended the accused in Mira Road within a remarkable 24-hour timeframe," said the officer. The officer added that as the accused is arrested under what are bailable offences – sections 354 (Any man who assaults or uses criminal force to any woman or abets such act with the intention of disrobing or compelling her to be naked) and 509 (Insulting the modesty of a woman) of IPC —he gets bail easily.
The accused, identified as Alpesh Devdhar, aged 32, has a chilling history of more than 15 molestation cases in his name, in Dindoshi, Kandivli, Goregaon, DN Nagar, Juhu; and Pant Nagar had previously arrested him.
Devdhar, originally a resident of Shrivardhan, is unmarried and estranged from his family, which includes his mother, brother, and sister-in-law, who stay in Mira Road. They have distanced themselves from his actions, expressing their frustration with his behaviour and banished him from their home.
Repeated cases
A driver by trade, Devdhar has been repeatedly involved in heinous molestations since 2012, resulting in numerous incarcerations. Devdhar has remained behind bars for almost three months every year in all the cases. However, he manages to get bail from the court once the police file chargesheet in the cases. "The Goregaon police were already on the look out for him in a similar case. The police are now urging anyone else who may have fallen victim to this perpetrator's actions to come forward and file a complaint. By doing so, they can play a crucial role in ensuring that the accused faces the maximum legal consequences for his actions," said another officer. The accused has been produced before the court, which remanded him in judicial custody.
2012
Year since Devdhar has been involved in such cases
"Exciting news! Mid-day is now on WhatsApp Channels

Subscribe today by clicking the link and stay updated with the latest news!"
Click here! Will you take intranasal vaccine as a precautionary dose?