New skywalk, to be built at a cost of Rs 16 crore, will connect station to metropolitan court; work to start by year-end or early next year and will take 18 months to complete; provision will be made to install roof later, if needed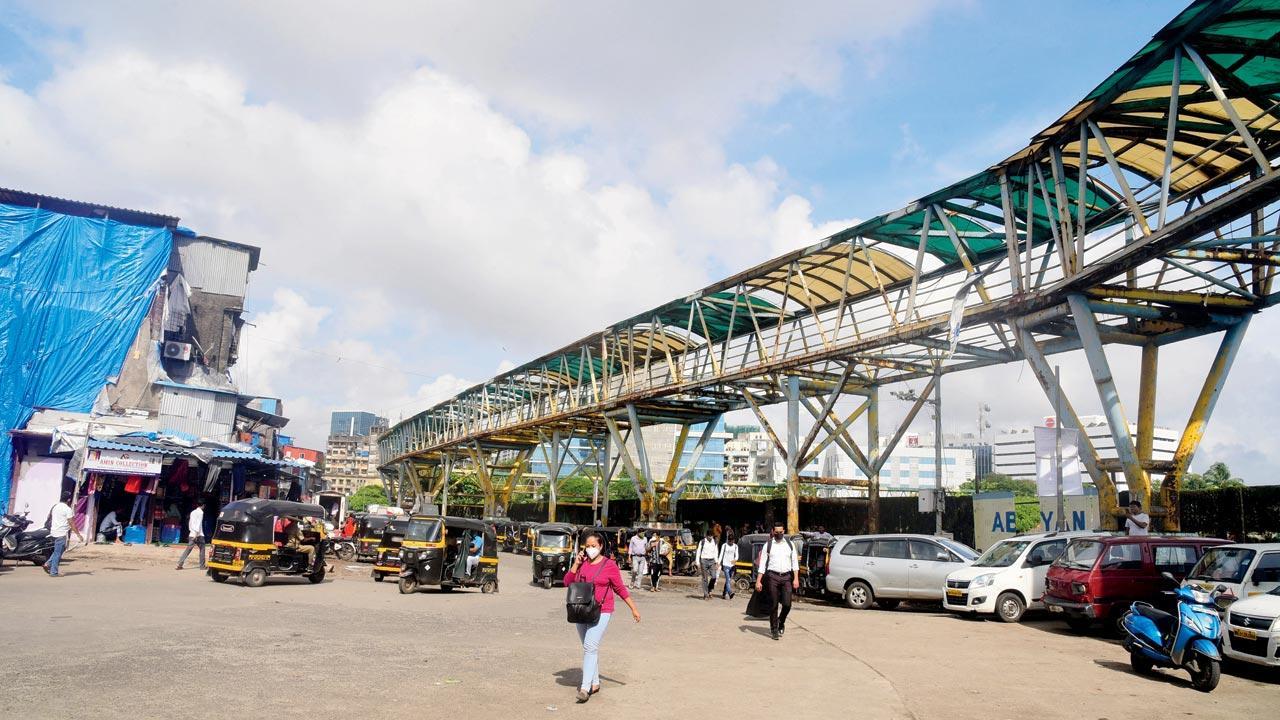 The skywalk at Bandra East that will be demolished and rebuilt. Pic/Shadab Khan
The Bandra East skywalk, which is around 13 years old and has been shut since the past two years, will be demolished and a new skywalk will be constructed without a roof. The project, which will connect Bandra station on the east side to metropolitan court, is estimated to cost around Rs 16 crore and the construction will take around 18 months.  
The new design will have concrete pillars. However, the civic body's design does not include a roof, which may be a problem for citizens during monsoon. Officials said they will have arrangements in place for fixing a roof. An official associated with the project, on the condition of anonymity, said, "Anti-social elements were reported, and many homeless people were seen encroaching the space, especially during monsoon. To avoid these issues, we have kept it open. But at the same time, the design is such that it will take load off the roof if it has to be added in future."  
As per the estimates of the civic body, around 2 lakh pedestrians use the Bandra East skywalk daily, with heavy movement during peak hours due to its close proximity to BKC as well as various government offices such as Mhada, Suburban Collector's office, Family Court, MMRDA among others.
Satish Thosar, chief engineer of bridges department, said, "We are only planning one arm of the skywalk from the railway station to the metropolitan court, which is the most used. This will be about 500-metres long and the project cost is estimated at about Rs 16 crore." 
The Bandra East skywalk was one of the 23 skywalks that were handed over to the civic bridges department in 2015 for repair work. The work was completed in 2018 and the skywalk was thrown open for commuters. 
However, when all the foot overbridges (FOB) and road overbridges (ROB) in the city were audited following the CSMT FOB collapse in 2019, Bandra skywalk was found to be in a poor condition. The Brihanmumbai Municipal Corporation (BMC) shut it for pedestrians around June 2019 as the detailed audit showed the pillars that were on the stilt had rusted. 
A civic official said, "We carried  out an extensive audit. Almost two months were spent studying the joints and pillars of the skywalk. It was after the recommendations on major repairs and complete reconstruction, that we decided to go ahead with reconstruction. In case of major repairs, we would have spent Rs 10 crore but the service life would only be extended for another 15 years, whereas now we are spending Rs 16 crore but the service life is increased to 40 years."
The tender process for the work has been done and is currently at a scrutiny stage, following which the proposal will be sent to the BMC standing committee for approval. The work is expected to start by year-end or early next year. 
Rs 16cr
Estimated cost for rebuilding the skywalk