As four BWSL staffers and ambulance driver lose life while responding to an earlier accident, man behind the wheel says: 'I missed warning'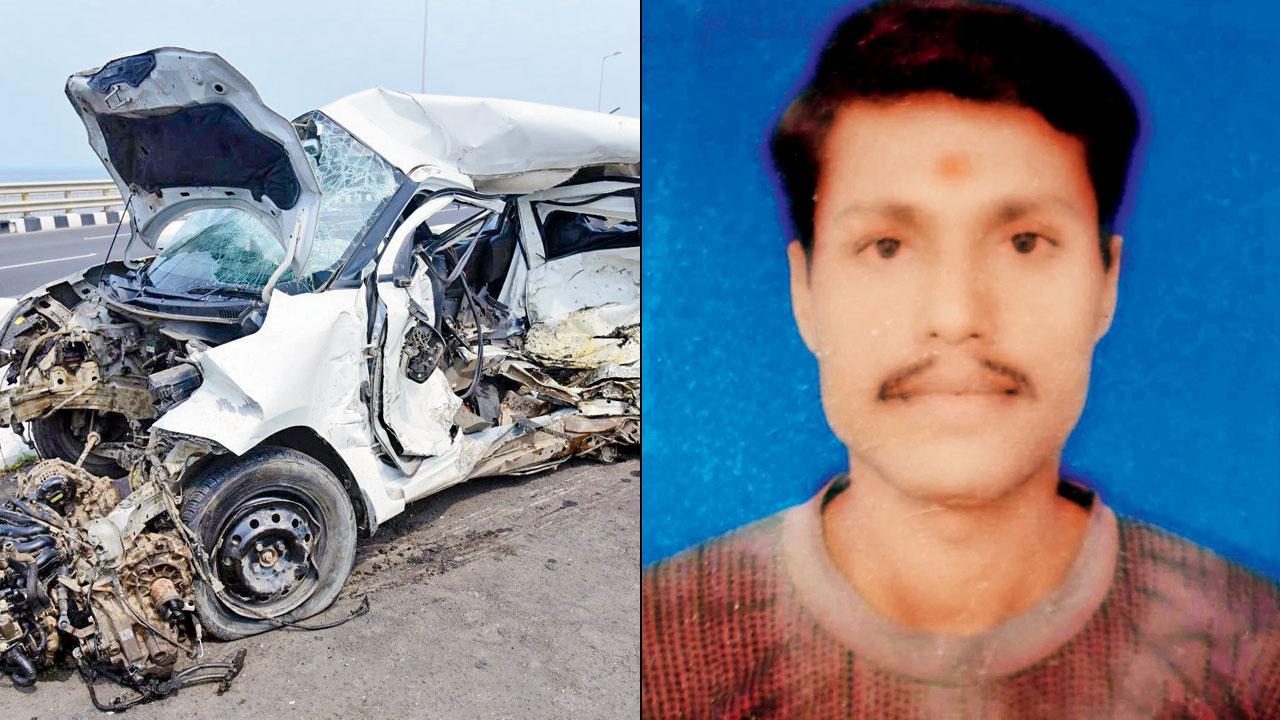 Somnath Salve, the deceased ambulance driver; (left) the remains of the car that was in the first accident, too. Pic/Shadab Khan
The interrogation of the Hyundai driver, who crashed into four standstill vehicles on the Bandra Worli Sea Link (BWSL) on Tuesday night, has revealed he was trying to plug in his mobile phone charger and lost sight of the road ahead, police said. This cost the lives of five people who, along with a few civilians, were helping four motorists whose Swift had hit the divider.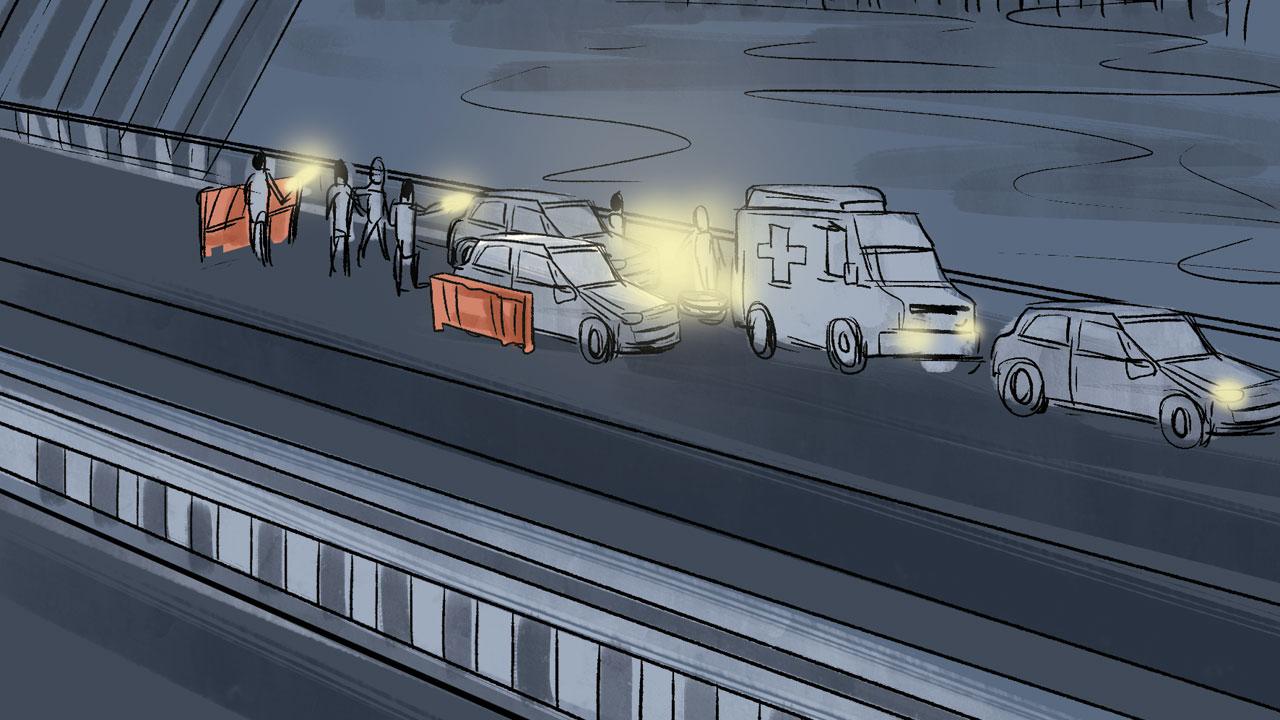 Illustration/Uday Mohite
1. Around 2.20 am, a Maruti Swift, with four travellers—Siddharth Joil, Rehan Patel, Shane Fortunal and Alia Bhatin, hit the divider on the BWSL, towards south Mumbai, after a tyre burst. Two cars—a Baleno and a Mercedes—stopped to check on its occupants. Among them "were two doctors, Dr Ankuj Tinha and Dr Shivani Nair, who were helping the Swift passengers," a cop said. Meanwhile, a guard at the CCTV monitoring room alerted the security personnel and toll guards, after which a crane was sent that moved the car to the fourth lane, between pole numbers 76 to 78. An ambulance also arrived. Toll guards were waving traffic baton at the oncoming cars to avoid the fourth lane.
Also Read: Mumbai: Five killed, eight injured in a high-speed collision on Bandra-Worli sea link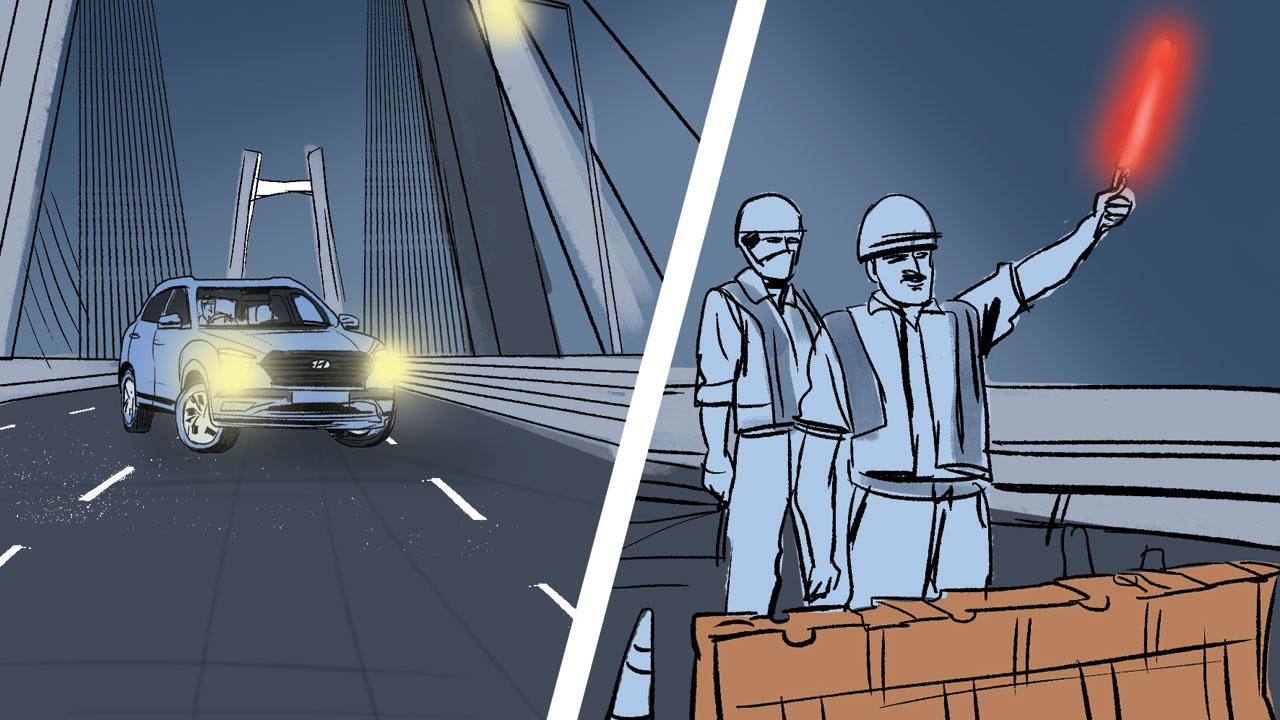 2. At 2.53 am, a Hyundai Creta, driven by accused Irfan, changed lanes from second to the fourth where the four vehicles were and sped towards them. Seeing this, a guard moved a little ahead and waved the traffic wand, signalling the driver to avoid the fourth lane.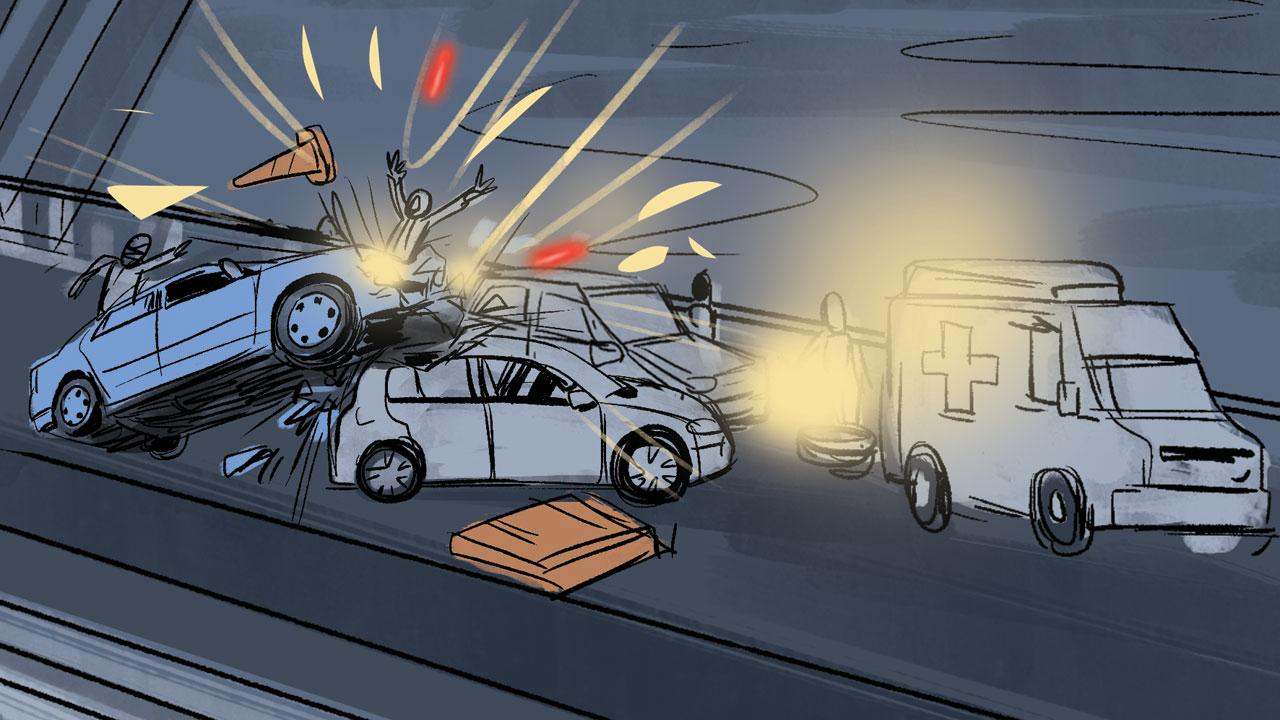 3. However, Irfan, who was speeding, hit the men and crashed into the Swift first and then the other vehicles. During the interrogation, he said he got distracted, as he was trying to plug in his mobile charging cord. "A developer, Irfan was returning home to Md Ali Road from his brother's place in Jogeshwari," a cop said. He, along with other injured, were taken to Nair hospital. However, from there, he went to Saifee hospital for treatment of his injured hand, and then took a cab home. He went to sleep without telling his family about the accident. Sources said Irfan couldn't be traced at night due to the shortage of staff. On Wednesday morning, the Worli cops rushed to his place and nabbed him.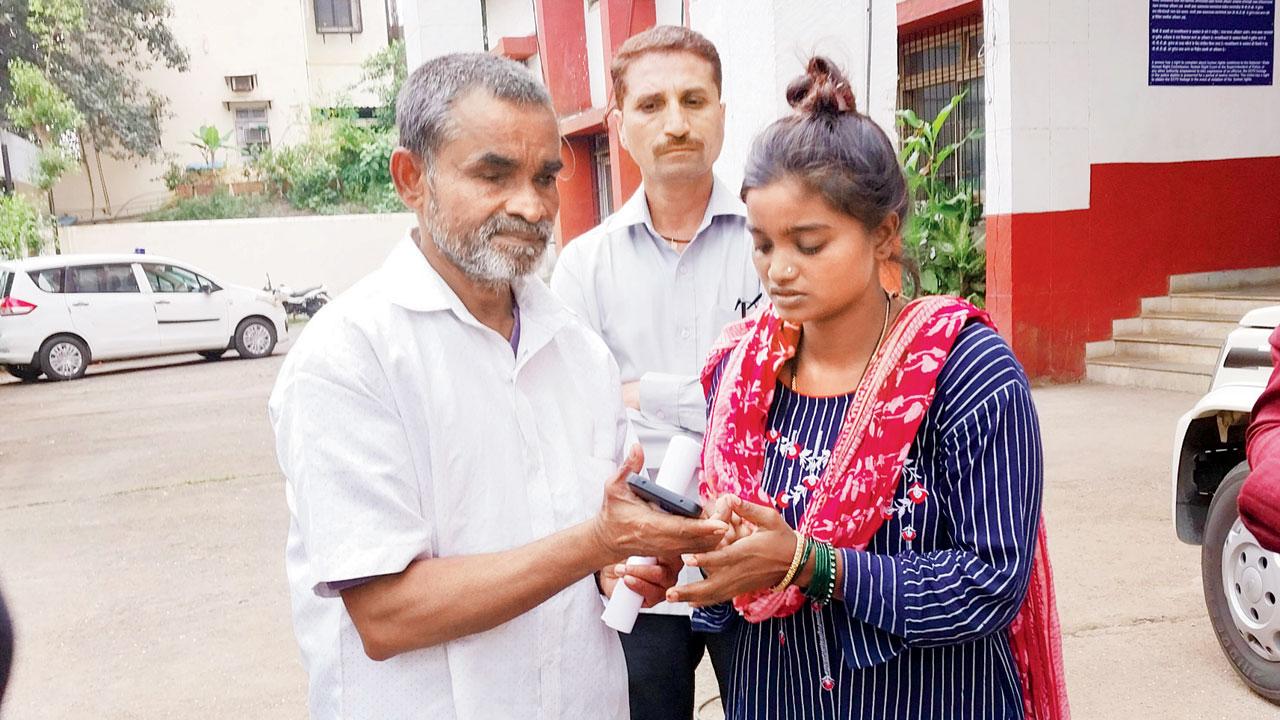 Family members of ambulance driver Somnath Salve at Worli police station on Wednesday. Pic/Ashish Raje
'They said they'll be back in 15 minutes'
Five people—Kadam, 36, Salve, 29, and toll guards Satyendra Fauzdar, 27, Rajendra Rajput, 40, Gajraj Rajput, 40—were declared dead on arrival at Nair hospital. Eight others were injured in the accident. They are undergoing treatment at Nair Lilavati, Saifee and Global hospitals, said an officer. Mohan Rajput, who was on night duty with the three deceased toll guards, said they lived in Bandra together.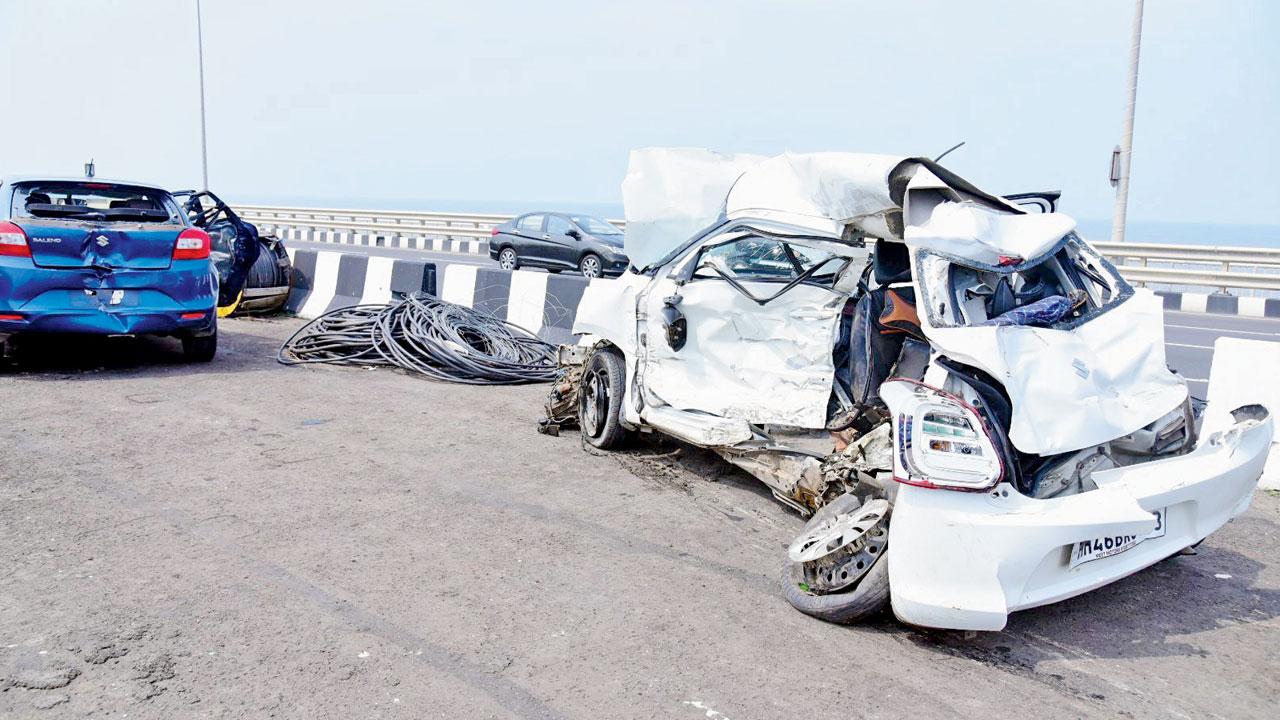 Remains of the cars and an ambulance that were hit by a speeding Hyundai late on Tuesday night, on the Bandra Worli Sea Link, on Wednesday. The Hyundai is also at the accident site. Pics/Shadab Khan
"Satyendra's family lives in Rajasthan, while Rajendra hails from Uttar Pradesh and Gajraj from Madhya Pradesh,'' he added. Gajraj is survived by his wife and two children. "When we received the alert, my friends got up and said they would be back in 15 minutes. We were shaking in shock and grief when we saw our friends bleeding on the road," Mohan said. "I am getting calls from their families, as their phones are switched off. I don't know what to tell them." Worli police said they will inform the families and ask them to claim the bodies. Until then, the bodies will be kept at the morgue of Nair hospital.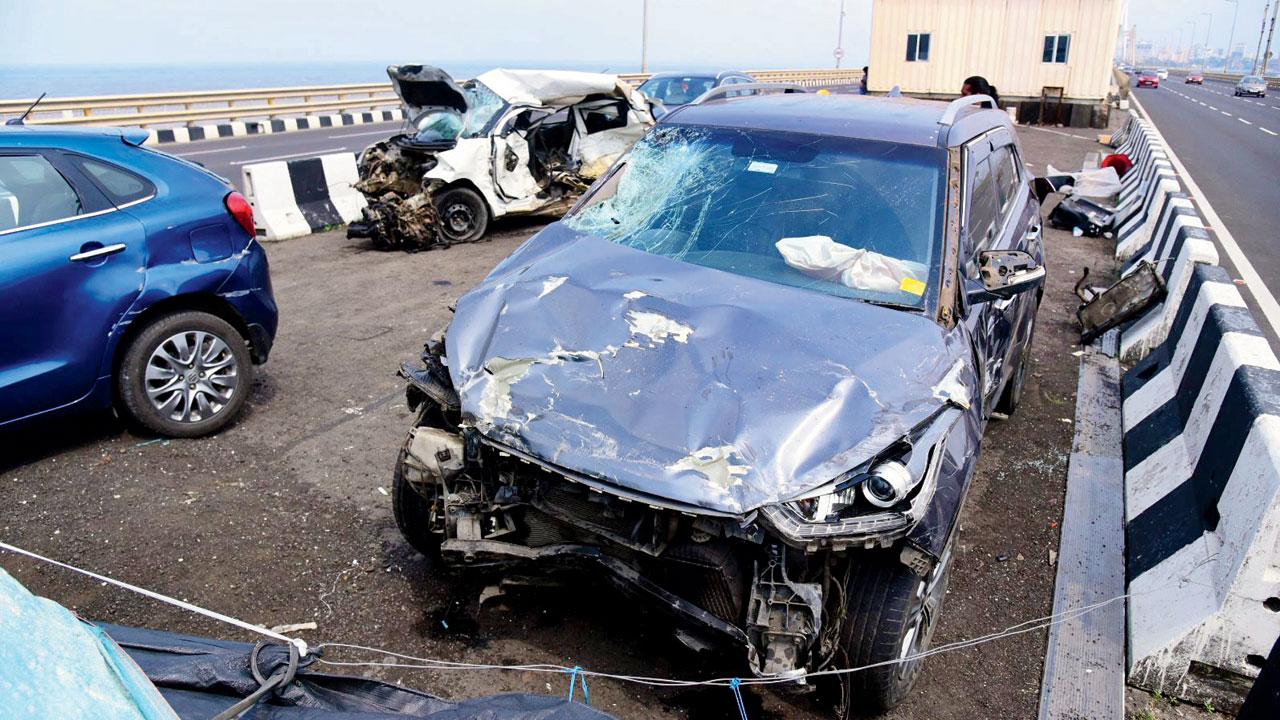 Were SOPs followed?
According to a senior police officer, the conduct of the security officials at the spot is under scanner to find out if they followed the standard operating procedures (SOP).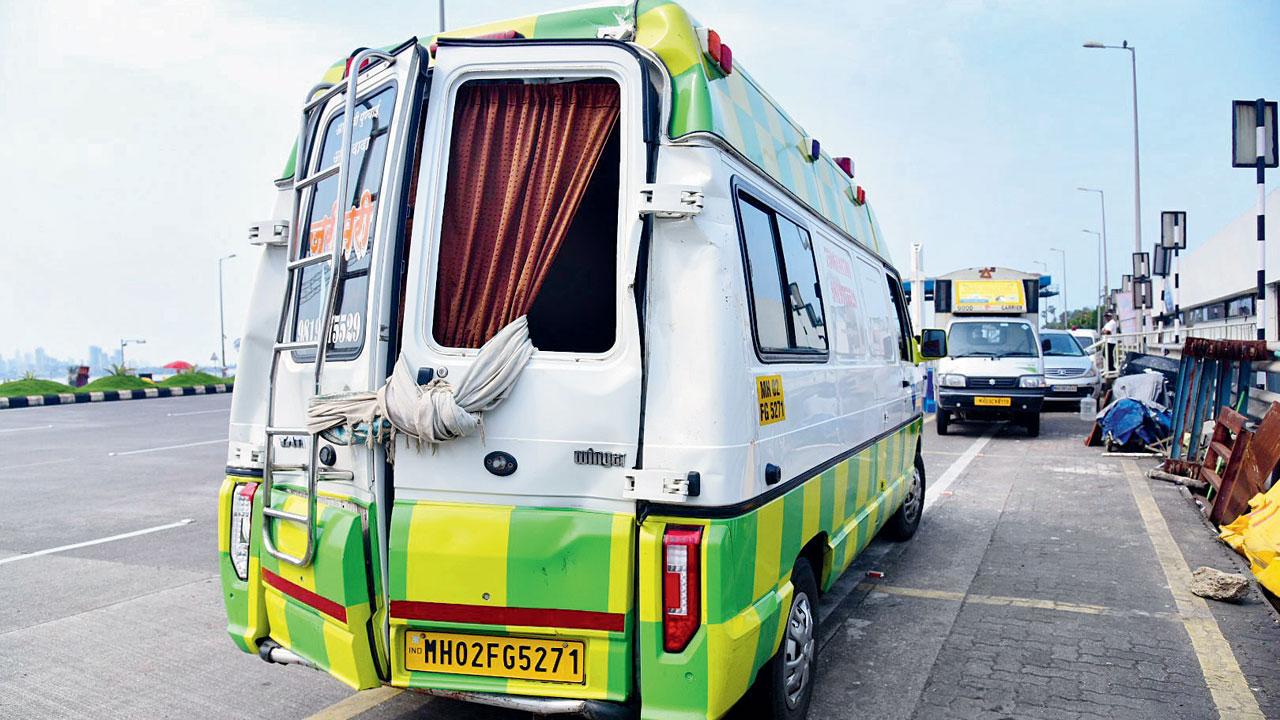 "In a regular practice, whenever there is an accident and vehicular movement needs to be diverted, security officials need to wear reflective gears, carry whistles and reflecting batons. Prima facie, it doesn't look like that the SOPs were not followed," said the officer requesting anonymity. "Also, the diversion of vehicles should happen at least 50 metres away from the accident site. The traffic safety cone, with reflectors, should have been placed immediately," he added.