With high court ban on natural lake immersions, civic body forced to organise one more artificial pond at Aarey Colony for Anant Chaturdashi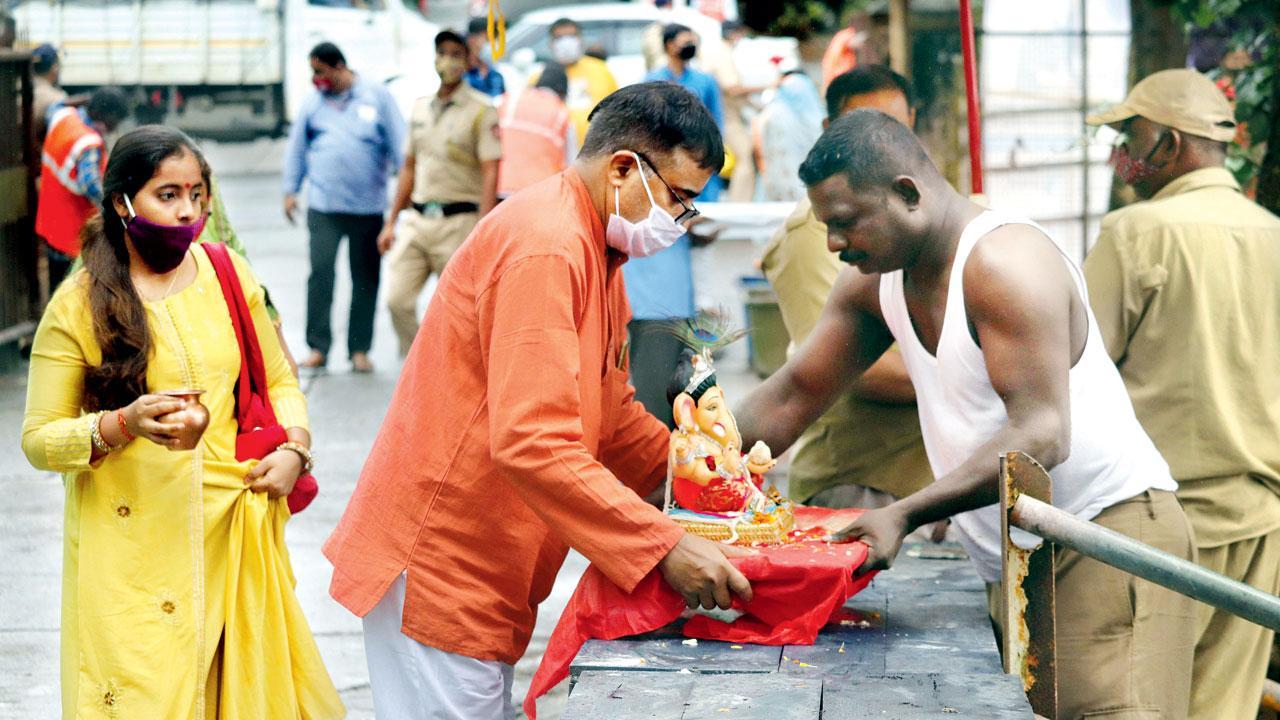 Devotees during a visarjan at Chhota Kashmir in Aarey Milk Colony. File Pic/Anurag Ahire
After failing spectacularly to keep its promises about addressing environmental concerns and ignoring pleas to set up more artificial ponds for immersing Ganesh idols, the Brihanmumbai Municipal Corporation (BMC)—bowing down to the Bombay High Court—will set up one more pond for devotees at Aarey Milk Colony for the final day of Ganeshotsav.
Be it setting up artificial ponds or monitoring Plaster of Paris (PoP) idols or cracking down on single-use plastic bags, the BMC has repeatedly displayed a lack of alacrity. The corporation has constantly turned a deaf ear to calls to address environmental concerns during large public festivals.
ADVERTISEMENT
Issues at Aarey
Environmentalists have lambasted the civic body, saying it needs to be more proactive and environment friendly when it comes to Aarey Milk Colony where there are limited facilities for the last day of idol immersions. The BMC had provided one artificial lake and six small vehicle-mounted ponds on the spot, but they proved inadequate.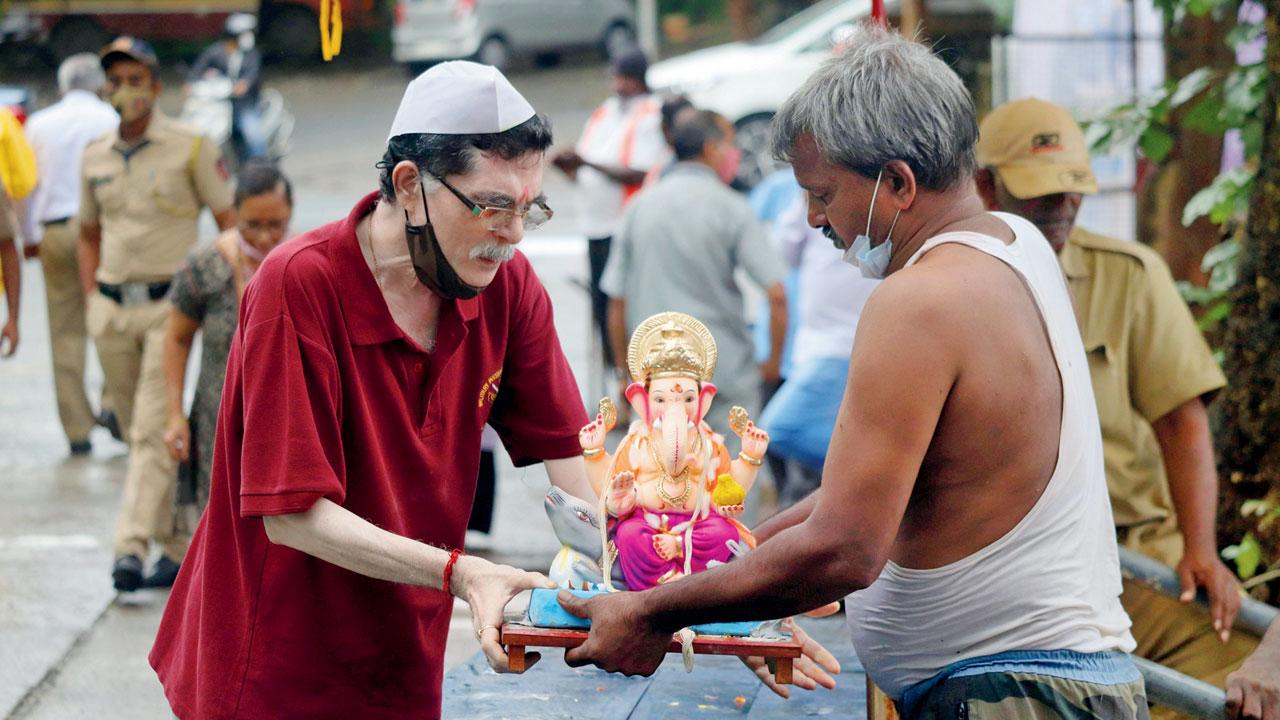 Devotees at Chhota Kashmir in Aarey Milk Colony in Goregaon East on September 11, 2021. Pic/Anurag Ahire
On Monday, the high court inquired if more artificial ponds could be set up in the colony for the immersion of idols. Following this, the BMC decided to provide one more water body at the site for Anant Chaturdashi, which falls on Thursday. Environmentalists and devotees said the civic body should have acted earlier.
There are three natural lakes in the colony where immersions take place every year. A large number of idols from Goregaon, Jogeshwari East, Andheri East and Malad East are immersed in large numbers in these water bodies. A court order this year prohibited the immersion of Ganesh idols in the colony's natural lakes.
BJP leaders' request
Prabhakar Shinde, ex-group leader of the BJP in the BMC wrote a letter to the municipal commissioner requesting that more artificial ponds be provided. He stated that last year, 3,431 Ganesh idols, including 3,105 household ones, were immersed in the three natural ponds and seven artificial water bodies in the colony. Out of these, 697 domestic and 201 public idols were immersed on Anant Chaturdashi. "This year, only one artificial pond and six small mobile ponds are available. This arrangement will not be enough. Keeping this in mind, it is necessary to construct as many artificial ponds as possible as per the court's directive," said Shinde.
'300 ponds were planned'
Rajesh Akre, assistant commissioner of P South ward, said, "There will be two artificial lakes near Aarey lake, four mobile ponds at Aarey Road near the Western Express Highway and two mobile ponds at the picnic spot."
Ramakant Biradar, deputy municipal commissioner, said the civic body had planned to provide more than 300 artificial ponds across the city. "But there were issues related to the availability of land for the immersion spots. Besides, the decision was taken at the last moment. But we increased the number of ponds from 164 last year to 200 this year. We will definitely try to provide more spots next year," he said.
Naresh Dahibaonkar of the Brihanmumbai Sarvajanik Ganeshotsav Samanvay Samiti said, "The number of artificial lakes should have been increased to make the festival eco-friendly. We also demanded that the number of ponds be increased at a single spot that can accommodate two to three artificial water bodies. We suggested creating huge ponds for the immersion of sarvajanik Ganesh idols. If the BMC can keep the ponds round the year it will also help to reduce their cost."
Indifference towards PoP
Even in the case of PoP idols, the civic body has been lethargic. The BMC had made it mandatory this year to make household Ganesh idols with eco-friendly materials like clay and warned that it would initiate action against sellers who sell non-eco-friendly household idols. However, six days into the festival, no action has been taken in this regard so far. The BMC is merely taking note of the numbers of PoP and eco-friendly idols.
In May 2020, the Central Pollution Control Board (CPCB) issued detailed guidelines banning PoP idols, which are said to cause water pollution. The BMC decided to completely ban PoP idols in 2021 after it received a request for an extension from Ganesh mandals. This year, the civic body was supposed to have started following the CPCB order. It has also restricted the height of household idols, which must be made from eco-friendly material, to four feet. The BMC also warned sellers that action would be taken as per CPCB guidelines if norms were flouted. However, a BMC official admitted that no such action is being taken. Officials also claimed that it is difficult to enforce such rules in a city like Mumbai, which is very vast.
"There is ambiguity in a Supreme Court order that bans the immersion of PoP idols but not making them. It should be amended. Besides, we requested the chief minister to hold a meeting in January to start the procedure early for creating eco-friendly idols," said Dahibaonkar.
Biradar said officials are taking stock of the eco-friendly and PoP idols that are being immersed. "Also, we had to provide 350 metric tons of clay to sculptors. Also, we provide places for them to work. Yes, there was a delay in providing clay and places to make eco-friendly idols. From next year, we will provide them places six months prior to the festival," the deputy municipal commissioner said.
Environmentalists speak
Environmentalist D Stalin said, "The BMC should start the procedure to provide ponds earlier. The civic body's arrangement seems enough for devotees as around 3,500 idols have already been immersed in these water bodies and on Anant Chaturdashi, big idols are immersed in natural spots. But the civic body should have acted earlier."
Debi Goenka, another environmentalist, slammed the BMC for not taking enough action. "It is a great pity that the BMC is not taking steps to protect our water bodies from pollution. It is symptomatic of the total lack of concern for our environment by the BMC," he said.
Another environmentalist Anand Pendharkar said, "The BMC should properly plan how to implement the rules. It should start convincing citizens six months before the festival. PoP is not the only thing that's hazardous. Artificial colours applied on clay idols contain substances that pose a threat to marine life. The BMC should come up with a better plan from next year."
"Exciting news! Mid-day is now on WhatsApp Channels

Subscribe today by clicking the link and stay updated with the latest news!"
Click here!