Agitation followed images of controversial historic personalities along with an offensive audio message put up by some people as their social media status; ruling parties and opposition resort to blame game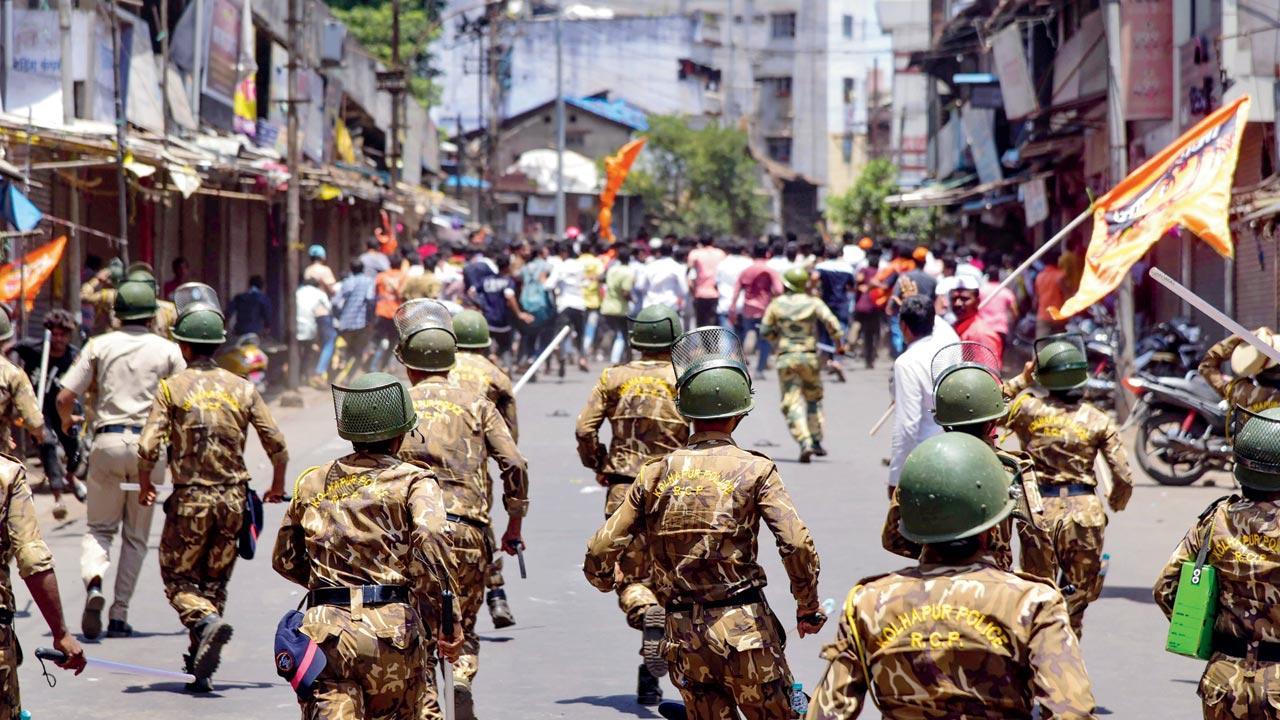 Security personnel chase away people protesting against the alleged use of Tipu Sultan's image in objectionable social media posts and the glorification of Aurangzeb in Kolhapur on Wednesday. Pic/PTI
Several Hindu organisations held protests in Kolhapur on Wednesday demanding action against people who had glorified Aurangzeb and Tipu Sultan, making the police use force to control the agitation. Subsequent politics led the ruling parties and the opposition to level allegations to shift the blame for creating 
communal tension.
Tension rose in the city on Tuesday after some men allegedly put images of controversial historic personalities along with an offensive audio message as their social media status. A couple of days ago, the video of  some youth dancing with Aurangzeb placards had gone viral. According to Kolhapur Collector Rahul Rekhawar, the Hindu organisations had called for a bandh on Wednesday and asked for permission to hold a morcha.
ADVERTISEMENT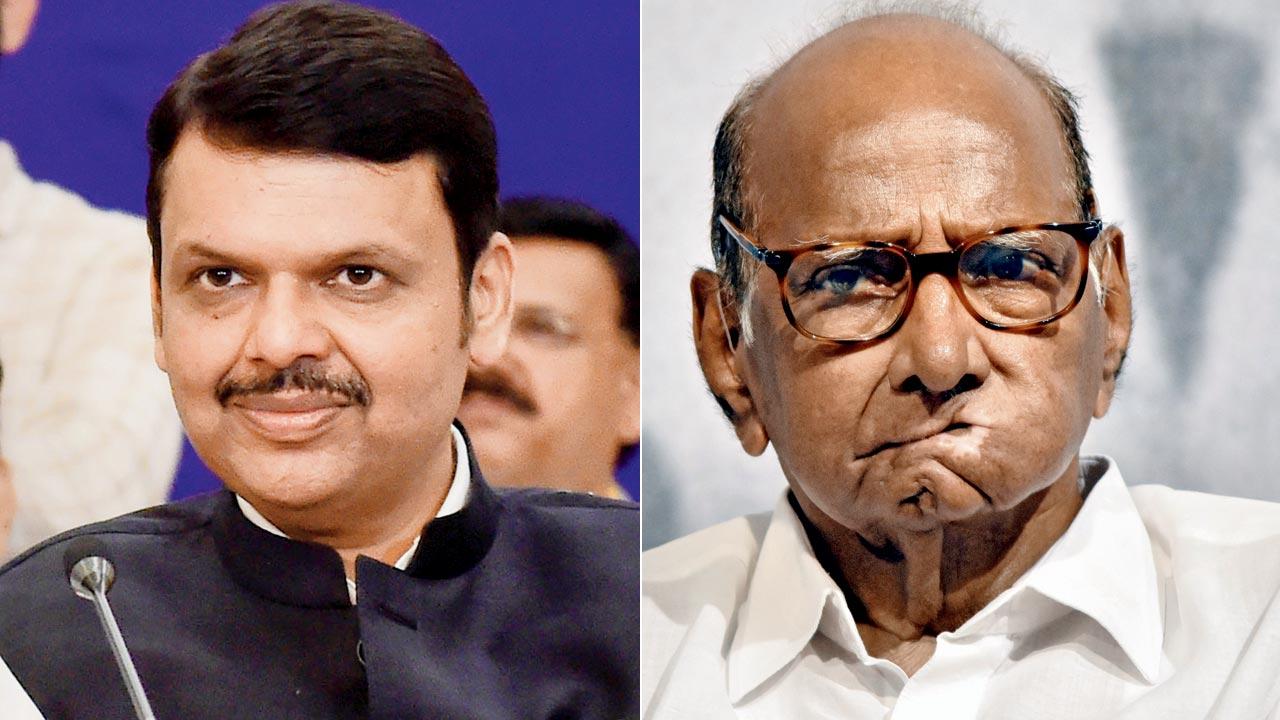 Devendra Fadnavis, deputy chief minister and Sharad Pawar, NCP chief
"On Tuesday itself, we took action against the people who were reported for keeping a status that glorified certain personalities and the protesters had agreed to not create trouble or hold a morcha after a fruitful discussion. But some aggressive types didn't agree with their elders and insisted on holding a morcha the next day (Wednesday)," he said.       
HM hits back
Home Minister Devendra Fadnavis said the government will not spare the 'children of Aurangazeb' who had sprouted in several districts of Maharashtra. He said these people were  deliberately glorifying Aurangzeb and Tipu Sultan to trigger communal riots. Their masterminds were on the radar of the police. "There has to be some connection between the opposition's statements that there will be communal riots in the state and the immediate response their statements get from a specific community by glorifying the personalities that Maharashtra despises," said the deputy chief minister, appealing to the people to maintain law and order.
Nationalist Congress Party (NCP) boss Sharad Pawar said that certain people were creating a communal rift. 
"The people in power are encouraging religious issues. There is no need to give it a religious colour by taking to the streets if someone sends a wrong message on 
the mobile. Law and order is the government's responsibility, but the people associated with the ruling parties take to the streets. It's not the job of one person. It has an ideological backup," said Pawar.
On Wednesday, the police resorted to lathi charge to disperse a crowd that pelted stones during a protest. A proposal to suspend internet services from Wednesday afternoon till Thursday evening, or depending on the situation, has been sent to authorities, a senior police officer said.
While personnel from the State Reserve Police Force (SRPF) have been deployed in the city, police have sought more cops from Satara, he said. Prohibitory orders have been issued till June 19 banning assembly of five or more persons, he said.
A group of right-wing activists demanded action against the two men following which a case was registered against the two persons, said another official. 
The police registered another first information report (FIR) in the evening and arrested seven persons after more protests were held, the official said.
Cops take action
"Some organisations had called for a Kolhapur bandh and their members gathered at Shivaji Chowk on Wednesday. After their demonstration ended, the crowd began to disperse but some miscreants started pelting stones, forcing police to use force against these people to disperse them," said Kolhapur Superintendent of Police Mahendra Pandit.
The SP said he informed the demonstrators about the action taken by police in the objectionable post case and appealed to them to maintain calm. He said force and teargas were used only after stones were hurled at houses and vehicles damaged. Pandit said police have started tracing and detaining the miscreants.
Kolhapur Collector Rekhawar said the district is known for its progressive approach. "I appeal to all people to ensure that the image of Kolhapur as a progressive district remains intact. I urge them not to believe in rumours," he said. The collector said the situation is under control and additional police forces have been brought in, even as he requested the public to cooperate with the authorities and resolve issues through dialogue. Dipak Kesarkar, the guardian minister, said that action has been taken against those who had used Tipu Sultan's image along with the objectionable audio message.  
Inputs from agencies
June 7
Day protest was held in Kolhapur Do you practice ecotourism?