Allocation for MUTP doubles; new lines, lifts, overbridges on the card for the city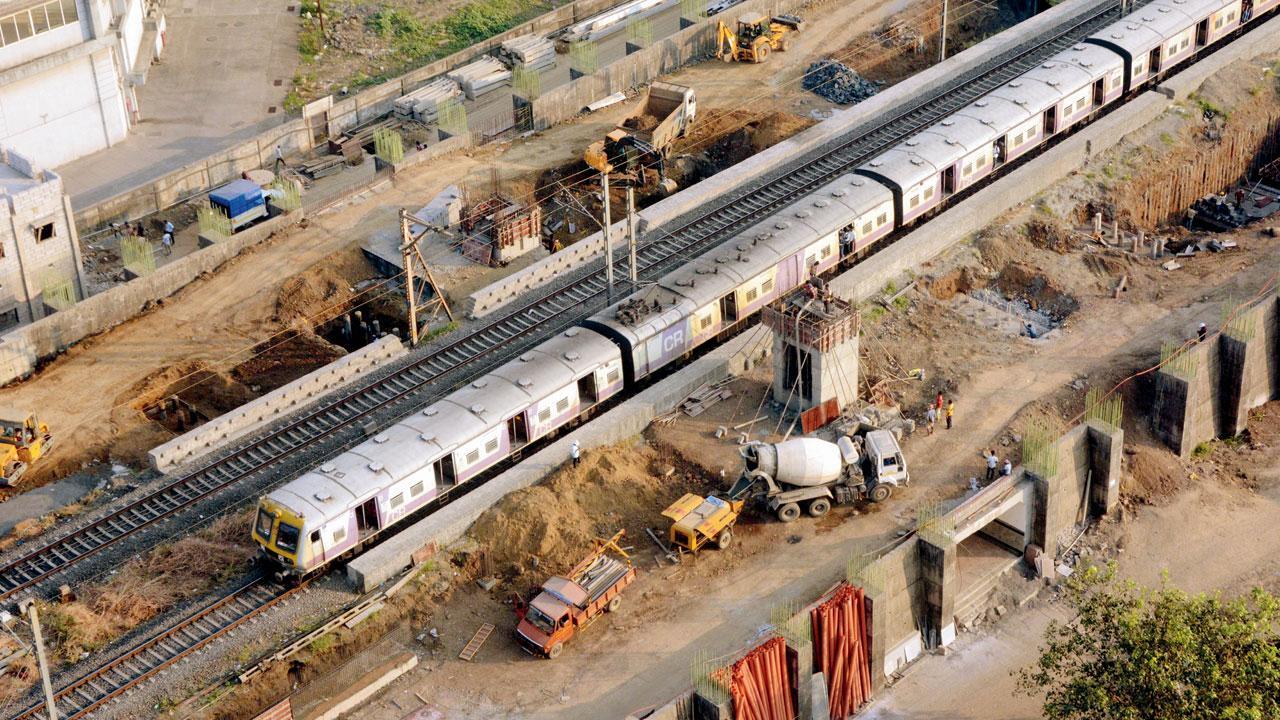 Under-construction Digha railway station, Airoli in Navi Mumbai. Representation Pic/Satej Shinde
Mumbai has got a whopping Rs 1,101 crore for its ongoing railway projects under MUTP and the onus will now be on the city rail officials to deliver. Besides works on foot and road overbridges, upgraded stations, new lines and lifts, the focus will be on vigorously working on the Mumbai Urban Transport Project (MUTP), which is key to the city's railways as they boost capacity.
The allotment for Mumbai Urban Transport Project (MUTP was Rs 575 crore last year, according to the railway officials. The pink book released on Friday gave a break-up of detailed allocations for projects across India, of which Maharashtra has got Rs 13,539 crore, including for various works on Central Railway, Western Railway and the MUTP--for the expansion of the suburban network in Mumbai.
"This is the biggest-ever allocation for Maharashtra. The allocation for railways was Rs 1,171 crore between 2009 and 2014. This time, the allocation is 11 times higher, for a single year, at Rs 13,539 crore," Railways Minister Ashwini Vaishnaw said.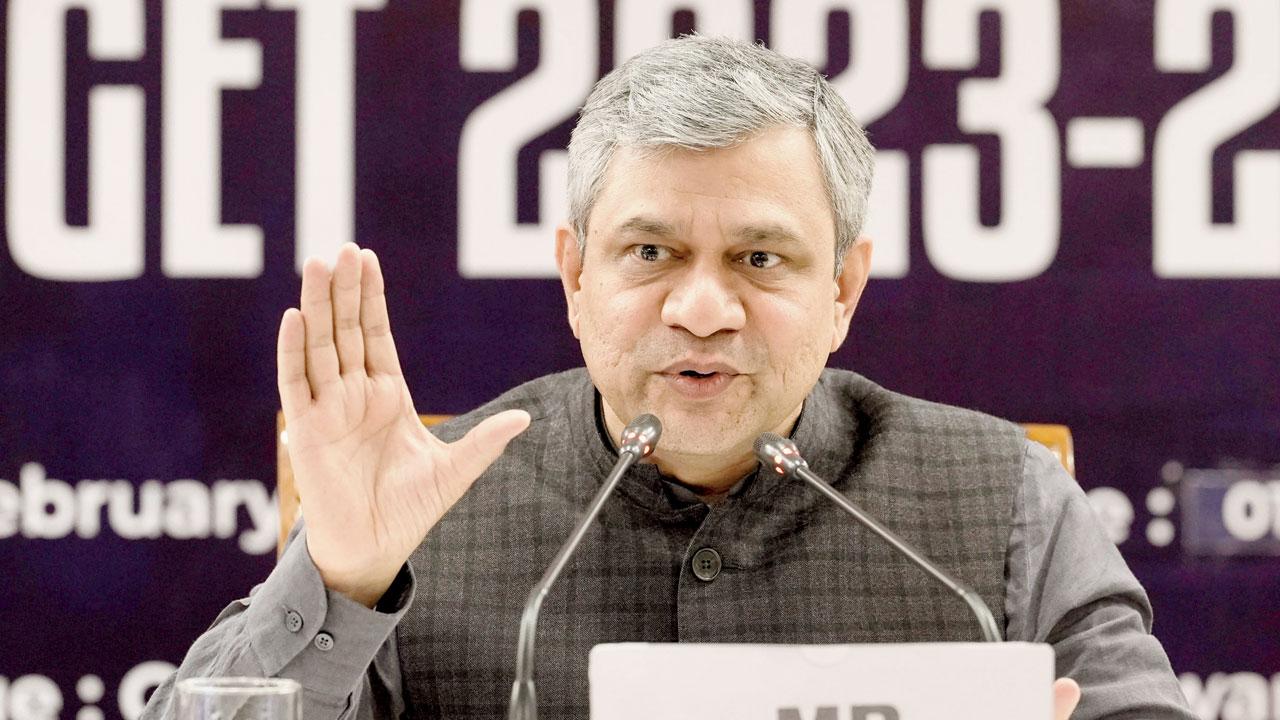 Union Railways Minister Ashwini Vaishnaw during a press meet on Budget, in Delhi, on Friday. Pic/PTI
Besides various developmental and improvement works of railways including better passenger amenities, station redevelopment and regular upgrades, the ongoing MUTP projects are key to the city's railways as they boost capacity. Of the Rs 1,101 crore for MUTP, Rs 150 crore is for MUTP-2, Rs 1 crore for MUTP-2C, Rs 650 crore for MUTP-3 and Rs 300 crore for MUTP-3A. While this amount has been allocated in the central budget, an equal amount will come from the state budget to take the projects ahead, since it is a joint venture.
Also Read: Mumbai: Western Railway's AC services being tweaked based on passenger data
"There will be more project movement in 2023. MUTP will gain further momentum as the Ministry of Railways has allotted 91% more funds in this Budget grant than last year. We will strive hard to accelerate works where land acquisition is nearly complete and land acquisition process in MUTP-3A projects will also be put in motion vigorously," said Subhash Chand Gupta, chairman and managing director of Mumbai Railway Vikas Corporation (MRVC).
Other allocations for Mumbai
>>Kalyan-Kasara 3rd line of 68 km: Rs 90 crore
>>Panvel-Kalamboli coaching terminus Phase-1 stage-1: R10 crore
>>CSMT extension of platforms 10, 11, 12, 13 for 24 coaches: R10 crore
Bridges
>>Vikhroli road overbridge: Rs 4 crore
>>Diva road overbridge: Rs 5 crore
New line
>>Belapur-Seawood-Uran: Rs 20 crore
>>Ahmedabad-Mumbai Bullet train: Rs 19,592 crore
Status of ongoing projects in the city
>>Panvel-Karjat new suburban line: 36% progress
>>Airoli-Kalwa new corridor: Rehab issue, work less than 10% progress
>>Virar-Dahanu Road quadrupling: 60% progress
>>Mid-section trespass control: 50% progress; work expected to be complete by 2024
>>Kurla-Parel 5th-6th lines: 40% progress
Western Railway
>>Rs 1,320 crore for raising the speed of the existing New Delhi-Mumbai route (including Vadodara-Ahmedabad) to 160 kmph/200 kmph. 
This is mission to achieve a travel time of 12 hours between Delhi and Mumbai
>>Bridge, tunnel and approach works over Mumbai Suburban Section: Rs 8 crore
>>Mahim-Bandra construction/strengthening of cast iron screw piles (bridge no.20): Rs 4 crore
>>Escalators at platforms (83): Rs 11.88 crore
>>Provision/rebuilding of foot overbridges at Andheri, Bandra, Khar Road, Malad: Rs 1.57 crore
>>Churchgate-Virar: Replacement of existing FOBs at Santacruz, Andheri, Goregaon, Malad, Naigaon, Nalasopara and Vasai Road: Rs 1.03 crore
>>Churchgate-Virar: Providing FOBs at Grant Road, Mahalakshmi, Mahim, Vile Parle, Jogeshwari, Borivli, Dahisar, Vasai Road: Rs 6.28 crore
>>Lifts (70) at stations: Rs 4.44 crore
>>Major upgradation of stations: Rs 255 crore
>>Amrit Bharat Station scheme in Maharashtra: Total 12 stations over WR suburban
Projects under MUTP-2
>>5th-6th lines: Parel-Kurla-Deadline is March 2025
>>6th line: Mumbai Central-Borivali; deadline is March 2025
Projects under MUTP-3
>>New suburban Panvel-Karjat, Airoli-Kalwa
>>Quadrupling of Virar Dahanu
>>Trespass control projects involving foot overbridges
Projects under MUTP-3A
>>Borivli-Virar 5th, 6th lines
>>Kalyan-Badlapur 3rd, 4th lines
>>CSMT Harbour signal upgrade
>>Harbour extension Goregaon-Borivli
>>Kalyan yard remodelling
>>Kalyan-Asangaon 4th line
>>97 new stabling lines