On Tuesday, as the Ganeshotsav festival begins, Maharashtra Chief Minister Eknath Shinde offered prayers at his residence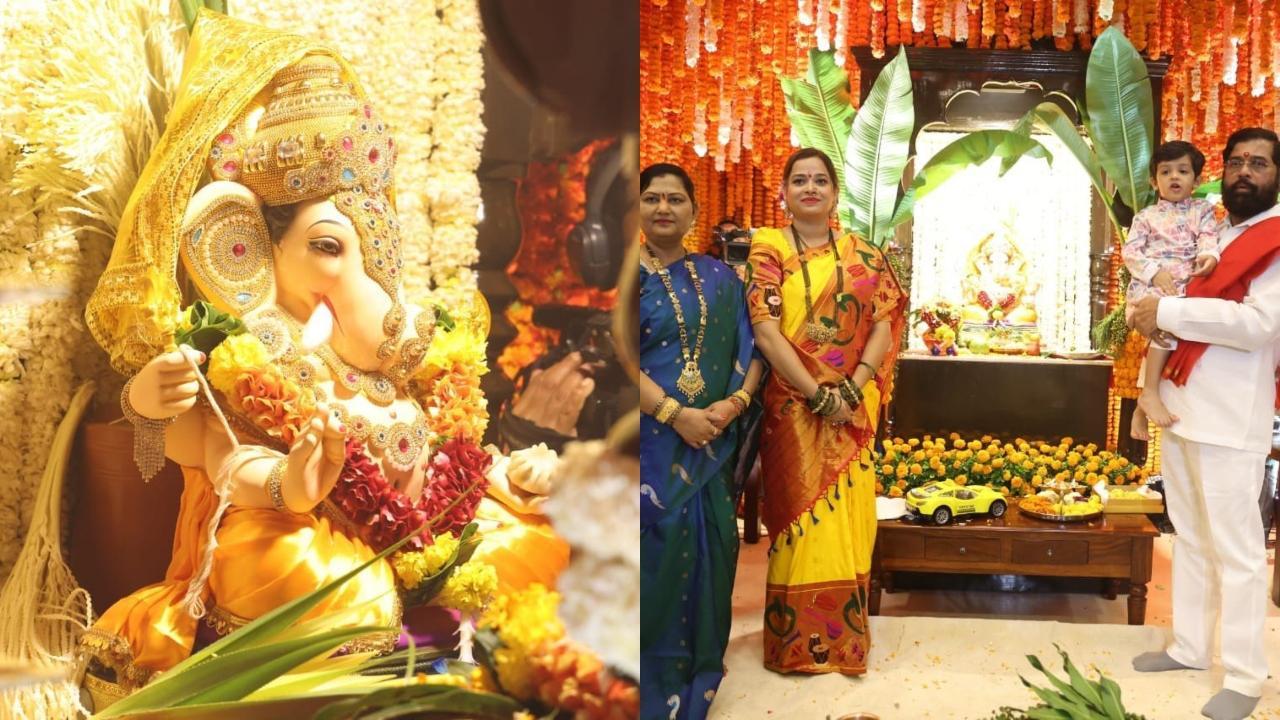 CM Shinde celebrates the Ganeshotsav festival in Mumbai (Official X account)
Listen to this article
Ganesh Chaturthi 2023: Maharashtra CM Eknath Shinde offers prayers to lord Ganesha
x
On Tuesday, as the Ganeshotsav festival begins, Maharashtra Chief Minister Eknath Shinde offered prayers at his residence.
On the occasion of Ganesh Chaturthi, Maharashtra CM Eknath Shinde said, "I extend greetings to all Ganesh devotees. I was in J&K yesterday, people were celebrating Ganeshotsav at Lal Chowk in Srinagar. I pray that the 'Vighnaharta' removes all obstacles before the people of Maharashtra."
ADVERTISEMENT
CM Shinde also wished for the prosperity of the farmers and the citizens of the state. Shinde stated that hoped that the state would receive adequate rainfall. 
राज्यावरील दुष्काळाचे सावट दूर करून माझ्या शेतकरी बांधवांना दिलासा दे हेच मागणे आज बाप्पाकडे मागितले. तसेच नवीन संसद भवन अतिशय भव्य आणि सुंदर असून सर्वसामान्य जनतेच्या आशा, आकांक्षा आणि अपेक्षा हे कायदेमंडळ नक्की पूर्ण करेल असा विश्वास यावेळी बोलताना व्यक्त केला. https://t.co/iOXHCDNQDT pic.twitter.com/4TTyWU5XKY

— Eknath Shinde - एकनाथ शिंदे (@mieknathshinde) September 19, 2023
Meanwhile, Prime Minister Narendra Modi extended greetings to the devotees on the occasion of Ganesh Chaturthi. 
Taking to 'X', PM Modi wrote, "Happy Ganesh Chaturthi to the countrymen! Ganpati Bappa Morya!"
The ten-day-long Ganeshotsav celebration began today, September 19 and will be concluded on September 28. In another 'X' post, he wrote, "Greetings to my family members across the country on Ganesh Chaturthi. May this holy festival associated with the worship of Vighnaharta-Vinayak bring good luck, success and prosperity in the lives of all of you. Ganpati Bappa Morya!".
The celebration of the Ganeshotsav festival in Maharashtra dates back to the 1890s when the nationalist leader Bal Gangadhar Tilak and others decided to use it to mobilize the masses. Ganesh mandals in Mumbai and other major cities took large idols in processions accompanied by dhol-tasha beats to their pandals in the last few days.
Deputy CM Devendra Fadnavis also installed Lord Ganesh's idols at their respective official residences in Mumbai. Speaking to media, Fadnavis said the blessings of the Lord are with "Mahayuti" (grand alliance led by BJP).
Meanwhile, a morning 'Aarti' was performed at Shri Siddhivinayak Temple in Maharashtra's Mumbai as the celebration of Ganeshotsava began today.
(with inputs from news agencies) Will you take intranasal vaccine as a precautionary dose?