City's notorious interlocking gridstones spell doom for hill station's workhorses and tourists
This horse died after slipping and falling on paver blocks; (right) Lisa Taylor, injured as she fell off the horse
On January 18, a visitor from Australia was riding down a slope in Matheran when the horse slipped and they both fell. "I am an experienced horse rider, and the horse was just walking. Yet, it slipped, because the surface was slippery," said Lisa Taylor. Paver blocks have caused a spike in accidents here, leading to death of two horses, claimed several locals. 
Speaking of the accident, Lisa Taylor, from northern New South Wales in Australia, said, "It was frightening. I came off the horse and fell, scraping the skin off my arm and leg. I was worried for the horse, too, which was injured."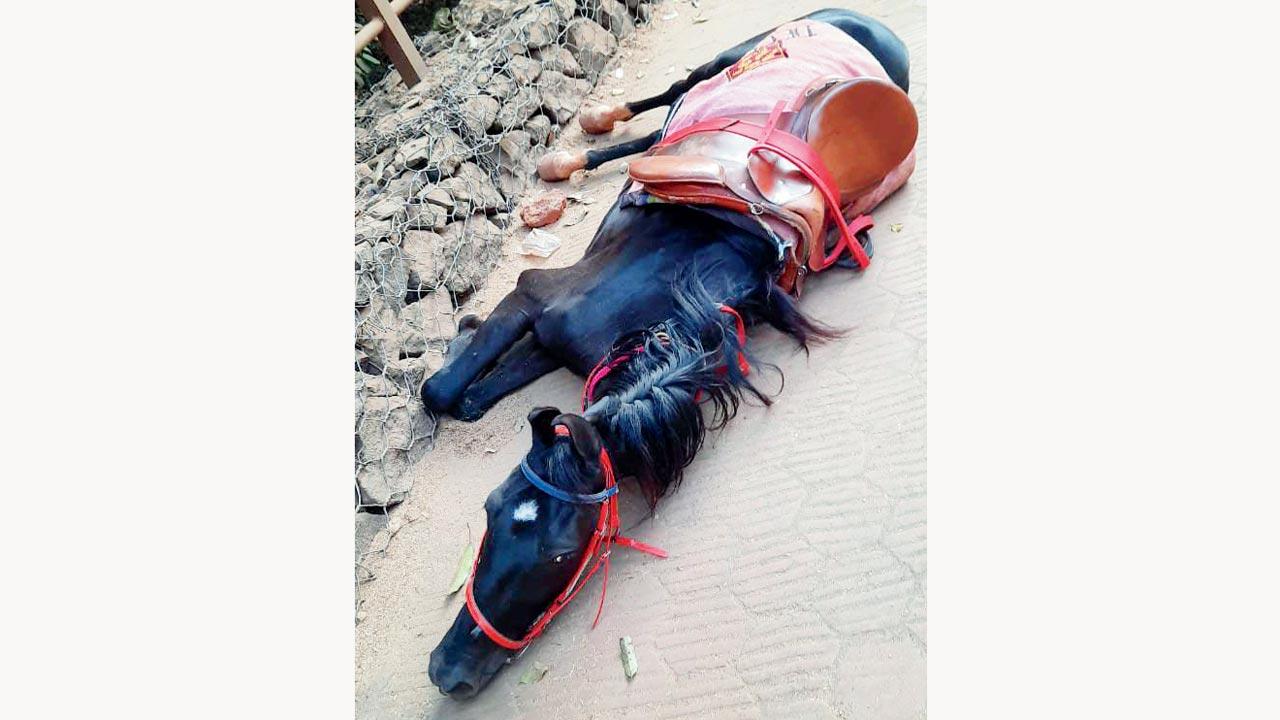 A horse that got hurt after slipping on the smooth pavers and falling
The paver blocks are replacing Matheran's mud roads as e-rickshaw trials are on in the hill station. Taylor's accident was before a young man from Mumbai perished on January 28, days after he fell off a horse in Matheran.
High risk
Vikas Arvind Ranjane, secretary, Sthaanik Ashwapal Sangathan — a ghodawalas' union in the hill station, said, "The paver blocks are extremely high risk. The horse is unable to stop, as the paver blocks are slippery. Rubber or plastic horseshoes are just temporary. The numbers of deaths, injuries and falls bear this out."
Ranjane is backed by Irfan Shaikh, a horseman, Matheran lover and part of the union, who asked, "When all evidence is before us, and the ordinary people can see what is happening, why are the authorities and the decision-makers silent and turning a blind eye to this problem?"
Asha Kadam, president, Ghodawalas' Union said, "More roads are being taken to be covered with pavers, despite our numerous letters and at least three agitations about riding risks that the material poses."
Also read: BREAKING: Four killed, 3 injured in road accident on Mumbai-Ahmedabad Highway
Unsuitable for all
Maria Vaz, owner of one of the oldest hotels in Matheran, said, "The pavers are unsuitable for horses, humans or hand-pulled rickshaws. The Matheran Hill Station Municipal Council installs warning signs, like 'walk slowly, ride slowly', but the root cause of the injuries and even fatalities—the paver blocks—continue to be installed."
Matheran loyalist Adil Gandhy, who spends a huge amount of time in the hill station and has a home there, said, "Seven horses have fallen and two of them have died in this preposterous paver-block era. One thing is certain, horses and paver blocks cannot go together."
Expert horsemen and locals admit that there have been accidents earlier too, when there were no paver blocks. "However, since pavers have been put in, one definitely sees an increase in accidents," they said.
One is not even touching the bigger concerns about the degradation of Matheran as an eco-sensitive zone, as there are large-scale fears of the e-rickshaw advent heralding the downfall of the hill station as a walker's, a rider's and a nature lover's paradise; the only no-vehicle hill station. 
The other side
Surekha Bhange, chief officer and administrator of Matheran Hill Station Municipal Council, said, "These roads have been made after discussions with all the stakeholders and the decision was taken by experts. I have always addressed the concerns of ghodawalas. When there is a slope, even we humans walking on these surfaces have to be careful and the horse speed has to be monitored and the ghodawala has to be in control."
Sunil Shinde, former schoolteacher and supporter-in-chief for allowing e-rickshaws in Matheran, said, "There have been a couple of instances of horses slipping. These paver blocks are made of clay and horses have to be controlled to go slow on these surfaces."
Shinde dismissed the argument about the environment being adversely affected by e-rickshaws. "Instead, red mud is being taken from the forests and put on roads, which exposes tree roots, causing them to uproot. Horses are also used on roads in places like Vaishno Devi. They can wear rubber horseshoes for a better grip."
Shinde claimed that his heart hurts, too, when he hears of a horse or a rider getting hurt or dying in a fall. "There are solutions, like demarcating 10 km of the hill station solely for riding. We also have the Matheran racecourse, where tourists can be taken for riding and also learn riding there."
Jan 28
The day a 23-year-old man succumbed to his injuries after falling off a horse
Seven
No. of horses that have been injured since paver blocks were introduced, of which 2 have died Do you often find yourself in the middle of office politics?