Protesters from city, Thane and Palghar seek caste certificates and rights to plots they have been staying on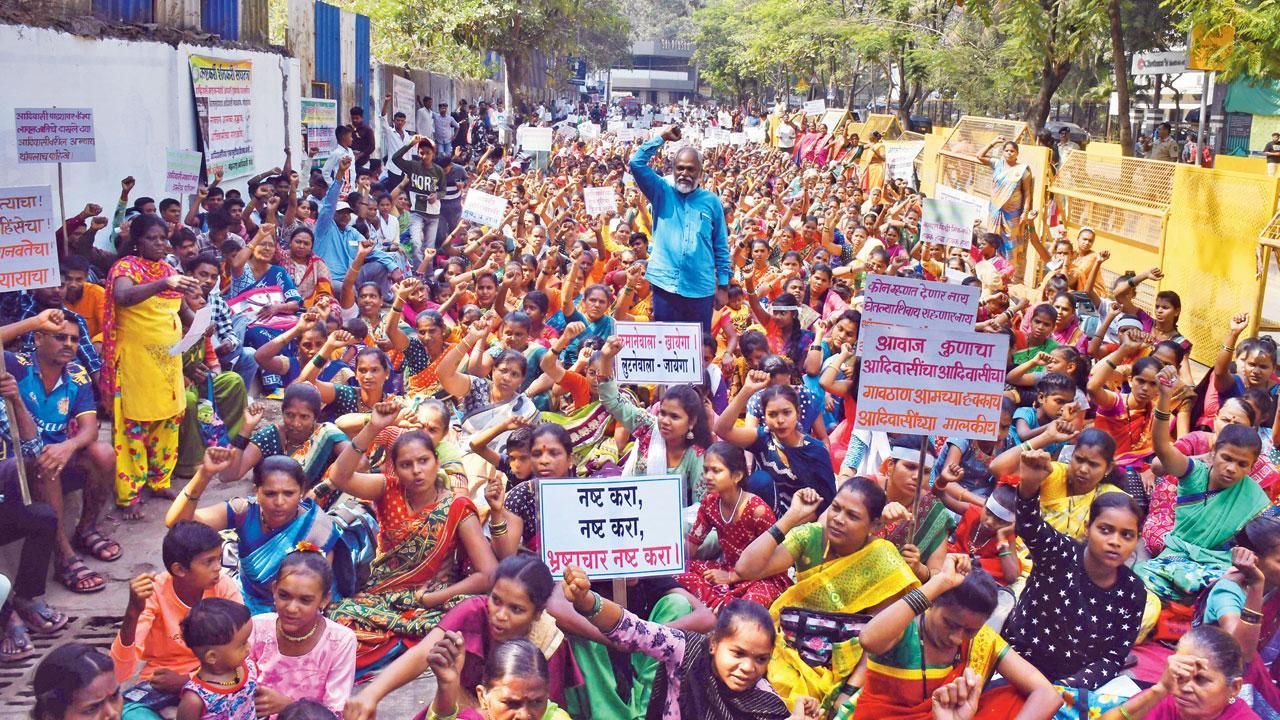 Adivasis protest outside the suburban collector's office on Monday. Pic/Ashish Raje
Hundreds of adivasis from Mumbai, Thane, Palghar and adjoining areas participated in a protest organised by the Kashtakari Shetkari Sanghatana, near the suburban collector's office in Bandra East on Monday. Over 1,500 adivasis from 27 padas demanded that the authorities provide them with caste certificates and resolve various land-related issues at the earliest.
Vanita Thakare, a resident of Khambyacha pada, said, "We have been staying in Aarey Milk Colony for several decades but yet we don't have papers related to our land. We are dependent on farming. We also don't have our caste certificates and so on Monday, more than 400 tribals from Aarey Milk Colony, participated in the protest that took place near the collector's office."
Another tribal resident from Aarey Milk Colony, Mangesh Chaudhari said, "It is our request to the authorities to make sure that we are not displaced from the land where we reside and pursue  agricultural activities."
Also Read: Metro car shed project: HC asks BMC why notice issued to cut 177 trees at Aarey
The tribals have also been demanding that the government declare tribal padas villages and set up camps there. They also called for basic facilities like electricity, water, roads, health services and anganwadis.
The tribals also demanded the lands that they have been occupying for generations, as per the Forest Rights Act. Sanghatana head Vitthal Lad handed over a list of the demands to Suburban Collector Nidhi Chaudhari.