The Federation of Indian Chambers of Commerce and Industry awarded the BEST top honours in the 'Smart Mobility' category for BEST's transformation towards progressive mobility, an official statement from the BEST said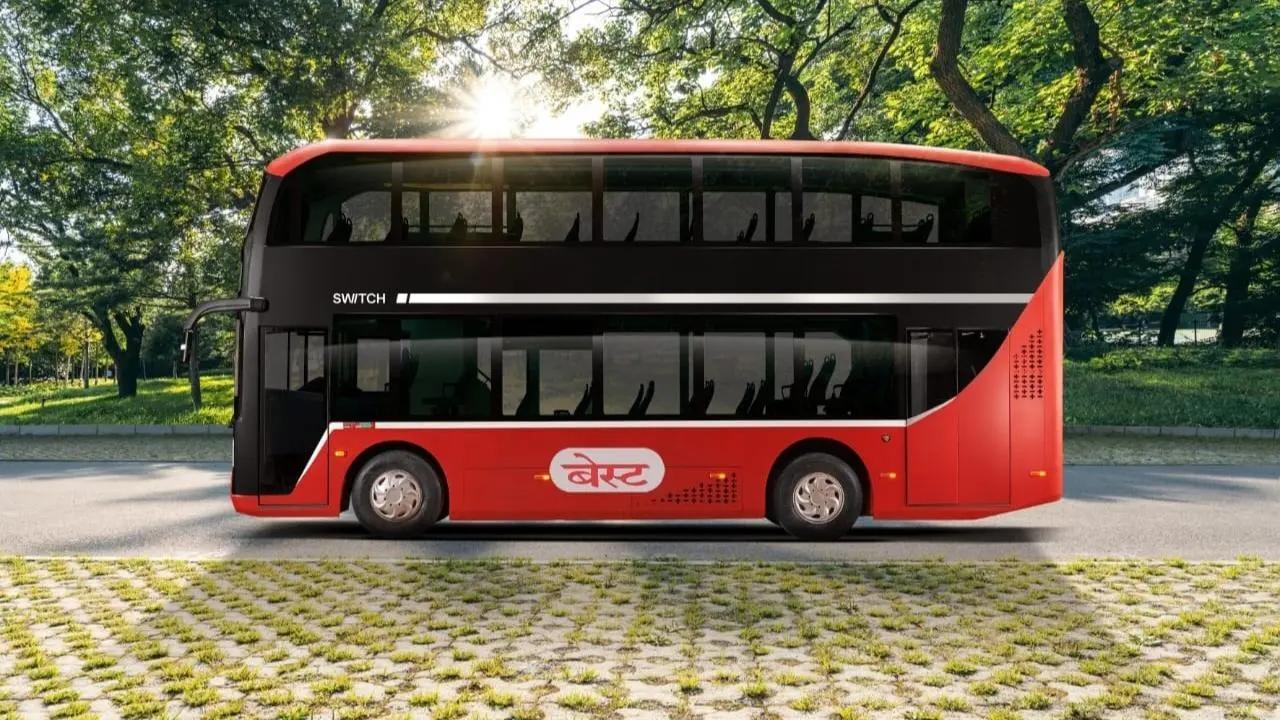 File Pic
The Federation of Indian Chambers of Commerce and Industry (FICCI), the largest and oldest apex business organisation in India, has awarded the Brihanmumbai Electric Supply and Transport (BEST) Undertaking top honours in the 'Smart Mobility' category for BEST's transformation towards progressive mobility, an official statement from the BEST said on Tuesday.
It said that the BEST has been working on their transformation for 2 years, as below:
ADVERTISEMENT
1. 10.000 Electric Buses - Convert the entire fleet to electric and grow it to 10,000 buses to meet global standards. The fleet will double from 3,219 to 7,000 by 2023 and grow to 10,000 by 2026.
2. 100 per cent Renewable Energy - The entire fleet will be powered by renewable solar energy. The 700 MW of solar energy needed for this has already been procured. In addition, 330 public EV charging points are also being set up to encourage citizens to migrate to electric vehicles.
3. Digital Tickets on NCMC and BEST Chalo App - BEST's digital tickets initiative has been India's most successful ever. The app offers mobile tickets, passes, live tracking and live seat status, and is used by 1 in 3 bus passengers daily. BEST has also launched India's first National Common Mobility Card (NCMC) ever launched by any city/state bus utility.
4. 100 per cent Digital Buses - BEST operates India's first 100 per cent digital buses where passengers use the BEST mobile app or card to 'tap-in' and 'tap-out' themselves.
5. Premium Buses - BEST launched India's first app-based premium city bus services with specially designed luxury buses. These buses connect business and residential hubs, and operate 'Airport Express Buses' to improve connectivity to Mumbai airport, India's second-largest airport
6. First And Last Mile Services- BEST is the world's first bus transport undertaking to introduce e-scooters at bus stops for last mile connectivity. 1,000 e-scooters have already been deployed at 200 points, and this will grow to 5,000 e-scooters in 2023.
7. Mobility-As-A-Service (MaaS) - The entire passenger experience has been digitised. All these services are available on a single platform on the BEST Chalo App, to ensure seamless and hassle-free door-to-door journeys. BEST is the first in India to implement MaaS philosophy.
Results- 55 per cent increase in ridership, path to financial sustainability.
The tremendous benefits arising from this transformation include:
1. Daily passenger ridership has increased 55 per cent from 22.5 lakh to 35 lakh now. This has reduced 3.12 lakh car trips daily with enormous reduction in fuel usage, air, and noise pollution.
2. BEST's daily income has increased 40 per cent from 71.64 crores to 32.3 crores. These decisions set BEST on the path to financial sustainability, with break-even planned in the next 3-4 years.
3. The switch to 100 per cent renewable electric buses means a savings of6.5 million tonnes of CO2 emissions and 6,000 million litres of fossil fuel. BEST will also earn an additional Rs 514 crores through carbon credit monetisation
4. 22% of daily tickets have already been converted to digital, giving passengers a better travel experience. There is also cost savings on paper rolls to the tune of 1.99 crores annually.
5. Private investment of 16,000 crores on buses will accelerate industrial development and create 50,000 jobs. 
Innovative Model Being Replicated Across India And Internationally
FICCI has recognised BEST not just for its innovative approach and climate-conscious efforts, but also because this solution is scalable and replicable. Several cities and states in India have already begun implementation on their own public transport transformation after studying BEST's success. BEST has also seen keen interest from international audiences ranging from developing countries such as Indonesia and African countries, to first-world nations such as Singapore and the USA.
Accepting the award on behalf of BEST, Lokesh Chandra, IAS, General Manager, BEST said, "When we took the decision to expand our bus fleet to 10,000 buses, we saw it as a unique opportunity to completely transform BEST into a 100% green, environmentally friendly, and sustainable organisation. Our new mobile app and card make our services customer friendly. efficient, and more reliable. Mumbaikars have demonstrated their appreciation, as is evident from our 5% ridership increase. We at BEST are honoured to accept FICCI's recognition of our efforts. Not only is it morale-boosting, but it encourages us to do even more in the future."    
"Exciting news! Mid-day is now on WhatsApp Channels

Subscribe today by clicking the link and stay updated with the latest news!"
Click here!